Here's What You Need To Know About Apple Pie Toast Crunch
It's never too early to start thinking about the holidays. And what better way to start getting into the holiday spirit than by thinking about all the tasty seasonal foods that come along with the end of the year. From the classic fall flavors of pumpkin spice and crisp apples, to all the delectable, sugary desserts that come along with the arrival of the winter holidays, there are definitely quite a lot of culinary treats to look forward to this time of year. And now, thanks to General Mills, there is going to be one more. 
In anticipation of the upcoming winter season, the cereal brand has released a new variety of their classic fan favorite Cinnamon Toast Crunch cereal, but with a sweet holiday twist. Their new Apple Pie Toast Crunch Breakfast Cereal is flavored with sweet apples and classic holiday spices like cinnamon and nutmeg, which deliver the experience of enjoying a tasty apple pie right in your cereal bowl.
This new Apple Pie Toast Crunch tastes exactly like apple pie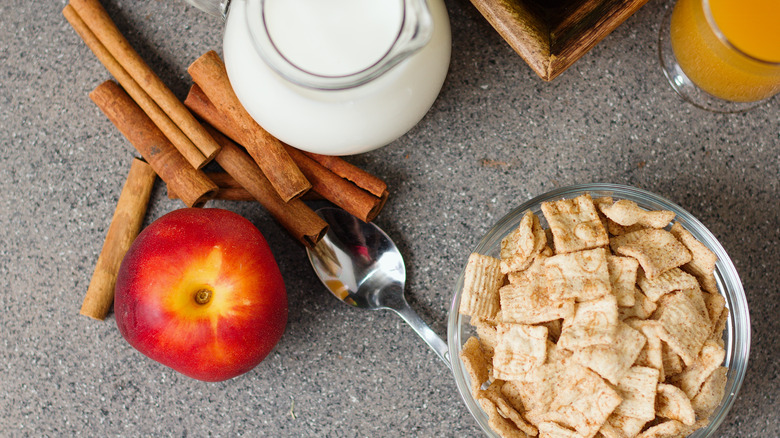 Nannycz/Shutterstock
Although this tasty new cereal has a distinct winter theme, it has already been spotted on Albertson's store shelves by eagle-eyed cereal connoisseurs, according to Best Products. And while it might not be the holidays yet, that hasn't stopped a few eager fans from getting a head start on sampling the festive treat. One reviewer at PopSugar even raved that the Apple Pie Toast Crunch "surpassed all of my expectations," saying that the swirls of cinnamon and spices created a complex flavor experience that was reminiscent of enjoying holiday dessert with their family. Even after it was consumed, the cereal left behind a sweet flavor in the remaining milk that tasted more like melted whipped cream than regular old leftover milk. 
As of right now, this new Apple Pie Toast Crunch Breakfast Cereal has only been found on shelves at Albertson's grocery store and online via delivery services like Instacart, although one can hope that it will soon be available at more retailers as the holiday season gets closer.