Instagram Can't Get Enough Of Bobby Flay's 'Kid In A Candy Store' Moment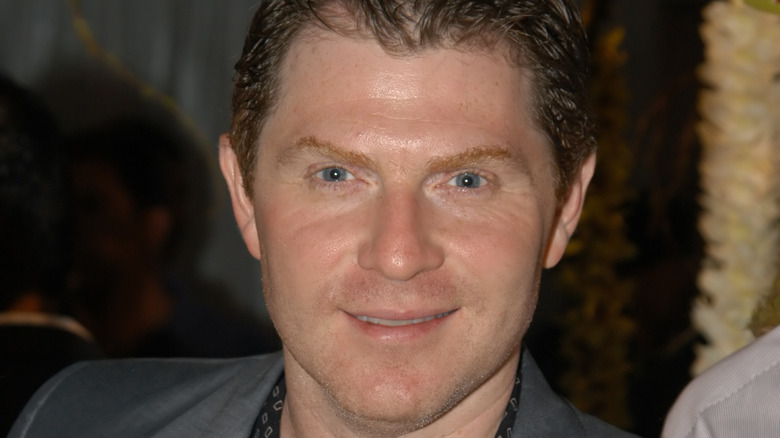 kai hecker/Shutterstock
Bobby Flay is joining the fold of Instagram's favorite chefs to follow. While he may not post adorable photos of a little tyke in oversized shoes taking after his dad, or images of cakes that look so much like a villa village we wish we could swim up to them and snag a slice, the man does post some fun pictures. With 1.6 million followers, Flay still only stands as the tenth place contender on a list of celebrity television chefs with the most fans (via Screen Rant). Though to be fair, some of those above him include Jamie Oliver and Martha Stewart, so he's still winning a medal among the greats.
As Screen Rant notes, social media users follow him for his "musings and photographs" and his background as a celebrity chef on a variety of food shows — 16 cooking shows and specials on Food Network and Cooking Channel alone. But his childlike face of wonder on one of his latest posts has fans aw-ing instead of fawning. 
Nothing fishy here
Flay's latest Instagram foray has him smiling from ear to ear, squinty eyes and all while sitting in front of what looks like some kind of seafood stew, though only a select grouping of shells can be seen in the frame as the dish is largely cut off. The chef refers to himself in his caption as a "kid in a candy store", metaphorically speaking, of course. He notes this is "my version ... Zuppa di Pesce at @ristoranteloscoglio on the Amalfi Coast."
And while many may prefer candy to crab, fans have flocked to the comments in support of the chef and his boiled seafood, even some of the more famous ones. Lara Spencer commented, "The BEST SPOT!! Enjoy my friend. And thanks for recommending. Cannot wait to go back." And even Debbie Gibson couldn't resist a note of approval, "Yummm! ENJOY." One thing is for sure, Flay can surely pick a primo vacation eats spot.