32% Of People Believe This Is The Worst Soup At Olive Garden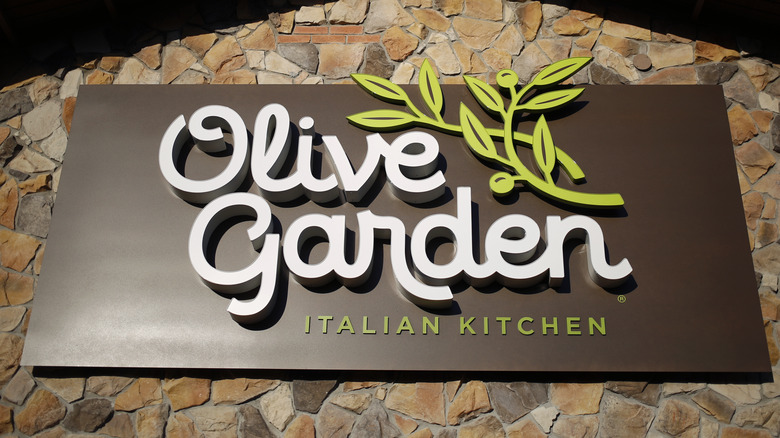 Bloomberg/Getty Images
Popular Italian restaurant chain Olive Garden has a number of iconic dishes. From the signature creamy Fettuccine Alfredo and the oozy baked five-cheese Ziti Al Forno to the mozzarella-topped Chicken Parmigiana, the cult-favorite menu items many customers return for time and time again are the famed soup, salad, and breadsticks.
The company's unlimited soup, salad, and breadsticks menu offering has long been a go-to for discount-seeking diners looking to fill up without a hefty price tag. The deal, which includes their buttery breadsticks (which we consider to be the most delicious item on the menu), the pepperoncini-laced and Parmesan-topped house salad, and all the soup you can handle, has been one of the chain's most popular offerings for decades.
While just about every Olive Garden diner can agree that the soup, salad, and breadsticks offering is an amazing deal, the debate over which of the restaurant's soups best complete the meal can be divisive around the dinner table. So, in a recent poll of Mashed readers, we attempted to settle the Olive Garden soup debate once and for all. 
Opinions were divided on the worst of the Italian chain's soup options
Recently, Mashed asked 657 U.S.-based Olive Garden customers, "What's the worst soup at Olive Garden?" Respondents were asked to choose between the chain's four classic soups: Chicken and Gnocchi, Pasta e Fagioli, Minestrone, and Zuppa Toscana.
Coming in last place in the poll — meaning most respondents enjoy this soup — was Pasta e Fagioli (which features ground beef, white and red beans, tomatoes, and tubetti pasta), with 18.87% of the total votes. The next most popular soup, bringing in the second least amount of votes, was Chicken and Gnocchi (a cream-based soup with Italian dumplings, chicken, and spinach, which took the No. 2 spot on our rankings of Olive Garden's best items) with 22.98% of votes.
Receiving the second most votes for worst Olive Garden soup was Zuppa Toscana — a creamy gluten-free soup made with spicy Italian sausage, potatoes, and kale — with 26.03% of the vote. And taking the top spot as Mashed readers' least favorite Olive Garden soup was the classic Minestrone (made with vegetables, pasta, and beans in a light tomato broth) with 32.12% of the votes.
Although the Italian classic Minestrone brought in nearly a third of votes, the relatively equal disbursement of votes indicates that when it comes to Olive Garden soups, even the least popular flavors have their die-hard fans.