30% Of People Agree This Is Arby's Best Sandwich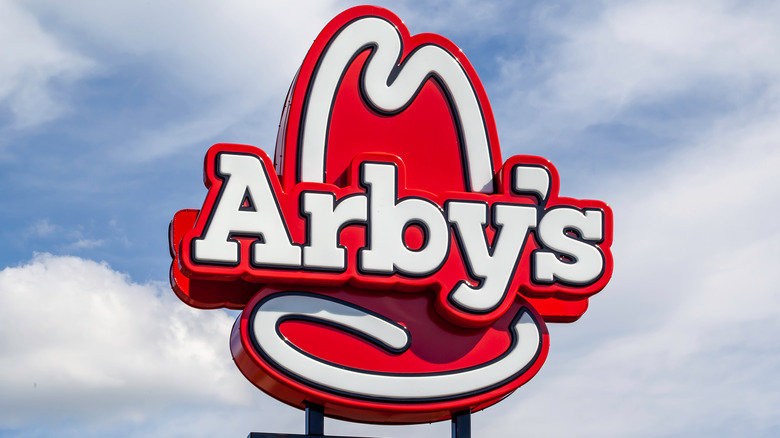 JHVEPhoto/Shutterstock
Founded in Ohio in 1964, Arby's has grown exponentially over the years from a small mom-and-pop sandwich joint, offering cheap roast beef sandwiches in a fast casual setting, into the second-largest sandwich chain in the U.S., after Subway (via Restaurant Business).
While Arby's offers a variety of popular menu items – from their perfectly crisp, seasoned curly fries to creamy milkshakes to melty mozzarella sticks — there's no denying that the main attractions at this popular fast food operation are the meaty sandwiches, which inspired the chain's slogan: "We have the meats." In addition to their classic roast beef options, Arby's has expanded their sandwich menu to include chicken, steak, beef brisket, and beyond.
Given the size and scope of the fast food juggernaut's menu, it's no surprise that opinions on the best Arby's sandwich are divided, as indicated by a new poll. Mashed recently polled 593 U.S.-based Arby's fans, asking: "What is the best Arby's sandwich?" Respondents were given the choice between six of the chain's most popular menu items, from classic options to new favorites.
One classic cheesy Arby's sandwich stood above the rest
Receiving the least amount of votes in our poll and falling to the bottom of the sandwich heap were Arby's Chicken Bacon Swiss and Roast Turkey and Swiss sandwiches, with 10.46% and 12.31% of the votes respectively. The next most votes were received by the Roast Turkey, Ranch, and Bacon — with 14.50% of votes — and the Corned Beef Reuben (which ranked last on our rankings of popular Arby's menu items), with 15.01% percent of votes.
The second most votes for the best Arby's sandwich went to the recently revived Prime Rib Cheesesteak (with 17.71% of the total), which pairs sliced prime rib steak with onions, peppers, and melted provolone cheese on a toasted sub roll.
Landing in the top spot with a whopping 30.02% of the votes was the iconic Arby's Beef 'n Cheddar, which is likely the chain's most well-known sandwich next to the Classic Roast Beef. The Classic Beef 'n Cheddar — which piles thin-sliced roast beef topped with cheddar cheese sauce atop a toasted onion roll — also ranked number one on Mashed's rankings of Arby's menu items. This poll is the latest indication that while some Arby's sandwiches come and go, the ever-popular Beef 'n Cheddar is here for the long haul.