Nathan's Famous Fans Need To Know About Its Cheesy New Burger
The famed hot dog joint Nathan's Famous, which was founded on Coney Island in 1916 by Nathan Handwerker (per the official website), has expanded over the years from a humble one-man stand to a fast food and retail juggernaut. Handwerker launched the company by selling franks for just $.05 a piece to hungry crowds along the famed New York boardwalk.
Nathan's all-beef franks became such a hit that the company went on to offer the signature sausages in grocery stores across the country, selling over 700 million hot dogs last year alone, according to Business Wire. Apart from their classic hot dogs, Nathan's is probably best known around the world for their famous Hot Dog Eating Contest, which takes place every July 4th.
However, when it comes to deliciously greasy, hand-held foods, hot dogs aren't the only option on the Nathan's Famous menu — and in honor of a particularly meaty upcoming holiday, the company is unleashing a new between-buns item that is sure to excite cheese lovers.
In a press release, the brand announced the release of a brand-new, extra-cheesy Bacon Cheddar Cheesy Burger coming to nationwide locations soon.
Nathan's new burger is made for cheese lovers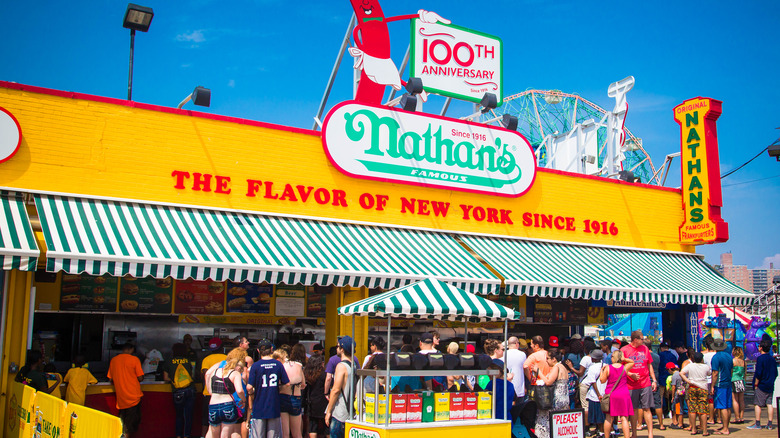 Colin Dewar/Shutterstock
Nathan's Famous has announced plans to debut the new bacon-topped burger on September 18, in honor of National Cheeseburger Day (per a press release). As the name of the new menu item indicates, the Bacon Cheddar Cheesy Burger will feature an Angus beef patty topped with Applewood smoked bacon and Nathan's classic cheddar cheese sauce.
In addition to being available in-store at Nathan's locations, the company also has plans to offer it through a variety of delivery options. "This limited-time offer will be one of the largest in the brand's history, as the Bacon Cheddar Cheesy Burger will not only be available through our franchisees but also through our ghost kitchen partners to expand it throughout the U.S. and abroad," James Walker, Senior VP of Restaurants for Nathan's Famous, shared in the release.
Ghost kitchens — aka delivery-only food operations that have no storefront, waiters, or dining room — have become increasingly popular across the restaurant industry, as in-person dining has lagged and delivery has boomed as a result of the COVID-19 pandemic.
Nathan's Famous, which recently launched their own delivery website to enable customers to order from the company directly and receive their food faster, also has a special offer for those who join the Nathan's Famous coupon club, providing a redemption code to try the new burger once they join. Customers who want a taste of Nathan's latest burger shouldn't wait too long, though — the Bacon Cheddar Cheesy Burger will be available for a limited-time only.