Alex Guarnaschelli Is Turning Heads With Her 'Over Filtered' Selfie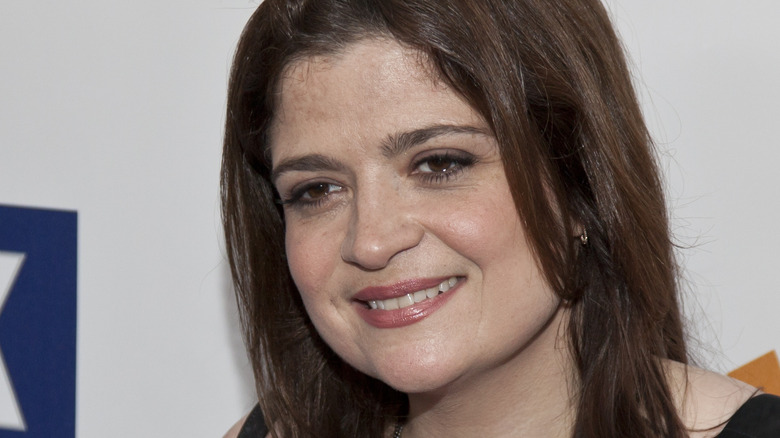 lev radin/Shutterstock
Scrolling through Instagram can be a slippery slope. Studies have shown that people tend to judge their own appearance unfavorably when they view images of celebrities — and even friends — on the photo-sharing platform (via BBC). Of course Instagram has a filter for every occasion, including some that fade out wrinkles and other imperfections to make our selfies look younger than our true selves, per MacPaw. In what might be the saddest finding about how social media affects self image, one study revealed that some participants didn't know how to feel about their selfie unless they knew whether anyone had "liked" it.
Celebrity chef Alex Guarnaschelli played into this social media self-image trap, while giving a knowing wink to her nearly 1 million followers that it is indeed a trap. On September 16, Guarnaschelli posted a close-up selfie on Instagram with the caption, "Over filtered Thursdays." As you might expect, her fans loved it.
Fans tell Alex Guarnaschelli she's beautiful, filter or no filter
Alex Guarnaschelli can be found all over Food Network, from "The Kitchen" to "Beat Bobby Flay," "Chopped," and "Guy's Grocery Games" (via IMDb). The busy TV chef has time to post the occasional flattering selfie to Instagram, even while acknowledging these pics can be "over filtered." Commenters on Guarnaschelli's Instagram post from September 16 liked what they saw. Compliments like "beautiful," "enchanting," and "gorgeous" were strewn in the Instagram comments like petals in the wake of a wedding flower girl. One commenter even called her "the sixth Kardashian girl" — a high compliment in the social media universe we all live in.
Plenty of people on Instagram told Guarnaschelli she didn't need a filter. And at least one commenter thought to mention that self image isn't just about a pretty face. "Filter or no filter you are unbelievably gorgeous and cute," @charlieccastro commented. "You and your food ... also you are a wonderful mother."