In Giada De Laurentiis' Career, One Recipe Stands Above The Rest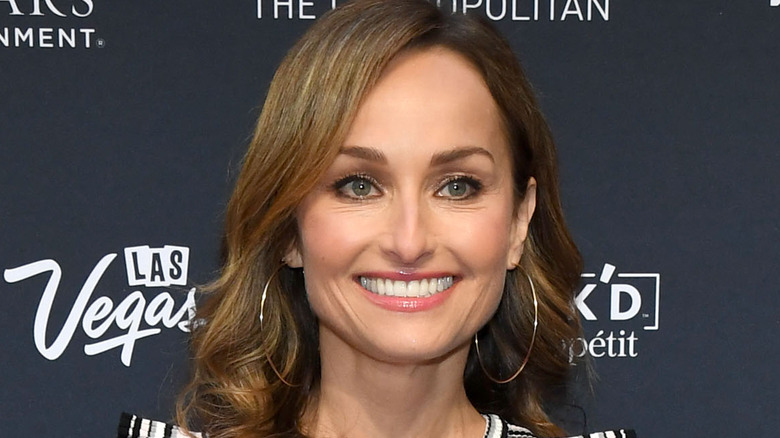 Ethan Miller/Getty Images
As one of the biggest household names in the culinary world, Giada De Laurentiis is well known for her many authentic and approachable Italian dishes, but we'd have to say that one in particular stands out. Her Emmy-winning television show "Everyday Italian" and bestselling cookbooks "Giada's Family Dinners" and "Everyday Pasta" focus on making delicious Italian food accessible for everyone (via Food Network). The recipe that best encapsulates what Giada has to offer is a simple but memorable classic.
While it's easy to be starstruck by what De Laurentiis has accomplished, her career-defining recipe remembers where she came from. She was born into a large Italian family, which has always played a huge role in her cooking. She began her journey towards becoming a celebrated chef by cooking in her family's kitchen and spending time in her grandfather's restaurant, DDL Foodshow. She was discovered by a Food Network executive after an article about the De Laurentiis family appeared in Food & Wine Magazine in 2002. Family has always been important to her, and the recipe we think stands out against the rest has deep ties to the De Laurentiis clan.
By staying true to the heart of Giada De Laurentiis' cooking, we picked her signature Lemon Spaghetti as the recipe that stands out the most. It's easy to make, refreshing, and full of memories for the chef.
Simple nourishment and family ties elevate a dish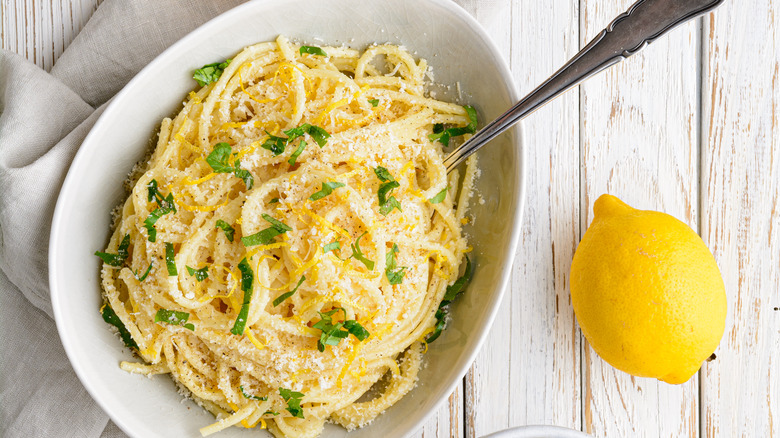 Marcus Z-pics/Shutterstock
Sometimes a recipe that appears simple ends up being one of the most important dishes you could make. This is certainly true of Giada De Laurentiis' lemon spaghetti, which she has described as one of her most famous dishes. She spoke with First We Feast about what the dish means to her and what it represents in her career.
She first came across the inspiration for her lemon spaghetti on a trip with her aunt to Sicily. They embarked on the trip while her brother was sick with cancer. On the trip, De Laurentiis was reminded of the importance of nourishment and how a basic dish can become decadent when prepared the right way. She was struck by the lemon spaghetti she ate on the trip and spent months trying to figure out how to recreate it. Her hard work ultimately paid off. Now, she has a delicious dish that will always remind her of her brother and the important trip she took with her aunt.
The story behind the lemon spaghetti recipe is moving, and we agree with Giada that the dish is strikingly delicious for something that requires so few ingredients. For even more lemony goodness, we recommend trying Giada De Laurentiis' Lemon Spaghetti Recipe with a Twist, which embraces the simplicity of her signature dish and imbues it with additional richness and warmth.