This Should Be Michigan's Official Food, According To Reddit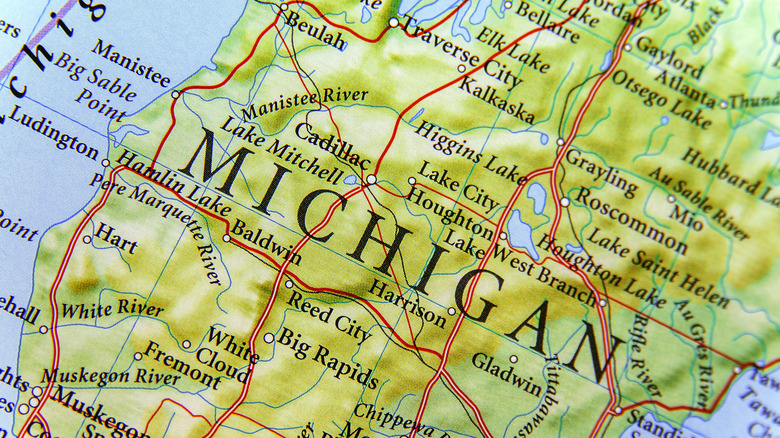 Bennian/Shutterstock
Michigan is a quirky kind of state – and we mean that in the nicest possible way. From Detroit's gritty urban vibe to the far Northwoods Upper Peninsula, sitting up there on top of Wisconsin like the matching hat to the rest of the state's mitten, it's a land of contrasts, to be sure, and its food certainly reflects that. Traverse City is known for its cherries (via the Food Network website), while Detroit has gifted the world with Detroit-style pizza and the Boston cooler, an ice cream float made with Vernor's ginger ale (itself a Michigan product). Mackinac Island, of course, is so renowned for its fudge that radio station 97.5 NOW FM explains that it has spawned the nickname "fudgie," given to the tourists who can't seem to pass up the product sold at shops all over the area.
Detroit's immigrant population has shaped the state's culinary traditions in the most delightful way, from Detroit's Greek diners to the paczki (Polish jelly donuts) of Hamtramck to the Italian stuffed sandwich called cudighi, known and loved throughout the UP. Yet another stuffed sandwich that was brought over to the peninsula by a different immigrant group may not be Michigan's official state food (according to The Daily Meal, it doesn't actually have one), but several Redditors feel that it deserves that title.
Michiganders sure love those pasties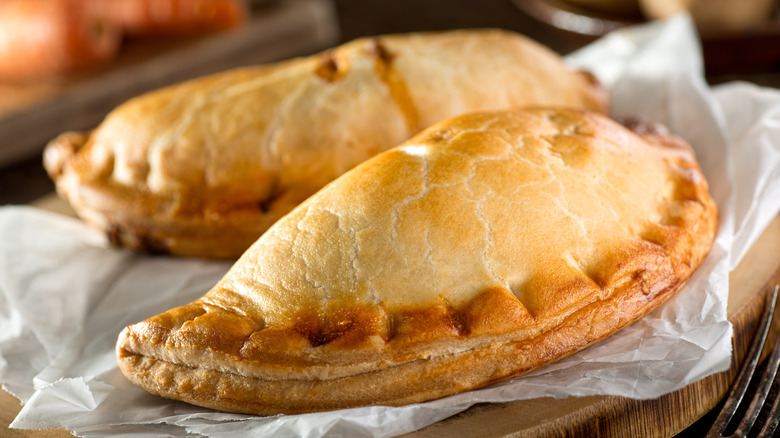 Foodio/Shutterstock
A recent Reddit thread solicited the best foods from every state, and as is usual for Reddit, people had opinions they were dying to express. When it came to Michiganders, one particular food kept coming up over and over: the pasty, a dish that Lehto's Pasties says was introduced to the Upper Peninsula in the 1840s. It was brought over (well, the recipe, presumably not the actual pasties) by Cornish miners who'd come to work the area's iron and copper mines. Pasties soon found their way into the lunch pails of Finnish and Italian miners, too, eventually working their way above ground to become a regional specialty. One Redditor claims "Pasties are the best to go food ever made," going on to say they're "Even good cold!" Another offers "Man, a pastie in the dead of winter is Michigan's version of soul food I swear. "
A few other Michigan foods also got Reddit shout-outs, including Detroit's Coney dogs, any Middle Eastern food eaten in Dearborn, smoked whitefish, and something called an olive burger that only a handful of Redditors seemed to be familiar with. (Apparently, it's a burger with green olives, go figure.) One Redditor, however, was sadly mistaken when they suggested Blue Moon ice cream as the state's official dessert by claiming it's "Literally only a Michigan thing. " Ha, even the Chicago Tribune admits a Milwaukee origin is more likely, though the mysterious flavor may even have roots in West Virginia or Massachusetts.