Hostess Is Bringing Back These Spooky Treats For Halloween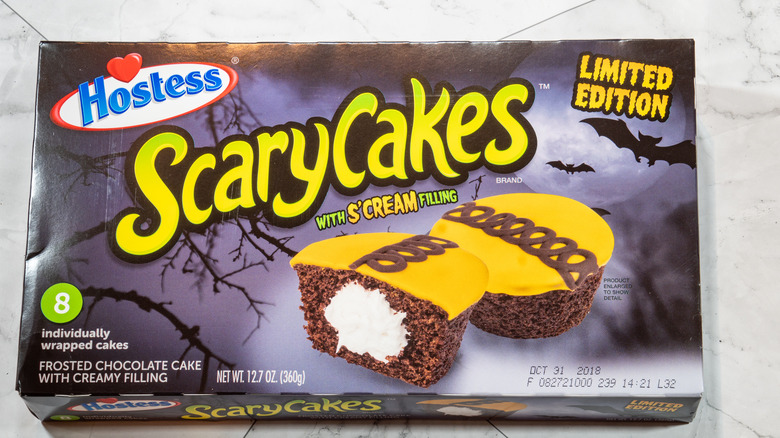 melissamn/Shutterstock
Hostess and Halloween just sound right together. And, luckily, with the scariest holiday of the calendar year right around the corner, Hostess is bringing back some of its sweetest snack cakes for a limited time to help make it spook-tacular. Per Brand Eating, Hostess will be lining our grocery store shelves (and our bellies) with three Halloween-themed snack cakes, including everyone's favorite ScaryCakes with S'cream filling — a riff on the ever popular and iconic cupcake, along with Ghost White Ding Dongs and Spooky Twinkies. Listen up, because these ghoulish treats will only be around until October 31 or until supplies last, and we know you are going to want to stock up. 
What makes these snack cakes so special? For starters, all three desserts have special Halloween-themed packaging, featuring black bats cast against a full moon, ominous looking tree branches creepily stretching their limbs out, and frightening fog to put you in a hauntingly festive mood. But the best part, besides being incredibly addictive, is they all have s'cream filling — the vanilla flavored cream in the center that is so devilishly delish. These snack cakes are sure to please the kids (and those who are kids at heart). What makes these cakes so awesome that you need to add them to your grocery list?
What to expect from Hostess Halloween cakes
Not that anyone needs an excuse to eat a Hostess snack cake, but we can give you a few if it helps. Brand Eating shares that the ScaryCakes are a riff on the iconic Hostess cupcake, only these cakes are frosted orange with a chocolate squiggle instead of their classic vanilla squiggle. The cupcake is chocolate and filled with the same creamy center you can't help but eat. These Hostess ScaryCakes are screaming, "Stock your pantry with me," or they would be if they could speak. 
If the brand's cupcakes aren't your thing, then try the Ghost White Ding Dongs. Instead of the nostalgic fudge-covered chocolate cake, Hostess has turned this into a ghostly cake featuring yellow cake covered in white fudge, and of course, it is filled with that oh-so-lovely S'cream. Hostess has also taken their traditional golden yellow Twinkie and, mad scientists that they are, turned it into a Spooky Twinkie with chocolate sponge cake filled with S'cream. It will truly make your Halloween spook-tacular. 
We think all three of these seasonal snack cakes are the perfect treat to add to your kids' lunchbox, to nosh on during your horror movie marathon, or to handout to the kiddos on the big night.