Here Are The Cocktails Being Served At The 2021 Emmy Awards
Hollywood actors and booze are a classic pairing. So, what better way to celebrate the September 19 broadcast of the Emmy Awards on TV than with some cocktails concocted by the Emmys' official spirits partner? While this particular cocktail might be more closely associated with the James Bond movies than any TV show, Ketel One Vodka announced in a press release that it has made the vodka martini the signature drink of this year's awards event, which will honor the best television had to offer over the past year.
Baseline martini recipes mix gin or vodka with vermouth in ice, with either an olive or lemon garnish added (via Allrecipes). As Sipsmith describes, you can make your martini dry by dialing down the vermouth, or make it a dirty martini by adding olive brine.
For the Emmys, Ketel One is going far beyond the basics. Charles Joly, an award-winning mixologist at Diageo (owner of the Ketel One brand) has created original takes on some martini favorites.
You can have an Emmy watch party martini kit delivered to your home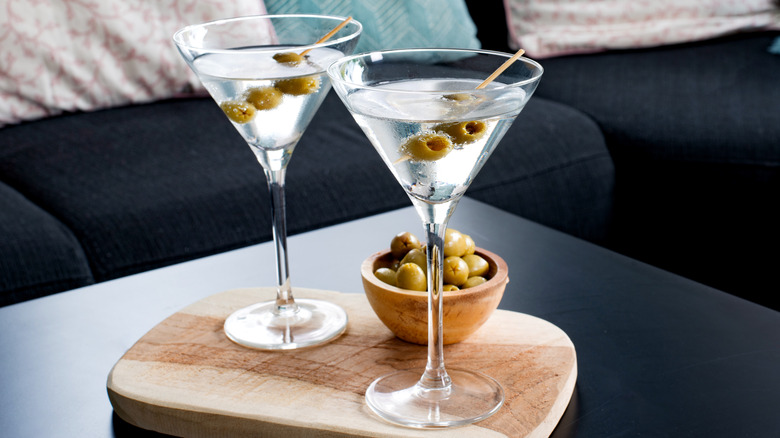 Sridee Studio/Shutterstock
One of the vodka martinis Ketel One is serving at the 73rd Emmys is the Foraged Martini, a variation on the classic martini with truffles, thyme, and tarragon, per the Ketel One press release. If a fruity espresso martini is more to your taste, Ketel One is offering the Café Crimson: an espresso martini with hints of black cherry and raspberry. Fans of seven-time Emmy winner "Sex and the City" (via the Emmys website) might appreciate Ketel One's take on the cosmopolitan. The Reboot Royale is a cosmo with sparkling rosé and cranberry pearls.
If you want to drink like the stars ... well, family and friends might stage an intervention. If you can dodge that, however, Ketel One will bring some of the flavor of the official Emmy cocktails straight to your door, in partnership with alcohol delivery service Cocktail Courier. (Ketel One would step in at this point to remind us that "moderation is marvelous.") The $84.99 kit described on the Cocktail Courier website doesn't include truffles, essence of black cherry, or any of the other fancy stuff that might go into the special Emmy martini creations. The kit includes the basics, like vodka, vermouth, bitters, an orange and a lemon, olives, and cocktail onions. Cocktail Courier also sets you up with some basic recipes. As Diageo mixologist Charles Joly put it, "There truly is no wrong way to enjoy a martini."