TikTok Erupts Over What A Woman Who Is Deaf Says Happened At Dunkin'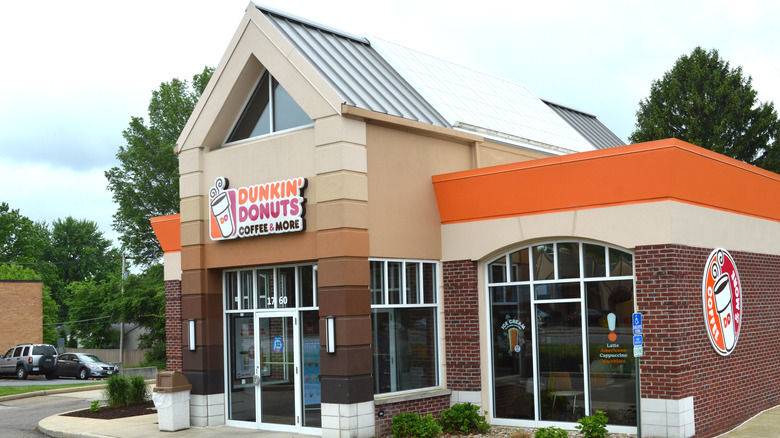 Eric Glenn/Shutterstock
The pandemic has been difficult, to say the least, but it has posed unique challenges for people who are hearing impaired. One woman took to TikTok last week to shed light on a serious problem she, as a person who is deaf, had at a California restaurant.
Shannon Heroux posted two very emotional videos in which she described being denied service at a Dunkin' location because she is deaf. The videos went viral, catching the attention of national media, including "The Today Show" and "Newsweek." In one of the videos (via TikTok), Heroux explained that she wears cochlear implants but didn't have them during the Dunkin' visit. "I've never been refused service before," she said, "and it hurts."
Heroux, an Uber driver, said she entered Dunkin' to buy a drink between rides. Though she can read lips, she said she had to stand at a distance from the counter, which had a plexiglass barrier, so she lowered her mask to communicate with the employee. According to Heroux, after she said, "I'm deaf, how do we do this?" the employee called over a manager. She attempted to explain that she could not hear him and, due to his mask, couldn't read his lips. "I keep telling him, 'I'm deaf, I can't hear you.'" She said the manager was gesturing toward the door. Heroux recalled asking, "You're really not going to take my order?" She says the manager then shook his head. "And my heart sank, like 'What did I do wrong?'"
TikTok showed support for Shannon Heroux
In one of her TikTok videos, a visibly upset Heroux vented: "I wear my mask, we're 6 feet apart, there's plexiglass. What more do you want from us? We [people who are deaf] struggle so much during this pandemic. Enough is enough.'" TikTok agreed. The videos have more than 11.5 million views combined as of this writing and plenty of comments.
"Even if the employee policy is to keep the mask on, they should still have tried to communicate w you. Write on paper, type on a phone. ANYTHING," wrote one commenter (via TikTok). Another said, "I'm crying watching this ... I have a special needs child and know exactly how it feels!" Others called on Dunkin' to do better. As one person put it, "@Dunkin fix this and fix it NOW."
Several people seemingly advised Heroux to file a civil rights complaint or lawsuit. According to the law firm KRCL, "Title III of the Americans With Disabilities Act (ADA) requires businesses to remove barriers to communication." Under the law, restaurants must take steps to ensure that customers with disabilities can "fully and equally" access the goods and services on offer. That includes providing "auxiliary aids and services." Heroux said on TikTok that she wants an apology from Dunkin'.
In a statement to Newsweek, the company said, "We are committed to creating a welcoming environment and treating every guest with dignity and respect." Dunkin' also said it issued an apology to Heroux and was attempting to reach a resolution.