Duff Goldman Fans Can't Get Over This Adorable Bath Time Pic Of His Daughter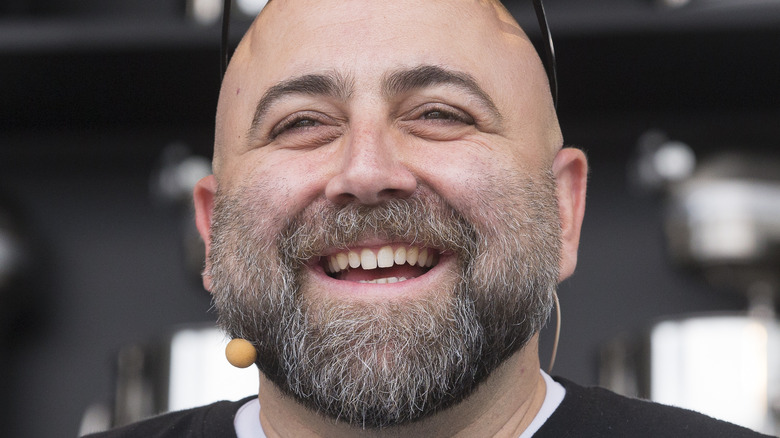 Sterling Munksgard/Shutterstock
Celebrity Baker Duff Goldman is filling our Instagram feed with cuteness. The baker is known for the Food Network show "Ace of Cakes" and hosts the competition shows "Holiday Baking Championship" and "Spring Baking Championship." The Baltimore native owns the famous bakery Charm City Cakes and its outpost in Los Angeles, Charm City Cakes West.
Goldman and his wife Johnna welcomed a daughter to their family in January 2021 and has been spoiling fans with cute photos of her ever since (via Instagram). When she was born he posted a picture with the caption "I have no words to describe this blessing ... she is the most beautiful thing I've ever seen in the whole world." We've been lucky to witness Josephine's growth as Goldman shares pieces of his life with his fans, including periodic pictures of the baby. He just shared a new photo — and it's the most adorable one yet!
Duff Goldman's cute daughter
The latest picture fans are freaking out about shows Duff Goldman's super cute daughter right after bath time. She looks just above the camera with her wide blue eyes as he snaps the pic, looking perfectly content and a little curious in her mom's arms. Goldman posted the photo to his Instagram with the simple caption, "Josephine got a bath!"
It's seriously one of the cutest baby pics you might see in a while, and his fans agree. They are absolutely eating the picture up and appreciate the adorable post of baby Josephine. Some of the commenters are gushing over how cute she is, pointing out her adorable eyes and eyelashes. One fan commented, "STOPITTTTTT" with a series of heart and overwhelmed face emojis to express their reaction. Another said that they couldn't get over how cute she was and couldn't get enough of her.
Goldman has posted a few other pictures of Josephine on his Instagram, including a great shot of the Food Network star holding her in a corn field, and she looks equally adorable in every single one. If you need a cute baby pic to bring a smile to your face, Goldman's grid is a great place to start.