Krispy Kreme Fans Won't Want To Miss This Weeklong Gratitude Day Deal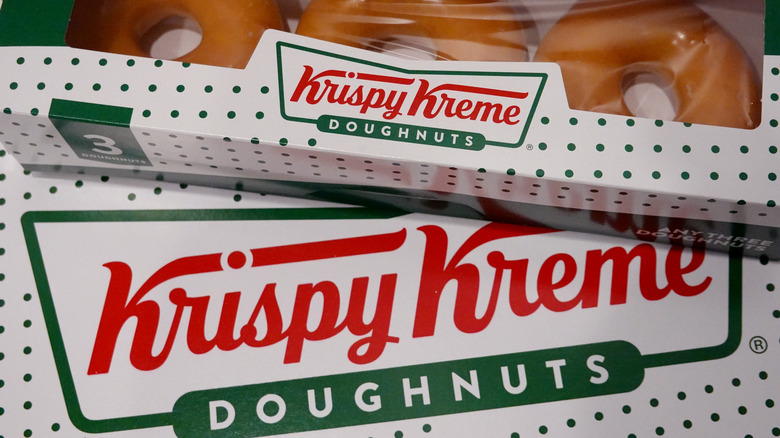 Scott Olson/Getty Images
Fans of Krispy Kreme likely know that the delicious doughnut chain has kept all the fall flavors and vibes going throughout September. According to Business Wire, Krispy Kreme has rolled out a different fall flavor every week between September 6 and the 26, including fan-favorite pumpkin spice, maple glazed, and apple cider glazed. But things are about to get sweeter than ever thanks to the chain's celebration of World Gratitude Day.
Between September 21 and September 27, Krispy Kreme customers will have even more reason to stop by or place an order, by spreading a little kindness during the chain's week of gratitude. "World Gratitude Day is 9/21, so treat someone who you're grateful to have in your life any time this week," said Krispy Kreme's Chief of Marketing Officer Dave Skena in a statement received by Mashed. "And to show our gratitude, when you send the gift of a dozen doughnuts, we'll gift you the same 'thanks' in return," he added. Customers can buy a dozen doughnuts for delivery to someone they'd like to thank and have the dozen doughnuts "gift-wrapped" with a festive or decorative cover for free. In return, Krispy Kreme will give the buyer a voucher for their own free dozen of original glazed doughnuts.
There is fine print on this Krispy Kreme deal, though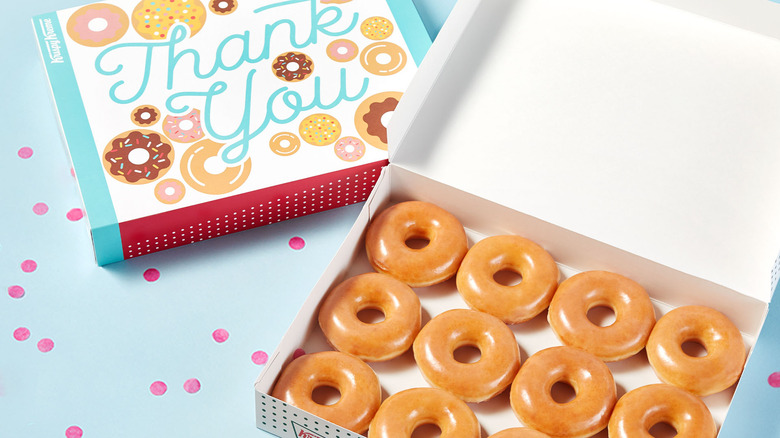 Krispy Kreme
In order to participate in the buy one dozen get one dozen celebration for Gratitude Week, Krispy Kreme fans can place an order online or in the app. Choose between the World Gratitude Week Bundle or the Custom Gift option. The first includes a dozen original glazed or a dozen classic assorted doughnuts with a "thank you" or "sending some sunshine" gift wrap cover. Custom gifts include a dozen original glazed, classic assorted, or custom assorted doughnuts with even more gift wrap options such as "happy birthday," "congrats," or a doughnut-decorated cover.
Once you make your selection, use the promo code "THANKS" at checkout to get the sleeve for free. You can even add a personal message that will be attached to the box before delivery. However, delivery is only available to those within 10 miles of participating Krispy Kreme shops or two miles from shops in urban cities like New York or Chicago. Those who live outside of this radius will need to place their order for pickup and deliver the doughnuts themselves.
Something else to note is that the digital voucher for a free dozen doughnuts for the sender will be emailed to the buyer. But keep in mind that the voucher is only valid for one month, through October 27, on a dozen original glazed doughnuts bought in-store. So, start thinking about who you want to thank and spread some kindness to this week.