This Hot Sauce Might Be Antoni Porowski's Favorite Condiment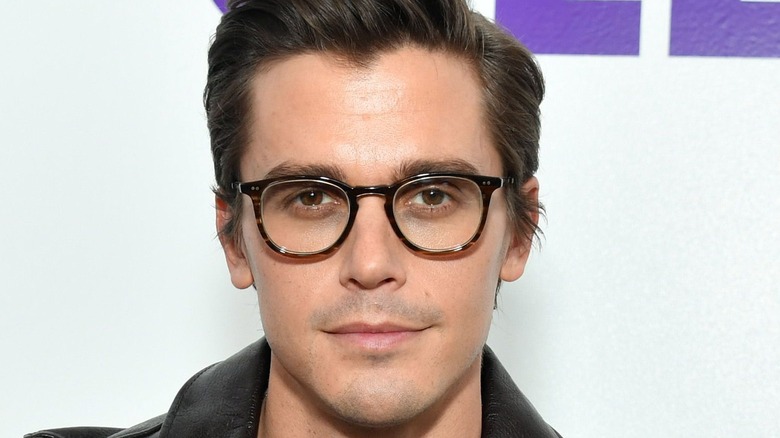 Amy Sussman/Getty Images
We may receive a commission on purchases made from links.
When Netflix's "Queer Eye" star Antoni Porowski isn't helping guests like Season 3's Jones sisters bottle up their secret barbecue sauce (via Eater), the food and wine expert is giving fans a glimpse into his refrigerator. Allowing inquiring minds an opportunity to see what ingredients he is noshing on at the moment, Porowski shared in an interview with Brit + Co what Whole Foods items he likes to keep on hand.
According to USA Today, Porowski is a fan of cold brew coffee and eats a mostly plant-based diet during the week. However, he also shared that he likes to indulge in a bit of cheese on the weekends. With that in mind, we were curious what grocery staples might be lurking in the cookbook author's fridge. And sure, there was some mozzarella to be had, but that's not the ingredient that got us talking. These days most everyone has a secret, or not so secret, sauce or condiment they use when cooking or simply making a sandwich, and this celebrity chef is no different. Porowski can take his place in line with the likes of Andrew Zimmern, who has a bit of a mustard fetish, and Michael Symon, who admits to being a Miracle Whip fan. But be forewarned, Porowski's condiment of choice brings the heat.
Whole Foods 365 Everyday Value Korean Style Gochujang hot sauce
According to Brit+Co, Antoni Porowski is a fan of Whole Foods 365 Everyday Value Korean Style Gochujang hot sauce. The foodie revealed to the outlet that this is the magic sauce he uses to give his favorite sandwiches and dishes a little kick. "I put this gochujang-flavored condiment in practically everything," Porowski joked. "Whip it up with some mayo. Slather it on a burger, and you get something creamy with extra kick." 
So what exactly is gochujang-flavored sauce and marinade? Per Whole Foods' Facebook post, it is a Korean fermented chili paste. According to the product description on Amazon, this Korean Style Gochujang Sauce and Marinade packs a medium punch when it comes to the heat, but maximum flavor for your taste buds. They, too, recommend using it on pretty much anything. Bon Appétit shares gochujang does, indeed, pair well with the American burger, and it can also up the flavor of your steaks and tacos. They note that in addition to the chilis and fermented soybeans used to create this sauce, sticky rice is a key component, which adds a subtle sweetness to balance the heat.