What Makes Richard Blais' Carrot Recipe So Unique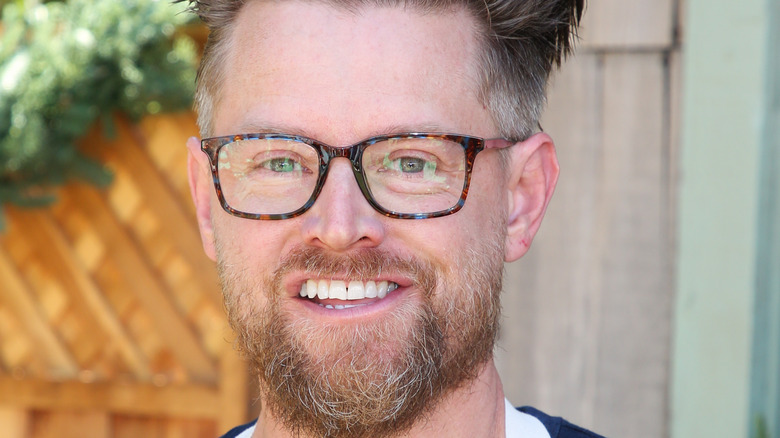 Paul Archuleta/Getty Images
Richard Blais is a pretty unconventional individual. But, with this "Top Chef" contestant, it is part of the reputation he has built. Blais is known for his adventurous and often times unusual ingredient selection. At the 2013 Food & Wine Classic in Aspen, the celebrity chef used both tortilla chips and Lemonheads to create a dish where trout was the main attraction. During an appearance on "Late Night With Jimmy Fallon," the cookbook author made Whiskey Sauerkraut because, as he explained, he believed "there's just not enough cocktails with sauerkraut juice" (via Eater). Basically, Blais is always turning heads and catching our attention because we would never think to use some of the food items he so willing embraces and incorporates into his dishes.
The host of "Halloween Baking Championship" also doesn't shy away from much. He revealed to Food Network that he once cooked "a zombie-themed multicourse dinner in a cemetery." Like we said, Blais is anything but traditional and that's probably why we are talking about his carrot recipe. Maybe it's his approach to making carrots, or maybe it is all in the ingredients he uses to makes the dish so unique. But whatever it is, you are going to want to try it.
Richard Blais uses ginger and furikake
Blais really knows a lot about carrots. He made them six different ways for one dish on an episode of "MasterChef," wowing Gordon Ramsay and earning Blais high praise from the other contestants (via YouTube). So, it is fair to say, he is a bit of an aficionado when it comes to this root vegetable. Blais told Food & Wine, "I just think carrots, particularly their tops and roots, are an artistic wonder." Blais waxed on about their appearance, noting, "The color, the abstract shape—they're gorgeous." The "Top Chef: All-Stars" contestant shared a ginger-lime baby carrots recipe with the publication, and the ingredients Blais uses reflect his artist approach to these colorful carrots. 
Blais cooks the carrots in a "tangy" ginger sauce that contains a hint of cinnamon, a little Sriracha for heat, and the sweetness of lime. Blais then sprinkles furikake on top of multi-color vegetables. If you are unfamiliar with furikake, this ingredient is described as a seaweed-and-sesame-seed-based Japanese seasoning that really ups the flavor and texture of any dish. Per Japan Centre, furikake can be made with lots of different ingredients, but generally has salt, sesame seeds, and a little seaweed blended together. It sounds delish. Yummy, right? And if you like Blais' ginger-lime baby carrots, you may want to try his vegan Carrot Osso Buco.