Applebee's Massive $5 'Spooky Sips' Have Returned Just In Time For Halloween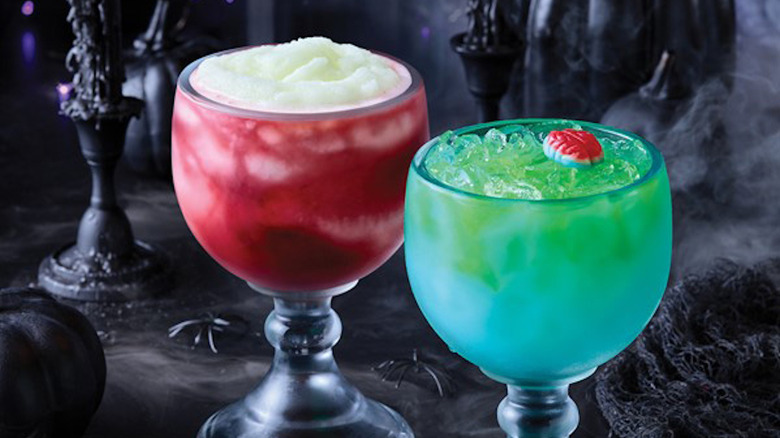 Applebee's
When it comes to spooktacular seasonal drinks certain to delight witches, goblins, and ghouls everywhere, Applebee's has a frighteningly good deal that won't terrify your wallet. The restaurant chain announced a pair of boozy beverages in a press release, unleashing "Spooky Sips" into the world just in time for Halloween costume hunting and candy munching.
Applebee's has a history of rolling out inventive — and downright frightening — drinks during the spookiest season of the year, including $1 brain-topped zombie cocktails in 2018 (via VinePair). This season, Applebee's is elevating its celebratory cocktails with the addition of "premium spirits" by Bacardi and Patron. While their price point can't beat dollar cocktails, the still-affordable Spooky Sips will hopefully make up for some customers' perception that Applebees' has the worst drink menu of any chain restaurant. Though Halloween is still a few weeks away, these refreshments might make you feel ready for some BOOze.
These seasonal cocktails are sure to send a chill down your spine
Limited-time Spooky Sips are part of Applebees' $5 Mucho Cocktails line-up, which come ready to guzzle in a signature extra-large glass, according to the press release. The Dracula's Juice, which has a deep red color reminiscent of the eponymous vampire's drink of choice, is a "wildberry"-flavored slushy cocktail made from a blend of Bacardi Superior daiquiri and Patron Silver margarita.
If you're in more of a tropical mood, the Tipsy Zombie, which has an almost radioactive blue-green hue, is made with Bacardi Superior, pineapple, passion fruit, lime, and cherry with a melon liqueur floater on the rocks — plus a gummy brain plopped on top to satisfy the most voracious of a zombie's cravings. If in-restaurant imbibing isn't your thing, Applebee's is also offering the Spooky Sips to go at participating locations. Starting now, you can enjoy the spine-chilling libations through October 31.