Walmart's Massive 488-Piece Candy Box Is All You'll Need This Halloween
We're getting ready for the most frightful time of the year as the temperatures begin to drop, pumpkin flavors begin to appear on grocery shelves and restaurant menus, and the leaves start turning orange and brown. As we slide into fall, it's hard not to get excited about Halloween! The spooky season is a perfect time to connect with friends over scary stories around a bonfire or embrace your inner demon by dressing up as one at a costume party.
The Halloween festivities wouldn't be complete without Halloween candy. The National Retail Federation found that almost 47% of the U.S. population planned to purchase Halloween candy in 2019 (via Reader's Digest). While everyone has a favorite candy that they love to savor on Halloween, nothing beats a wide variety of treats when sharing with friends, preparing your selection for trick-or-treaters, or indulging over the whole season.
Luckily, Walmart is selling a huge candy box filled with 488 pieces of delicious sweets that's the perfect way to load up for all your Halloween needs. 
What's inside Walmart's huge Halloween candy box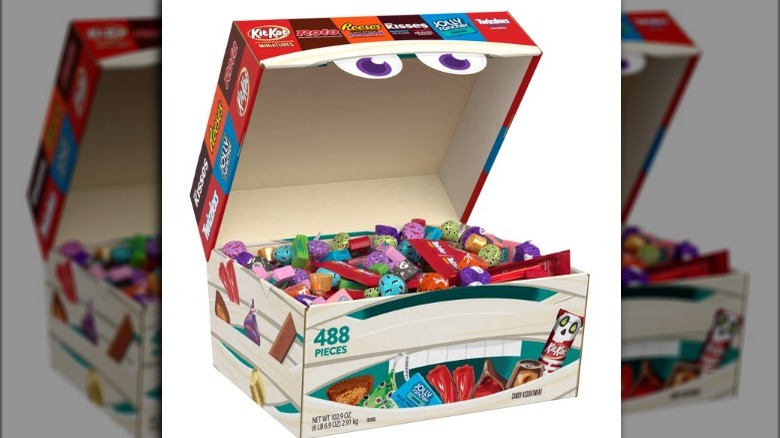 Walmart
If you're thinking about the best way to load up on candy this Halloween season, Walmart has a great option for you to consider. The product is listed as a Hershey's Chocolate and Sweets Assortment Bulk Box specifically created for Halloween on the Walmart website.
The box has a wide selection of different types of candy, including classic favorites like Reese's miniatures, monster milk chocolate Hershey's Kisses, vampire milk chocolate Hershey's Kisses filled with strawberry creme, Kit Kat miniatures, Rolo candies, Twizzler twists, and Jolly Ranchers Chews. With such a wide variety of options, there's something to please every trick-or-treater or party guest. Each of the 488 pieces of candy are individually wrapped. It all comes in an adorable box that is designed to look like a mummy monster guzzling up candy. The box also shows images and nutritional facts of all the options contained inside.
The reviews are mostly positive, with some customers saying the box is sturdy enough to use as a trick-or-treat bowl. The retail price is $29.98 and can be ordered online from Walmart.