Spicy Turkey Burger Recipe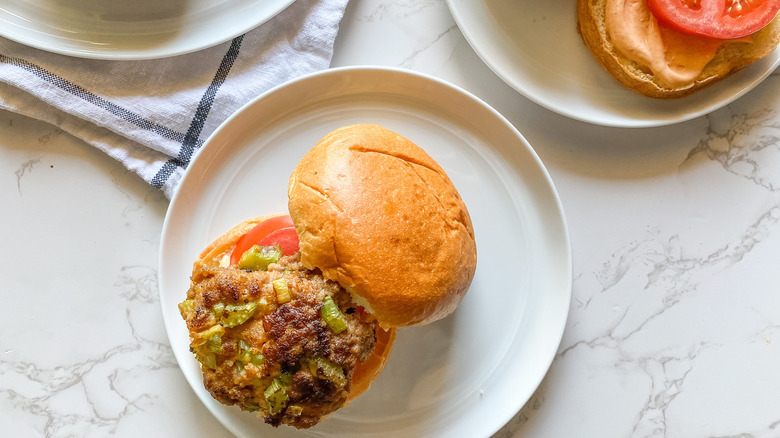 Kristen Carli/Mashed
When it comes to all-American cooking, there's no doubt that the burger is one of the most popular American foods, and it just so happens to be at the top of many people's favorites list. You prepare a traditional burger with ground beef and toppings like cheese, lettuce, and tomato, and it certainly hits the spot. However, there are plenty of other great ways to fix up a burger, and if you prefer turkey over beef, then this recipe is right in your wheelhouse. Recipe developer and private practice registered dietician Kristen Carli is a total pro at whipping up tasty yet healthy dishes, and this one is no exception.
The great part about these turkey burgers is that they have more flavor than just your average burger. In fact, the heat is one of Carli's favorite parts. "I love the added kick in these turkey burgers," she shares. "The Sriracha and Sriracha mayo spread really take [things] up a notch." These would be great for a family dinner, a casual bite on the weekend with friends, or anything else in between. Keep reading to find out how to make this fantastic recipe.
Gather the ingredients to prepare spicy turkey burgers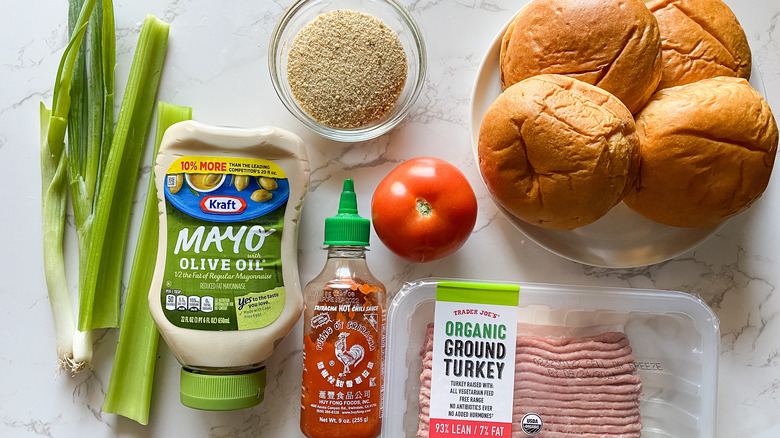 Kristen Carli/Mashed
We're off and ready to make some fantastic, spicy turkey burgers. Let's get down to business and make a grocery list of everything needed to pull these together. For starters, grab some ground turkey, salt, and pepper for a bit of flavor. You will also need bread crumbs, which you will add to the patties. Pop by the produce section next, and grab celery and onions. In addition, you will need Sriracha and mayo. Last but not least, add olive oil, brioche buns, and sliced tomatoes to your list. (You may already have some of these ingredients at home!)
Preheat the oven, and prep the patties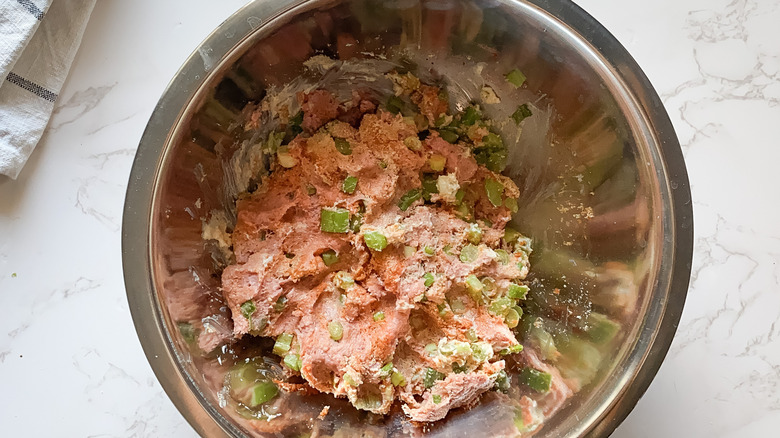 Kristen Carli/Mashed
For this recipe, you will need to use the oven for cooking the burgers, so the first step is to turn it on. Set the dial to 400 F, and let the oven get nice and toasty while you do the rest of your prep work.
In the meantime, take out a large bowl, and add the ground turkey, salt, pepper, and bread crumbs. At this time, you can also toss in the celery and green onions as well. For the patties, you'll add 3 tablespoons of Sriracha and then 2 tablespoons of mayo, and save the rest for the sauce. Use your hands to mix everything together, and form four patties.
Make the sauce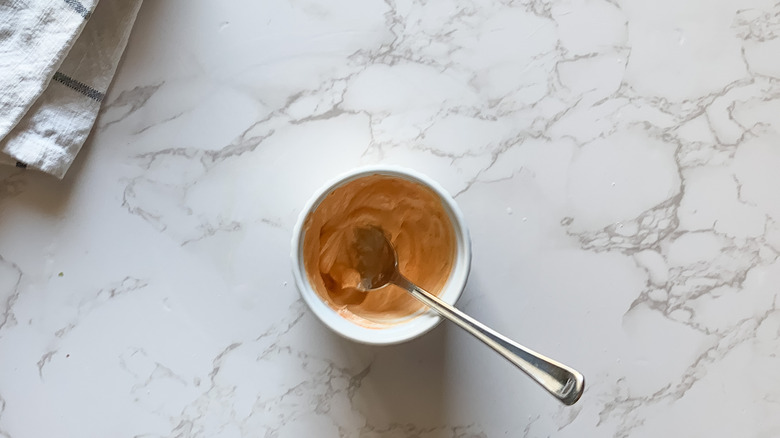 Kristen Carli/Mashed
Once you finish rolling your patties, it's time to make the spicy sauce that goes on top. Trust us — this is equally as important as the patties themselves, and it's so incredibly tasty. Grab a small bowl, and dump in the remaining Sriracha and mayo. Stir the two together with a spoon to combine. It should look orange in color when you are done mixing.
Now, you have a great sauce with a little bit of a kick that adds even more flavor to this burger. However, the mayo cuts down the heat just a bit, so it's hot but not too hot.
Cook the patties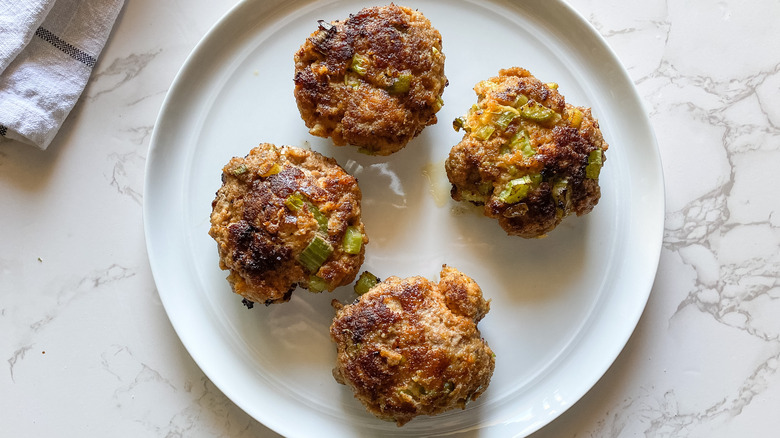 Kristen Carli/Mashed
The next thing on the agenda is to cook the burgers. Take out an oven-safe skillet, and put it on your stove. Turn the heat up to medium-high, and drizzle some olive oil in the pan. Once the pan starts to get hot and you hear the oil sizzle, add the burgers. Cook the patties on each side for about seven minutes. Then, place the skillet in the oven, and cook it for another 10 minutes. Once the timer dings, you can take the skillet out of the range.
Alternatively, you can cook the burgers outside. "Yes, you can use the grill instead if you would like," Carli confirms.
Serving suggestions and leftovers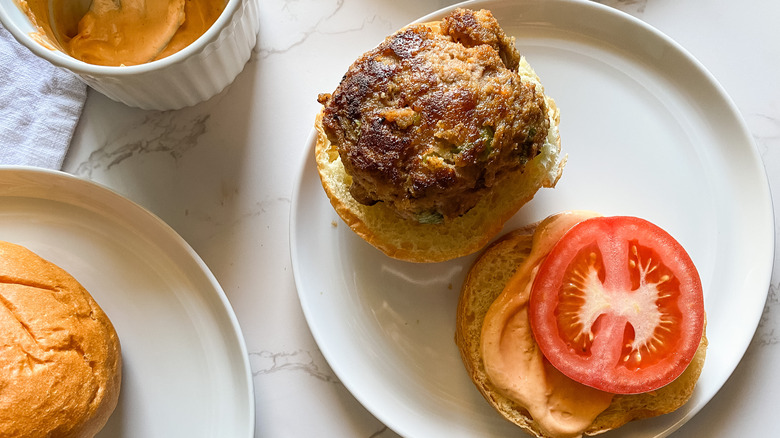 Kristen Carli/Mashed
Now, there's just one thing left to do: Make the burgers! Build each burger by spreading the Sriracha mayo on the bun and adding tomatoes to the patty. Wasn't that easy? The burger is plenty on its own, but there are also a few things that it would pair well with. "I love these burgers on the side of some potato wedges and a fresh coleslaw," Carli shares.
If you want to prep these burgers ahead of time, you totally can. "These freeze well," Carlie notes. "Prep the patties ahead of time, and store in an airtight container in the freezer for up to one month." 
Spicy Turkey Burger Recipe
The great part about these spicy turkey burgers is that they have much more flavor than your average burger.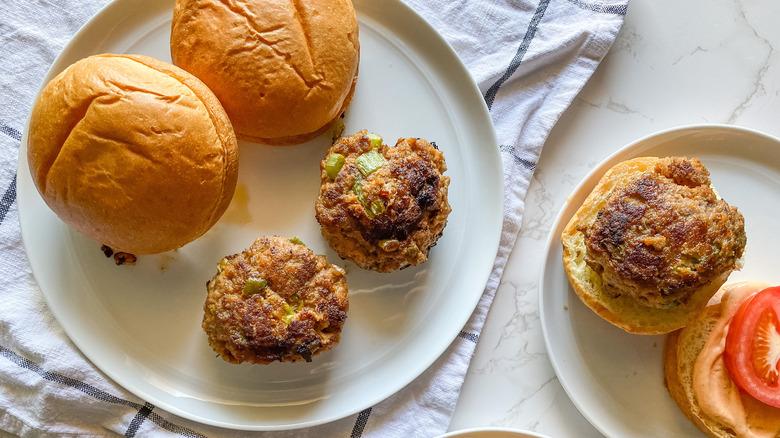 Ingredients
1 pound ground turkey
1 teaspoon salt
½ teaspoon pepper
½ cup bread crumbs
2 stalks of celery, diced
2 green onions, sliced
4 teaspoons Sriracha, divided
6 tablespoons mayonnaise, divided
2 tablespoons olive oil
4 brioche buns
2 tomatoes, sliced
Directions
Preheat oven to 400 F.
In a large bowl, add the ground turkey, salt, pepper, bread crumbs, celery, green onions, 3 teaspoons of sriracha, and 2 tablespoons of mayonnaise. Using your hands mix to combine.
Roll the mixture into 4 burger patties.
In a small bowl, add the remaining Sriracha and mayonnaise. Stir to combine.
In a large oven-safe skillet over medium heat, add the olive oil. Once hot, add the patties. Cook on each side for 7 minutes.
Place the skillet in oven, and cook for 10 additional minutes.
Build the burgers by spreading Sriracha mayo on buns. Then, add the tomato and burger patties.
Nutrition
| | |
| --- | --- |
| Calories per Serving | 566 |
| Total Fat | 34.6 g |
| Saturated Fat | 6.3 g |
| Trans Fat | 0.1 g |
| Cholesterol | 86.7 mg |
| | |
| --- | --- |
| Total Carbohydrates | 34.6 g |
| Dietary Fiber | 2.8 g |
| Total Sugars | 5.6 g |
| Sodium | 677.6 mg |
| Protein | 29.1 g |