Denny's New Panookies Are Perfect For Fall
Even though it seemed like things couldn't get any better for Denny's fans after the chain announced it was bringing back Pumpkin Pecan Pancakes, there is even more good news coming their way! Denny's has added a new item to its menu, according to Brand Eating, called a Panookie. If, like us, you've been watching all the fantastic treats on "Halloween Baking Championship" and find yourself craving something sweet, a Panookie might just be the sugary fix you're looking for.
To find this new item, diners will have to search in the dessert section of the Denny's menu. There, they will find two Panookie options available. The first one listed on Denny's website is the Signature Panookie, described as a "warm chocolate chip cookie filled with molten chocolate." This dream of a dessert is finished off with vanilla ice cream and salted caramel. Yes, please! The second option swaps the salted caramel for pecan pie sauce and salted pecans, and goes by the name of "Pecan Panookie." (Or, as we like to call it, "Pecan Panookie, Pretty Please?")
But, what's with the name "Panookie"?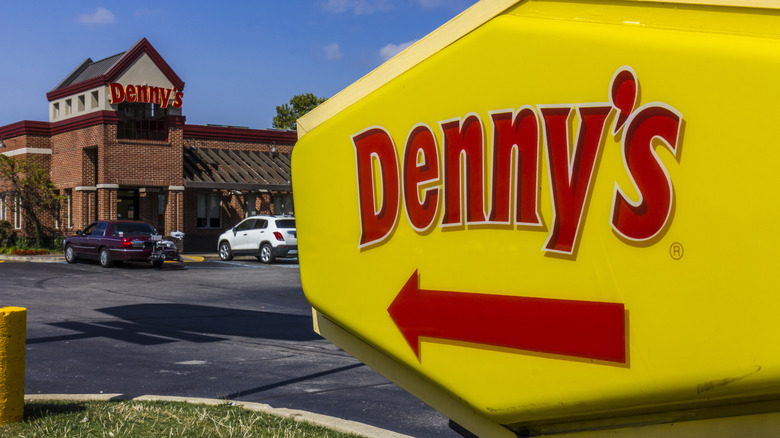 Jonathan Weiss/Shutterstock
We're not entirely sure what two words melded together to make the word "Panookie." It could simply mean pan cookie, since the new dessert appears to be served in a pan. It's possible that the term stands for pancake cookie, because Denny's is no stranger to making pancakes, and perhaps the new dessert's texture lies somewhere between that of the two baked treats. Or, maybe "Panookie" is a shortened version of pandemonium cookie because the new dessert is so delicious it's sure to cause a commotion? Though we might not be able to answer what's in a name, we do know that Panookies aren't the only new option diners will find at Denny's.
According to Thrillist, the breakfast chain is also launching Double Chocolate Pancake Puppies. Cocoa and Ghirardelli chocolate chips elevate these powder sugar-coated, hushpuppy-shaped pancake bites, and if those decadent ingredients aren't enough, there's even a dip — cream cheese icing! Just take all our money now! It may be hard to let summer go, but as they say, parting is such sweet sorrow, and Pecan Panookies and Double Chocolate Pancake Puppies sure add some sweetness to summer's end.