High Protein Coffee Recipe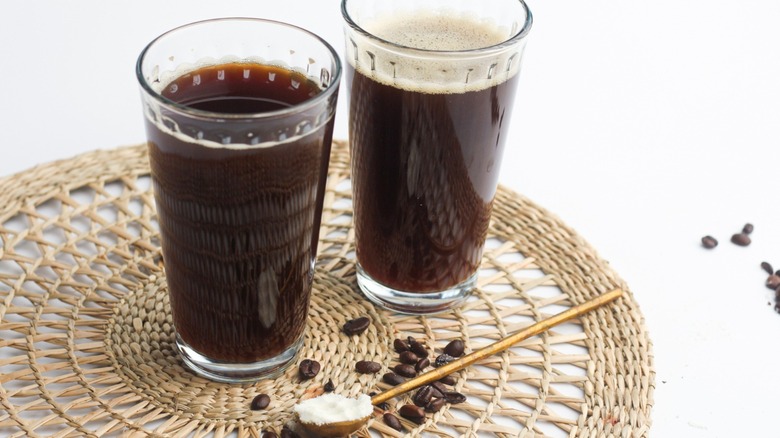 Susan Olayinka/Mashed
Do you want to add some pizzazz to your brew without the drive-thru? No worries! Food photographer and recipe developer Susan Olayinka is dropping a dash of protein into our morning cup of joe. You can make this at sunrise or use it for a midday pick-me-up. The big question is: hot or iced?
With the explosion of interest in nutrition in the U.S., we're now drawn to seeking ways to obtain nourishment more conveniently. Trust us, this drink will deliver. Although protein is not a major food group, it is a vital part of our diet. Protein is the building block for our muscles and bone structure. Our bodies use proteins to grow and repair cells and even strengthen our immunity. "Proffee" recently emerged as an ingenious TikTok trend, combining caffeine and protein. Why drink it? Experts say protein powder could help you to lose weight, and it helps to stave off hunger through the day (via Healthline). Taking a few swings of this in the a.m. will bump your daily intake of protein and give the kick you need to command your day!
Gather your ingredients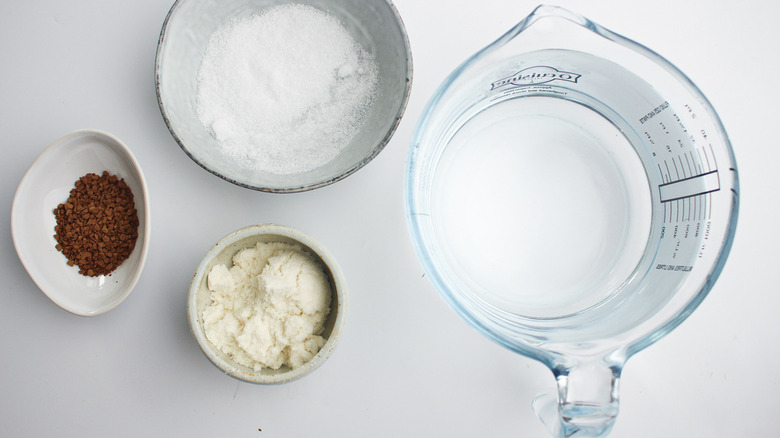 Susan Olayinka/Mashed
As with any TikTok trend, the ingredient list is fairly basic. Olayinka prepares an instant recipe, so there's actually no brewing required. All you need to make protein coffee is your favorite instant coffee granules, whey protein powder (unflavored), your preference of sweetener, and some hot water.
Olayinka tells us, "I know it seems like protein has been added to everything nowadays! Which makes it much more easier to consume [protein]." Our recipe makes enough for two glassfuls. Who's thirsty?
TikTok trend loading...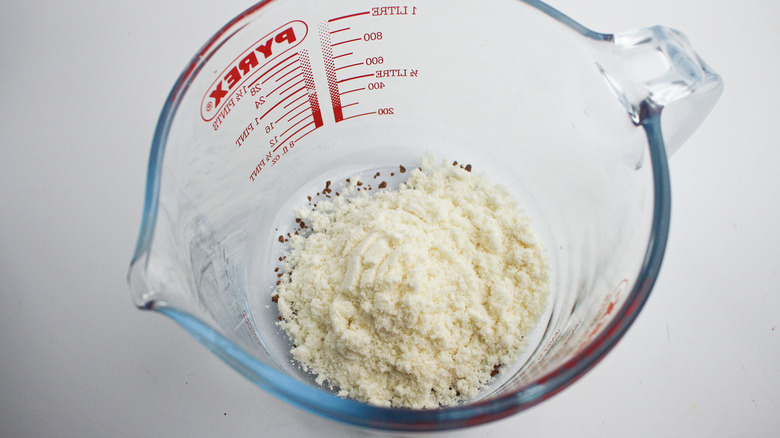 Susan Olayinka/Mashed
First off, grab a trusty mixing bowl or pitcher. Drop in 5 teaspoons of your favorite brand of instant coffee, 4 teaspoons of unflavored whey powder, and 4 tablespoons of sweetener. Mix the dry ingredients together until they are well combined.
Now, in case you're not familiar, whey is a protein extracted from milk. It is low in lactose, but high in amino acids. You may have heard it mentioned by health gurus and fitness fanatics, but it's good for everyone. Studies have shown that the benefits of using whey protein powders are many, including: reduced blood pressure, weight loss, lowered cholesterol, and increased muscle development, and even improved immune responses for kids with asthma (but we're not recommending giving coffee to the kids!).
Douse it with hot water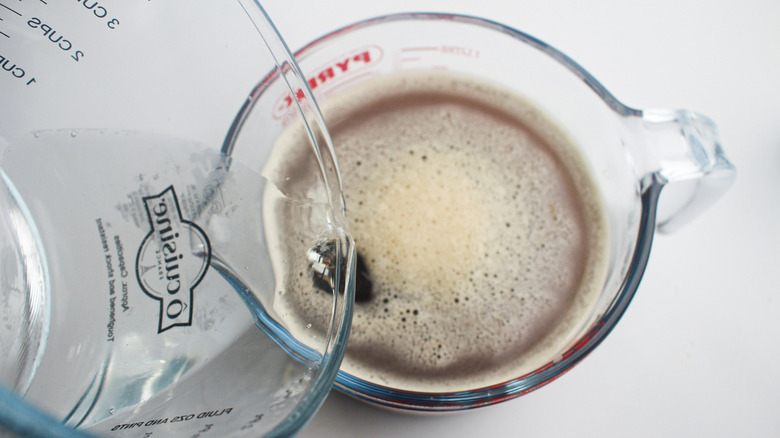 Susan Olayinka/Mashed
Next, pour 4 cups of hot water into the mixing bowl. Olayinka tells us this coffee comes out so smooth, you won't know it's instant! She explains, "This is just like a milky and silky coffee." To keep that coffee aroma and taste, Olayinka advises using unflavored protein powder — that way it won't take over that beloved coffee flavor. Wouldn't this be perfect alongside eggs and toast or a warm bowl of oatmeal? Your options are endless!
Mix it up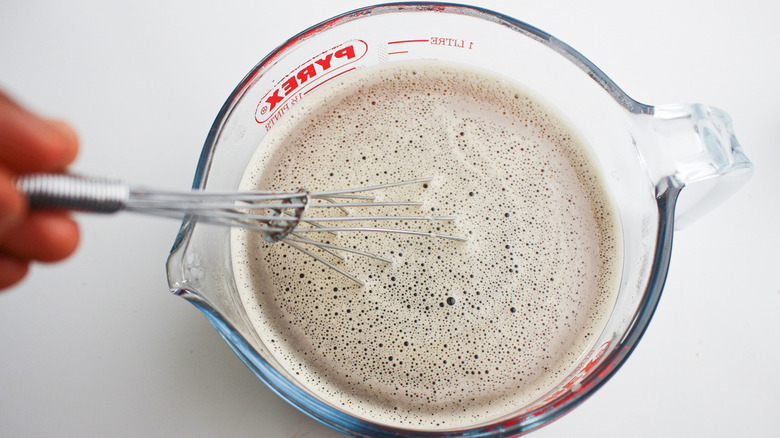 Susan Olayinka/Mashed
Whisk the mix together until all of the coffee and powder has dissolved. Once all ingredients are thoroughly combined, it is ready to be served. You can serve this hot in a cozy mug with breakfast, or refrigerate it and make an iced protein coffee for later. Now pour this into a thermos and off you go!
We asked Olayinka who she'd recommend our protein coffee to. She tells us, "I would say for busy people who want to add more protein into their diet." If that's you, then definitely give this a try!
Enjoy your nutritious homemade brew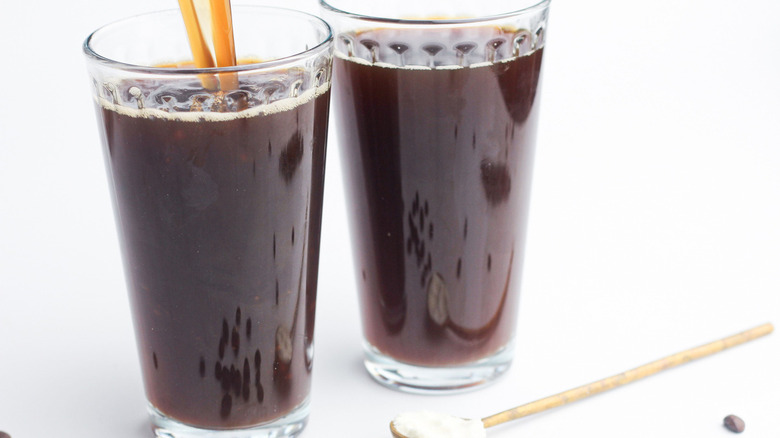 Susan Olayinka/Mashed
You can take this homemade Protein Coffee anywhere, or make it anytime! It's wise to store the hot brews in a flask or insulated mug, if you're taking it to go. Cold brews can be kept in the fridge in a covered capsule. But as fall beings, now is the perfect time to enjoy a freshly made steamy cup of joe.
We assure you this proffee will make your day. If you're headed to work you'll have a day full of clarity, focus, and nutritional balance. For the health-conscious consumers, try a shot of this before or after a workout to boost muscle recovery. As seen on TikTok, we highly recommend you try this at home! 
High Protein Coffee Recipe
When your morning really needs a pick-me-up, try this high protein coffee recipe to give you the energy you need to get through your day.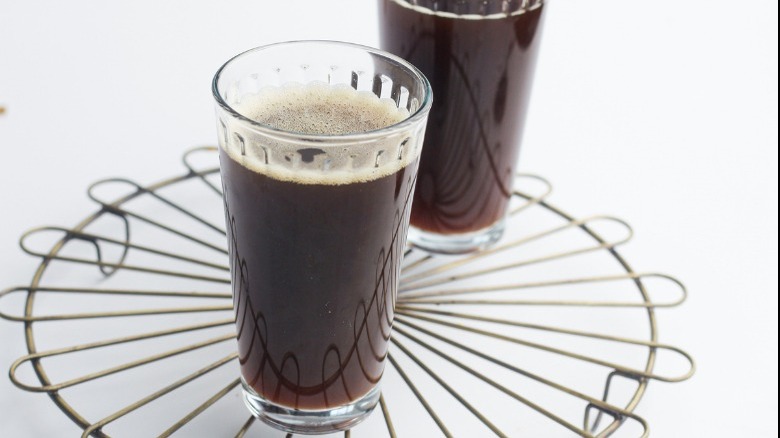 Ingredients
5 teaspoons of instant coffee granules
4 tablespoons of whey protein (unflavored)
4 tablespoons of sweetener
4 cups of hot water
Directions
Add the instant coffee, whey protein, and sweetener to a bowl. Mix together.
Add the hot water to the bowl and stir everything together until everything dissolves.
If serving hot, pour into mugs and serve immediately. If serving cold, let it cool and keep refrigerated until ready to drink. Then pour into glasses and enjoy!
Nutrition
| | |
| --- | --- |
| Calories per Serving | 59 |
| Total Fat | 0.2 g |
| Saturated Fat | 0.1 g |
| Trans Fat | 0.0 g |
| Cholesterol | 1.9 mg |
| | |
| --- | --- |
| Total Carbohydrates | 4.4 g |
| Dietary Fiber | 0.4 g |
| Total Sugars | 1.7 g |
| Sodium | 47.4 mg |
| Protein | 9.8 g |