BBQ Baked Beans Recipe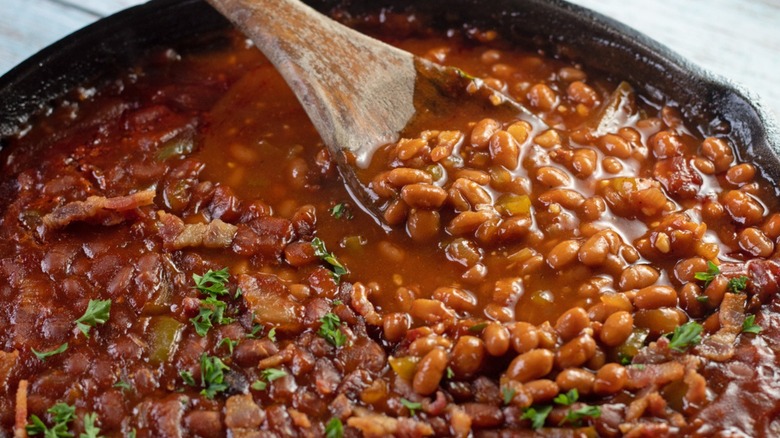 Angela Latimer/Mashed
While the main feature of any summertime barbecue tends to be meat — sausages, chicken, ribs, steaks, burgers, hot dogs, what have you — the unsung stars of the show are often the side dishes. What picnic, after all, would be complete without chips, potato salad, and of course, baked beans? Baked beans are a side dish so hearty that they can almost stand on their own, and in the case of vegetarians whose friends and family are of the carnivorous persuasion, it most likely does serve as the main course at many a cookout.
Recipe developer Angela Latimer, who blogs at Bake It With Love, has created a hearty baked bean recipe that can serve a small crowd. While it's not strictly vegetarian, you can easily omit the bacon from all or part of the recipe in order to accommodate non-meat eaters. These beans start out on the stovetop, but they finish off in the oven so you can leave them to cook on their own while you attend to whatever you've got cooking on the grill.
Gather the ingredients to make these baked beans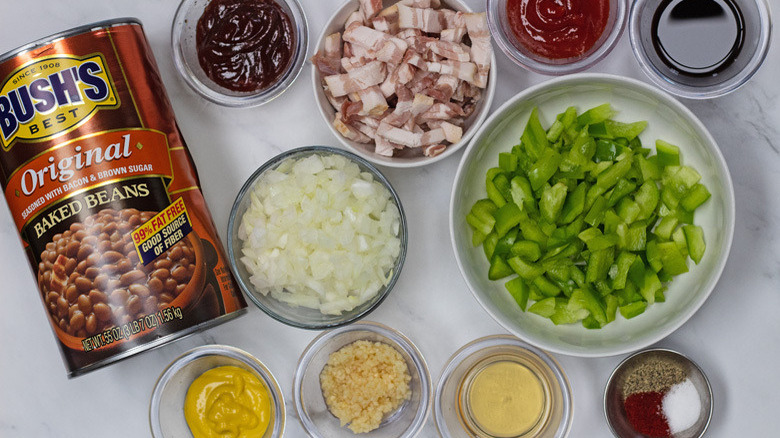 Angela Latimer/Mashed
This is a sizeable recipe, so you're going to need a lot of beans, either one very large can or a number of smaller ones. As to what style of baked beans you should look for, just your standard baked beans will do, since Latimer tells us, "I used Bush's original baked beans."
You'll be tweaking the canned baked beans by adding some veggies: a sweet yellow onion, some bell pepper, and fresh garlic. For seasoning, you're going to be using smoked paprika as well as apple cider vinegar, ketchup, barbecue sauce, yellow mustard, and liquid smoke. You can also add a little brown sugar if you want your beans to be on the sweeter side.
Cook the bacon until it's crisp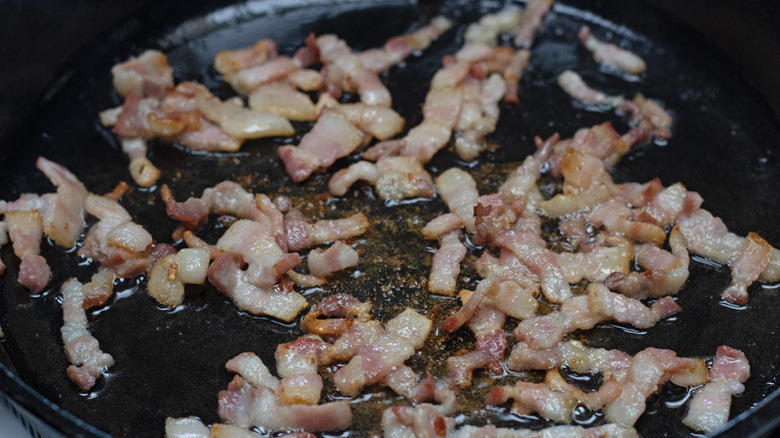 Angela Latimer/Mashed
The first thing you'll need to do is to preheat the oven to 400 F so it will be ready to go by the time you've prepped the beans. Next, take a large skillet and fry up the bacon. Latimer offers a helpful tip here: "If you want to save yourself a dish," she says, "use an oven-safe skillet such as the cast iron skillet I am using here. Otherwise, have a baking dish on hand to transfer the beans to after combining."
Once the bacon is crispy, remove half of the bacon strips from the pan and set them aside for the time being. The other half stays in the pan as you add the rest of the ingredients.
Heat the beans, veggies, and seasonings on the stovetop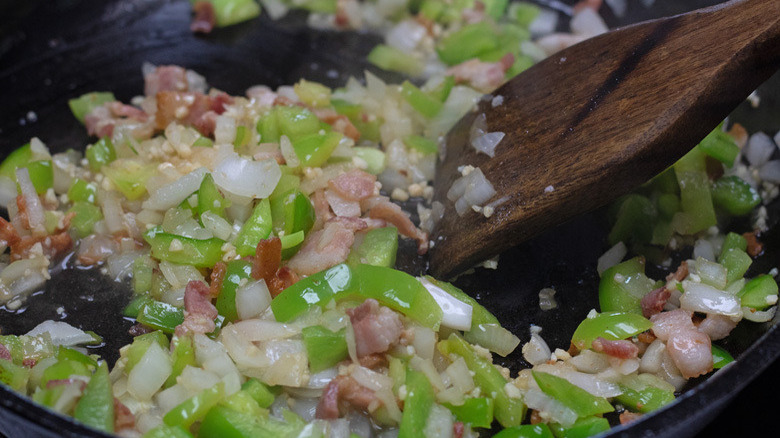 Angela Latimer/Mashed
Toss the chopped onion, pepper, and garlic into the pan with the remaining bacon and sauté until tender, which should take about five or six minutes. If you are omitting the bacon, heat a tablespoon of vegetable oil in the pan before adding the veggies. Add the smoked paprika along with a quarter of a teaspoon of salt and a quarter of a teaspoon of pepper, then stir in the rest of the ingredients except for that set-aside bacon. Stir everything up really well, then heat the beans until they are barely boiling. Turn off the heat, then taste the skillet contents and adjust the seasonings as necessary.
If you like, you can add a little brown sugar at this point. Latimer does caution, "It is best to hold off on adding any brown sugar until the ingredients are fully combined and have been brought to a boil," and she says to just add one tablespoon of sugar at a time. You can always add more, but you can't take any sugar out once it's been added. In fact, you may not need any sugar at all. As Latimer says, "The sweetness from the sugar in ketchup and BBQ sauce is quite enough sweetness in these beans for my preference."
Transfer the beans to the oven and bake until done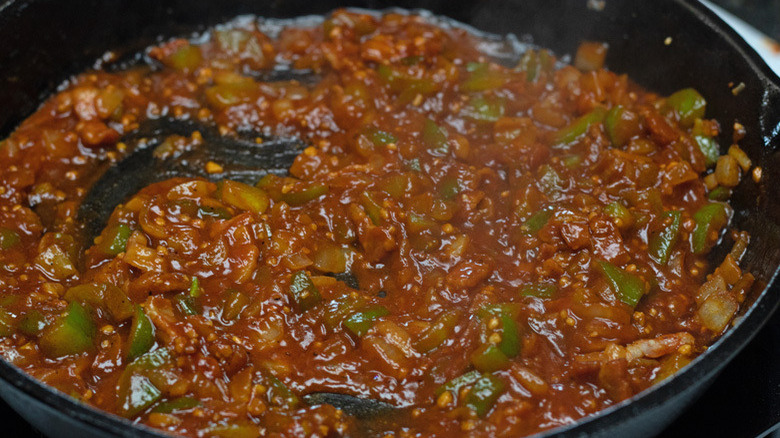 Angela Latimer/Mashed
At this point, your beans should be ready to bake. If you've used an oven-proof skillet, you should be good to go. If not, transfer them to a baking dish first. You can also top the beans with the reserved bacon at this point if you want it to be really, really crispy, but if you prefer your bacon with a little give left in it, save it to garnish the beans once they come out of the oven.
Put the beans in the oven and set a timer for 35 minutes. Check them at this point. If they're bubbling, they're done. If not, give them another five minutes or so. Once the beans are out of the oven, let them sit and cool for five minutes before you serve them.
BBQ Baked Beans Recipe
Baked beans are a side dish so hearty that they can almost stand on their own. What are you waiting for? Try these BBQ baked beans today.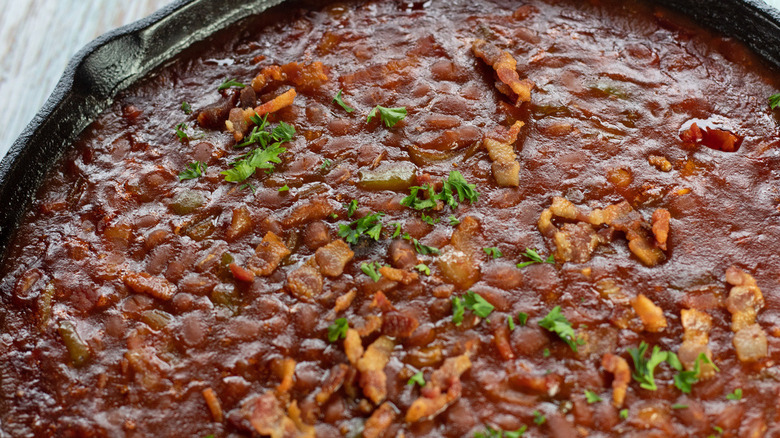 Ingredients
4 slices bacon, sliced into strips
1 small sweet yellow onion, diced
½ green bell pepper, seeded and diced
1 tablespoon garlic, minced
1 tablespoon smoked paprika
¼ teaspoon salt
¼ teaspoon pepper
2 tablespoons apple cider vinegar
2 tablespoons ketchup
2 tablespoons barbecue sauce
1 tablespoon yellow mustard
1 ½ teaspoons liquid smoke
55-ounce can baked beans
Optional Ingredients
Directions
Preheat oven to 400 F.
Cook bacon in a large skillet over medium-high heat until crisp, then remove half the bacon and set aside.
Add the onion, pepper, and garlic to the pan with the remaining bacon and sauté the veggies until tender, stirring frequently, for about 5 to 6 minutes.
Stir in the smoked paprika along with ¼ teaspoon each of salt and pepper.
Add the vinegar, ketchup, barbecue sauce, mustard, and liquid smoke to the skillet along with the beans. Stir until well combined.
Heat the beans until they reach a low boil, then remove the skillet from the heat.
Adjust seasoning and sweetness to taste, adding brown sugar if desired.
Top the beans with the reserved bacon if desired, or else save the bacon to garnish the finished dish.
Put the beans into the oven, transferring to an oven-proof dish first if necessary.
Bake the beans for 35 to 40 minutes until bubbly.
Allow beans to cool for about 5 minutes before serving.
Nutrition
| | |
| --- | --- |
| Calories per Serving | 269 |
| Total Fat | 6.7 g |
| Saturated Fat | 2.1 g |
| Trans Fat | 0.0 g |
| Cholesterol | 9.6 mg |
| | |
| --- | --- |
| Total Carbohydrates | 47.1 g |
| Dietary Fiber | 8.9 g |
| Total Sugars | 18.9 g |
| Sodium | 870.0 mg |
| Protein | 11.7 g |