Costco Shoppers Are Celebrating The Return Of Its Coffee Advent Calendar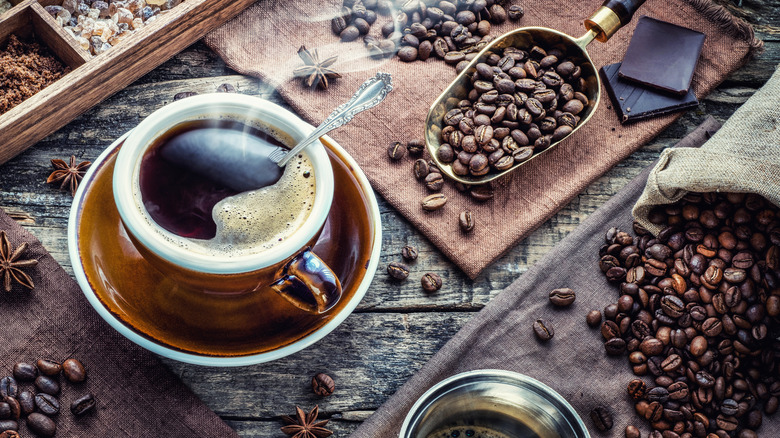 Triff/Shutterstock
Costco shoppers are in for another holiday treat thanks to the return of a popular coffee advent calendar for the 2021 season. The @costcohotfinds Instagram and TikTok accounts are run by self-proclaimed Costco addict Laura, who released a video featuring the buzzworthy item. In the short clip, she shows off the advent calendar, explaining what you'll get for only $12.99.
Much like the advent calendars of childhood, you'll still receive a gift a day. The 12-day calendar includes one pouch for each day filled with 1.5 ounces of 100% Arabica ground coffee, just enough to make a pot. The coffee is roasted by Haerfest Coffee, a company based in North Carolina that obtains organic beans from countries around the world. It also collaborates as an outreach with local communities in the process. There's no doubt about it — the coffee you'll drink during the 12 days is high-quality java. You don't have to be a coffee connoisseur to enjoy the daily variety of unique blends, but if you are, there are even tasting notes to accompany your morning cup. For those who want something extra from their coffee experience, extra descriptions regarding characteristics such as aroma, taste, and finish are included.
Who should get this fun calendar?
Consumers are loving the increased selection of advent calendars for adults, as evidenced by the excitement over Costco's wine and beer calendars. While an extra boozy end to the year may be on the agenda for some people, others will welcome a boost of caffeine to tie up the year's loose ends. The comments on @costcohotfinds' Instagram post make it clear that Laura is not the only one excited to try out the variety of coffee. Many people were ready to go pick up their own calendar such as user @nolas20, who wrote, "Well guess who's going to Costco tomorrow." A request for a review about the 12 types of coffee was made by @rachelc.99 and Laura enthusiastically agreed. You'll be able to hear her comments about the different blends in her stories, perhaps while you sip on a cup from your own calendar at home.
If you're like Laura, you might want to bring one of these coffee advent calendars home for your own enjoyment. However, if you're in the mood to spread some holiday cheer, then the calendar makes an inexpensive and fun idea for the coffee lovers in your life. You'll have to have a Costco card to purchase this amazing deal, but if you've been keeping an eye on all of @costcohotfinds' recommendations, then you'll probably want to become a member anyway.