Dairy Queen's New Cheesy Menu Item Is Only Available In This State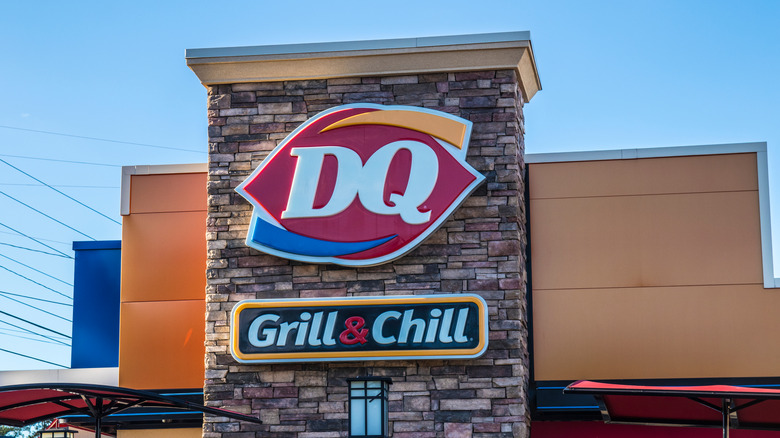 Billy F Blume Jr/Shutterstock
With over 4,300 locations in America alone, it seems pretty safe to say that you won't have too much trouble finding a Dairy Queen when your sweet tooth starts to call (via Scrape Hero). Dipped cones, Dilly bars, and Blizzards are only a few of the ice cream treats you can expect to find at any one of the Illinois-based chain's establishments. If you happen to find yourself at one of their DQ Grill & Chill restaurants, you'll have the opportunity to grab something savory to pair with your dessert as well.
For those that have never been, Dairy Queen's DQ Grill & Chill counterparts pair their collection of classic frozen treats with a full line of "modern, popular food items" such as hot sandwiches, hamburgers, and chicken tenders. If your mouth is starting to water, you're in luck, as the chain reports that it has opened more than 2,000 of its dinner-dessert combo eateries since its inception in 2002. However, only the locations in one state are carrying the hybrid concept's new Cheesy Steak Fingers. Here's where you'll have to be to get your hands on them.
Dairy Queen's new Cheesy Steak Fingers are a Texas exclusive
They say everything is bigger in Texas, and the state's DQ Grill & Chill locations certainly proved that with their new Cheesy Steak Fingers, which Restaurant News reports is exclusively available in the Lone Star State. Labeled a "must experience item" by Texas Dairy Queen Operator's Council CEO Lou Romanus, this drool-worthy version of the classic steak finger receives a major upgrade by being infused with creamy pepper jack cheese. "Only found in Texas, we are confident the bold flavor of pepper jack cheese paired with our classic steak fingers will delight fans," Romanus said of the dish that comes paired with fries, Texas toast, and ranch dressing.
As for why you have to travel so far south for an order of Cheesy Steak Fingers, Wide Open Eats reports that the Texas Dairy Queen Operators' Council struck a deal with their parent corporation in the 1980s that gave them the ability to have their own signature menu that also includes tacos and chicken fried steak sandwich dubbed "The Dude." If you happen to be one of the lucky 29 million people that the U.S. Census Bureau reports is residing in the state, make sure to head to your local Dairy Queen soon for a Cheese Steak Finger Basket, as the cheesy menu item will only be around for a limited time.