Slow Cooker Chicken Tinga Recipe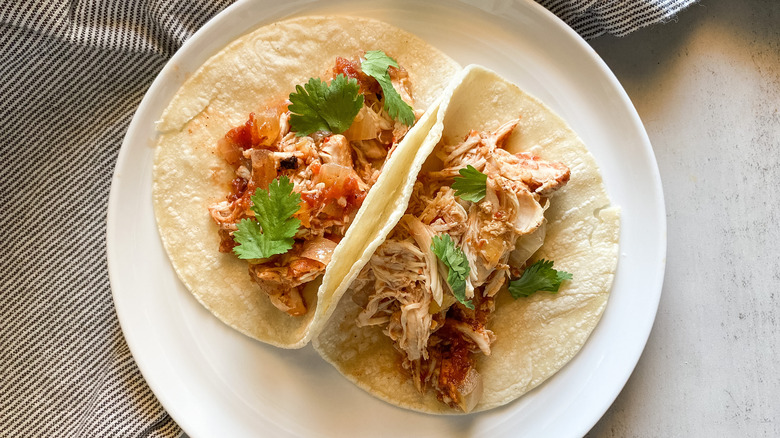 Kristen Carli/Mashed
Are you looking for a new taco recipe that is filled with fantastic flavors but is still super easy to make? If that's the case, then we have you covered! This slow cooker chicken tinga is one of the best Mexican recipes on the internet, and we think that you should just bookmark this page now because you're going to want to make it over and over again. The great part about this recipe is that it can be served in various ways, like in a taco, burrito, or even over some brown rice in burrito bowl. And the leftovers? They would be good warmed up on nachos the next day! 
Recipe developer Kristen Carli has a great catalog of recipes that she's created, and everything that she makes is nothing short of amazing. "Chicken tinga is a Mexican dish with spicy chipotle peppers," Carli says. "I love that this is a dump-and-go recipe. It is perfect for busy weeknights and feeds a crowd." We couldn't agree more!
Keep reading to find out how to make this yummy chicken tinga.
Gather the ingredients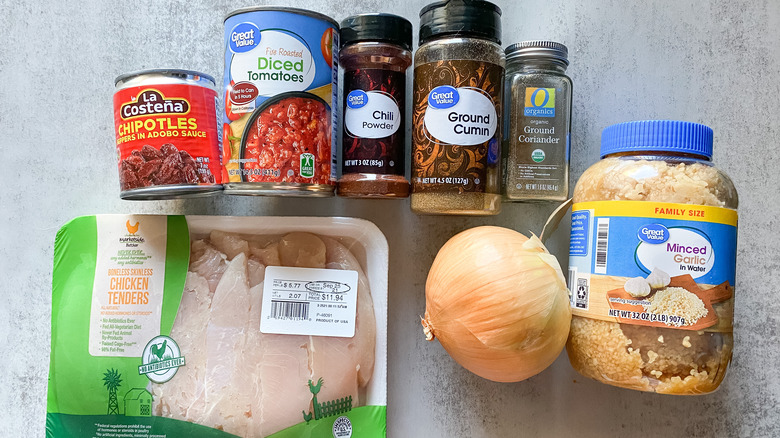 Kristen Carli/Mashed
Are you ready to start cooking? First, you need to make a grocery list to see what you need to get at the store versus what you have at home. For starters, you will need boneless, skinless chicken tenders. In addition, grab some salt and pepper, which you probably have at home. Next, you're going to have to find minced garlic, ground cumin, chili powder, and ground coriander.
The next item you need is a diced yellow onion, followed by a can of fire-roasted tomatoes and chipotle peppers in adobo sauce. To complete your list, grab a few corn tortillas for serving. Now, you're ready to get started.
Add the chicken to the slow cooker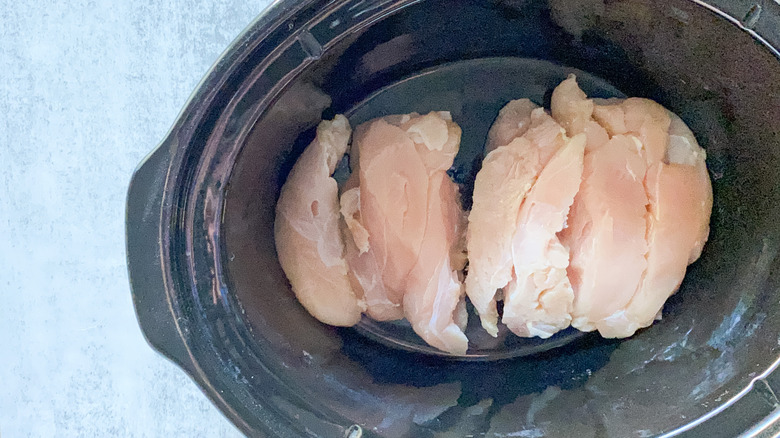 Kristen Carli/Mashed
The first thing you need to do is grab a six-quart slow cooker. Set it in a safe spot on the counter and plug it in. The first item that you need to add to the slow cooker is the chicken tenders. If you can't find the chicken breast tenders at the store or if they are out of stock, Carli shares that "you can use chicken breasts" instead. Season the chicken with salt and pepper, and then move on to the next step.
Add the spices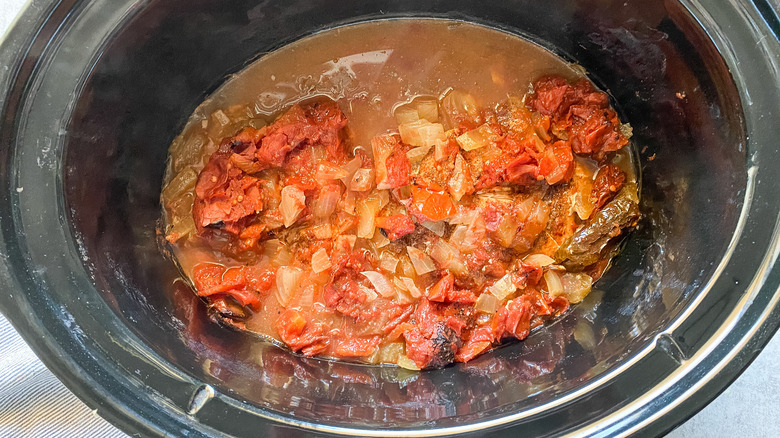 Kristen Carli/Mashed
In this step, we're about to get a little spicy! Let's be real for a second ... what chicken dish is not complete without a little bit of spice and everything nice? Take out all of the spices on your list, and toss them over the chicken. This includes garlic, cumin, and ground coriander. Trust us — these spices together give the chicken such a delicious flavor.
Next, dump in the fire-roasted tomatoes followed by the chipotle peppers. The liquids from each of these ingredients will help the chicken cook well in the slow cooker while also adding even more flavor.
Cover and cook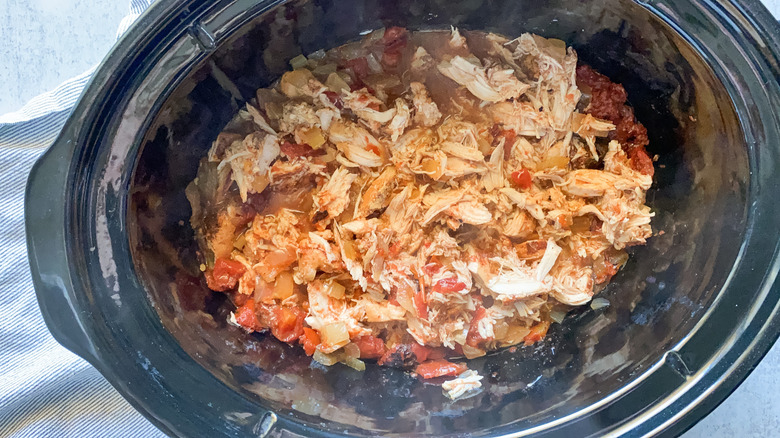 Kristen Carli/Mashed
Now that you have added all of your ingredients to the Crock Pot, it's time to start cooking. And when we say cooking, we mean letting the slow cooker do the work for you.
Place the lid back on the slow cooker to cover the chicken. Then, set the temperature to high and cook for four hours. This is the perfect amount of time (in our opinion) because you can leave the slow cooker on while you're at work or running errands, and it does the job for you. Cooking this dish in your slow cooker allows the chicken to soak in all the savory flavors and spices, making it taste incredible.
Shred and enjoy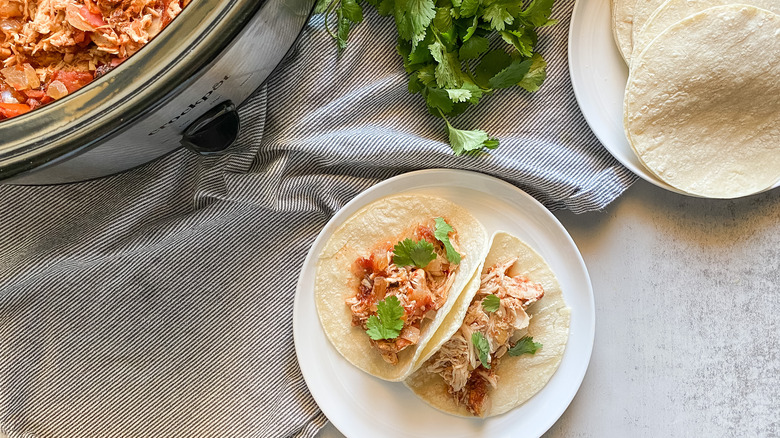 Kristen Carli/Mashed
Once your timer goes off, you can turn off the slow cooker and remove the chicken. Using two forks, shred the chicken and serve as you'd like. These would make great tacos, and you can serve the chicken in corn tortillas. "I love this in corn tortillas with sour cream, shredded cheese, and salsa. It's great in tacos or burritos," Carli notes.
As for leftovers? "Leftovers store well in an airtight container in the fridge for up to three days," Carli says. We hope you enjoyed this flavorful dish as much as we do.
Slow Cooker Chicken Tinga Recipe
Are you looking for a new taco recipe that is filled with fantastic flavors but is still super easy to make? If that's the case, then we have you covered!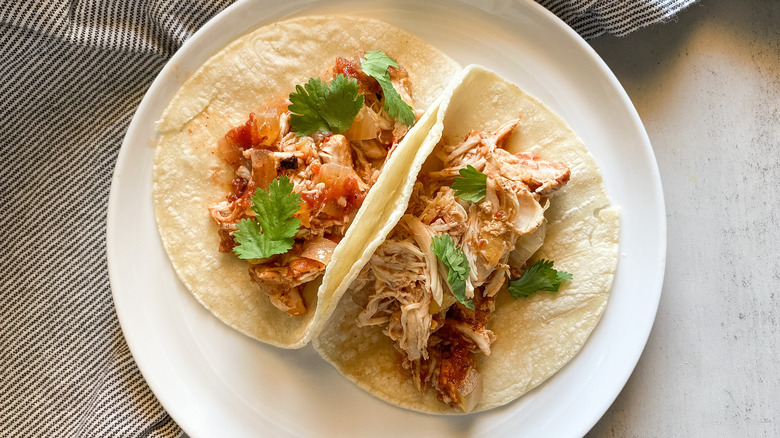 Ingredients
2 pounds boneless skinless chicken tenders
1 teaspoon salt
½ teaspoon pepper
1 tablespoon minced garlic
1 teaspoon ground cumin
1 teaspoon chili powder
1 teaspoon ground coriander
1 yellow onion, diced
1 (15-ounce) can fire-roasted tomatoes
3 chipotle peppers in adobo
Corn tortillas, for serving
Directions
In a 6-quart slow cooker, add chicken tenders. Season with salt and pepper.
Add garlic, cumin, chili powder, ground coriander, onion, fire-roasted tomatoes, and chipotle peppers.
Cover with lid and cook on high for 4 hours.
Using two forks, shred chicken and serve in corn tortillas.
Nutrition
| | |
| --- | --- |
| Calories per Serving | 330 |
| Total Fat | 18.3 g |
| Saturated Fat | 3.8 g |
| Trans Fat | 0.0 g |
| Cholesterol | 46.5 mg |
| | |
| --- | --- |
| Total Carbohydrates | 23.9 g |
| Dietary Fiber | 3.4 g |
| Total Sugars | 3.4 g |
| Sodium | 906.1 mg |
| Protein | 17.9 g |