Over 30% Agree This Is The Best McDonald's Breakfast Item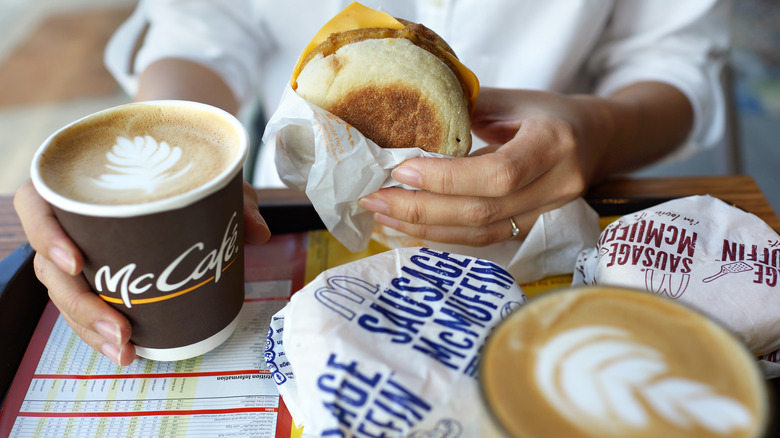 AngieYeoh/Shutterstock
If you ask any McDonald's customer about their go-to breakfast order, chances are they'll feel pretty passionately about their menu item of choice, whether they're a McGriddle fanatic, Big Breakfast orderer, or Fruit and Maple Oatmeal die-hard.
While the fast food giant's breakfast menu has evolved over the years to try out new offerings, some classics, like the hotcakes, hash browns, and Egg McMuffins, have remained on the menu for decades. The burger chain's breakfast menu has been so perennially popular with customers that in 2015, the company decided to extend breakfast hours and make some morning items available all day, for when those mid-day or late-night egg sandwich cravings hit. And while there's no denying that many of McDonald's breakfast items hit the spot, the best dish to order off of the menu is still up for debate.
In a Mashed poll of 604 U.S.-based respondents, a question asked, "What's the best McDonald's breakfast item?" And, the when it came to the response, it was clear that one of the chain's classic breakfast items still reigns supreme many years after its invention. 
The original McDonald's breakfast sandwich still has its fair share of fans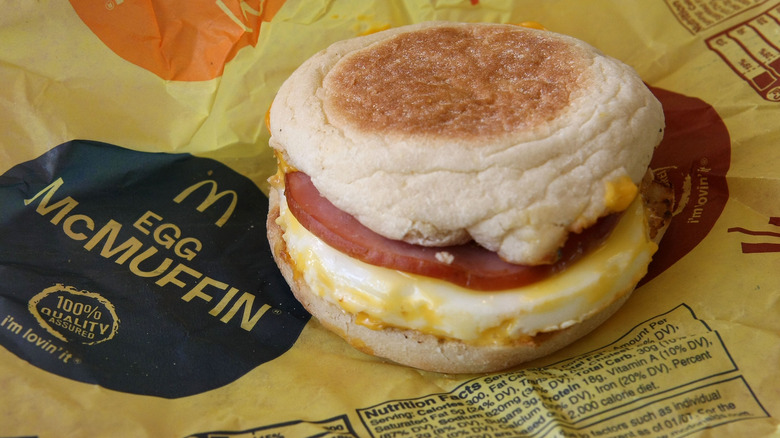 Justin Sullivan/Getty Images
Coming in last in our poll of Mashed readers' favorite McDonald's breakfast item was the egg, cheese, and pepper-filled Sausage Burrito, with just 9.27% of the total vote. Also falling towards the bottom of the rankings were the Hotcakes with 11.75% of the vote. Surprisingly, the next lowest amount of votes went to the signature crispy Hash Browns, which received 13.41% of the total, despite coming in second on our rankings of the fast food giant's breakfast items.
Falling in the middle of the pack was the Bacon, Egg, & Cheese McGriddle with 15.40% of the vote. And pulling the second place spot, with 19.87% of votes, was the Bacon, Egg, & Cheese Biscuit.
Taking the top spot and the title of best McDonald's breakfast item was the iconic Egg McMuffin, with 30.30% of the votes. This classic sandwich, consisting of egg, Canadian bacon, and melted American cheese sandwiched between a toasted English muffin made its debut in 1970s and was considered by McDonald's founder Ray Kroc "a crazy idea" at the time.
Apparently that crazy idea worked out, because the Egg McMuffin paved the way for all of the McDonald's breakfast items that came after it, and is still the king of the morning menu.