Easy Portobello Mushroom Burger Recipe
Kristen Carli/Mashed
There are a variety of different burgers out there. Believe it or not, your basic cheeseburger may be the most traditional way to enjoy the American favorite, but there are plenty of other items to put between two buns. If you are looking for a way to spice up your average burger but you don't eat meat and are kinda over the Impossible Burger at the moment, then we have just the recipe for you. This dish subs beef for a portobello mushrooms, and the result is absolutely amazing, filling, and everything that you could imagine. A little bit of tamari or soy sauce adds the perfect flavor to your portobello mushroom, and there's also a fancy sauce to go along with it. Need we say more? 
Recipe developer Kristen Carli is the brains behind this amazing recipe that is sure to be a favorite among vegetarians and meat-eaters alike. "I love quick and easy vegetarian substitutes, as I eat mostly vegetarian," Carli raves.
Keep reading to find out how to make this delightful dish.
Gather the ingredients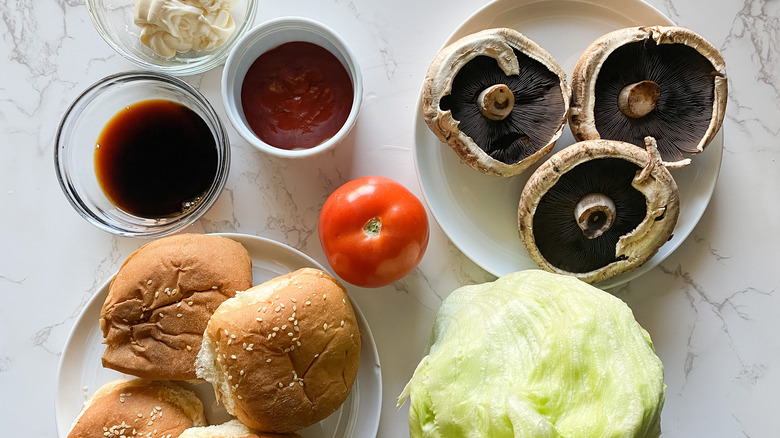 Kristen Carli/Mashed
The first thing you need to do is to gather all of the necessary ingredients to throw this dish together. Go ahead and grab a pen and paper to make a grocery list. For starters, you will need some olive oil, which you may already have on hand. You will also need four portobello mushroom caps. As far as sauces go, grab either tamari or soy sauce, mayo, and some ketchup.
The last two items are toppers for the burger: sliced tomatoes and lettuce. Once you have all of those items, we can get started!
Heat a skillet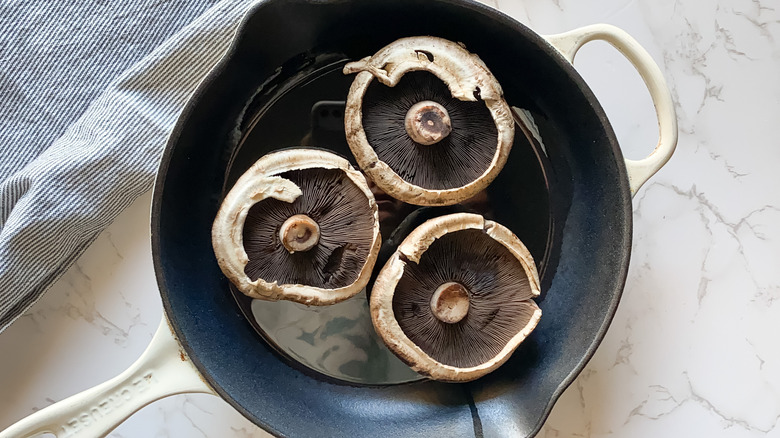 Kristen Carli/Mashed
First, take out a large skillet. It needs to be large enough to fit all of the mushroom caps inside. Then, put the skillet on your stove and turn the heat up to medium. Drizzle a little bit of olive oil on the bottom of the pan. This will help the mushrooms cook better and prevent them from sticking to the bottom.
Once the oil is in, toss in the mushroom caps and move on to the next step.
Brush the mushroom caps with tamari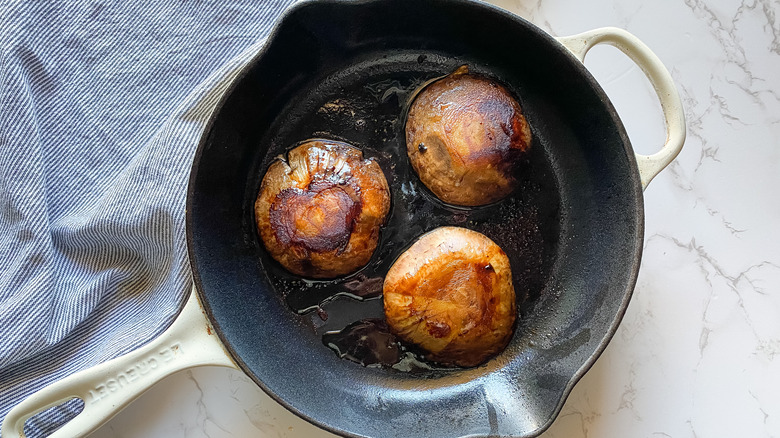 Kristen Carli/Mashed
Make sure that you leave a little bit of space between each mushroom so they all cook evenly. Now that you have all of them loaded into the skillet, grab the tamari or soy sauce, whichever you chose to use. Pour it into a small bowl and grab a brush. You'll want to put a little bit of tamari or soy on the mushrooms, as this will add a nice, salty flavor. Simply dip the brush into the sauce, and then put a little on each mushroom cap. Cook the mushrooms on each side for about five minutes.
"The mushrooms will begin to get tender and soften, and that's how you know they are done," Carli notes.
Mix the special sauce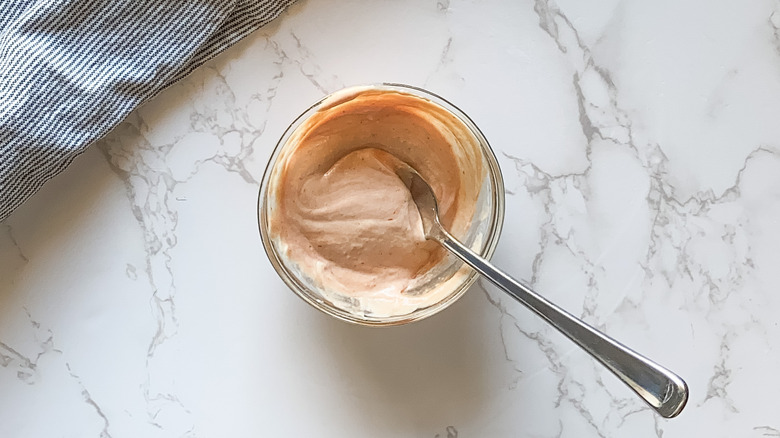 Kristen Carli/Mashed
Are you ready to make some fancy sauce? Take out a small dish and throw in the ketchup and the mayo. Using a spoon, stir them together to combine, thus making your special sauce. The great part about this secret sauce is that it's super simple, involving just two ingredients, but it makes one heck of a condiment to add to your burger. You could use the same type of spread on a regular burger or even a sandwich. With this easy sauce, the serving options are endless, but we think that it tastes the best on your portobello mushroom.
Serve and enjoy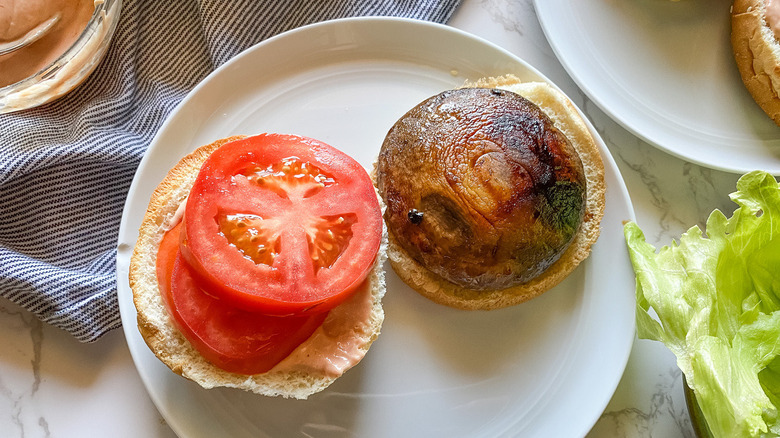 Kristen Carli/Mashed
Now that you've finished your mushrooms and the special sauce that goes with it, grab your buns and put each burger together. The main question is: Would you like your buns toasted or not? If you'd like, you can also add a slice of tomato and some lettuce to serve.
"Portobello burgers are so easy to make," Carli shares. "I love to serve these with fries, salad, and coleslaw. I love these burgers on seeded hamburger buns, but they would also be great on brioche buns." Of course, they would also go well with some grilled veggies, or they are plenty filling on their own. Now, enjoy! 
Easy Portobello Mushroom Burger Recipe
If you are looking for a way to spice up your average burger but you don't eat meat, then we have just the recipe for you.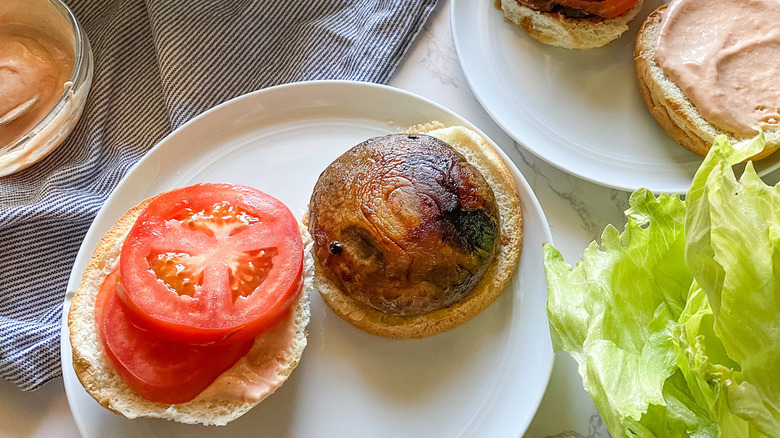 Ingredients
1 tablespoon olive oil
4 portobello mushroom caps
¼ cup tamari or soy sauce
¼ cup mayo
2 tablespoons ketchup
4 hamburger buns
1 tomato, sliced
Lettuce, for serving
Directions
Heat a large skillet over medium heat. Add olive oil. Add mushroom caps.
Brush tamari on mushrooms. Cook on each side for 5 minutes.
In a small bowl, add mayo and ketchup to make special sauce. Stir to combine.
Serve mushrooms on buns with special sauce. Top with tomatoes and lettuce as desired.
Nutrition
| | |
| --- | --- |
| Calories per Serving | 275 |
| Total Fat | 16.3 g |
| Saturated Fat | 2.5 g |
| Trans Fat | 0.0 g |
| Cholesterol | 5.6 mg |
| | |
| --- | --- |
| Total Carbohydrates | 26.4 g |
| Dietary Fiber | 1.8 g |
| Total Sugars | 5.9 g |
| Sodium | 1,249.4 mg |
| Protein | 6.6 g |