Instagram Rallies Around Alton Brown After Post About His Mental Health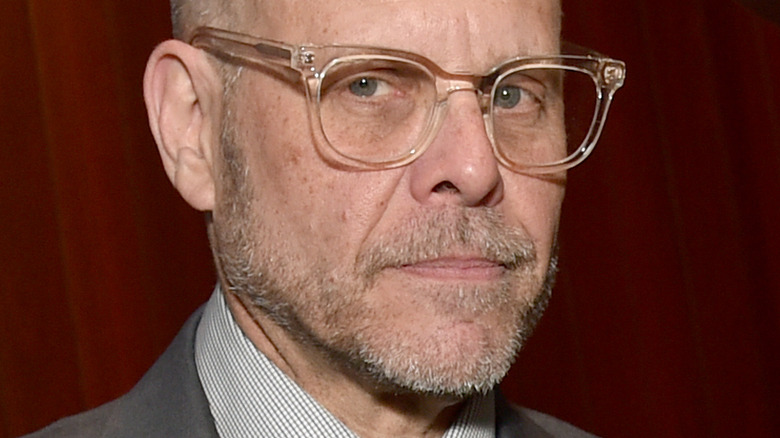 Bryan Bedder/Getty Images
We may receive a commission on purchases made from links.
It's so easy to believe that the side of themselves people show you is all there is. But whether they are your friends, co-workers, or those we see on television or in social media, the persona others show is people in person is rarely the whole truth.
Take Alton Brown. The smart, likable, and somewhat goofy host of "Good Eats" is often very different when the cameras are off. Fans saw this side in a pair of honest and poignant photos Brown shared on Instagram.
The first shows the "Iron Chef" host leaning over a stack of papers, red pen in hand, and looking pretty stressed about it. "If it's Saturday, I must be editing book pages. And yes ... that's a martini, d**nit," wrote Brown. The post contained the hashtag #GoodEats4, hinting at his book set to drop in April 2022 (per Amazon). An hour later, Brown shared a photo of himself sitting on his kitchen floor, leaning against the cabinets: "And with the book editing comes the depression," Brown wrote.
In the past, the creator and "Good Eats" host has been open about his emotional struggles. In 2017, he said to Forbes, "I happen to be a really moody son of a b**ch." Although he said he hadn't been professionally diagnosed at the time, Brown believed that he has bipolar disorder. "I go through very dark fits of depression," he told the news outlet. "You don't see that on television — I don't let that part of me out."
Followers showed support for the chef
Brown's 850,000 Instagram followers were quick to provide moral support and sympathy for the star. Sometimes, everyone just needs some empathy, and many of his followers get that. "Editing is a depressing task full of crappy details to consider. Not easy for creative brains," wrote Instagram user Nixi8471.
Another fan had this bit of supportive advice: "You know, AB, I was just feeling the same way with an audiobook I am editing. Keep your chin up and don't let 'perfection be the enemy of good.' Excited about the new content," said drcaseyjonesmusic. Similarly, paperxelectronic offered, "I'm glad I'm not the only one who gets depressed when revising a manuscript. Sending patience and perseverance."
Hopefully, the comments expressing Brown's importance to his fans were helpful. "When I was younger all I would watch on the food network was good eats, you're the person who inspired me to cook," wrote babygurl1134. "Heaps of love to you, my dude. You've been my favourite chef for years, no one comes close," offered nephilimfields.
We hope Brown is doing better, too.
If you or someone you know is struggling with mental health, please contact the Crisis Text Line by texting HOME to 741741, call the National Alliance on Mental Illness helpline at 1-800-950-NAMI (6264), or visit the National Institute of Mental Health website.