Pumpkin Oatmeal Recipe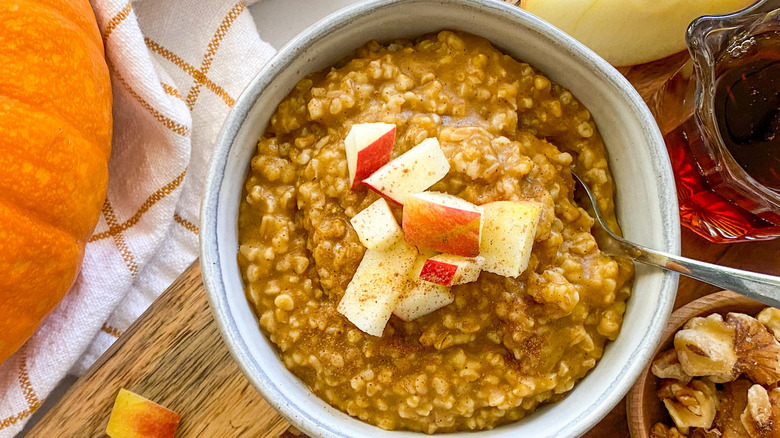 Miriam Hahn/Mashed
During the fall months, pumpkin-flavored foods are at top of mind for many of us. There's just something about the taste that is so comforting, and it reminds us of crisp air and fun seasonal activities. Not to mention, it tastes absolutely fantastic, and we really want to add pumpkin to everything. 
Oatmeal is a great food to enjoy for any meal of the day, but most people use it to fuel them in the morning, grabbing a big bowl to enjoy for breakfast. Recipe developer Miriam Hahn came up with this fantastic pumpkin oatmeal that looks great and tastes even better. "Oats in all forms are one of my favorite staples!" Hahn raves. "I love that this recipe has all of the benefits of oats while tying in all of the fall flavors. Plus, anytime I can get in some vegetables at breakfast is great in my book!" We think that she hit the nail on the head.
Keep reading to find out how to make this incredible and healthy breakfast.
The benefits of oatmeal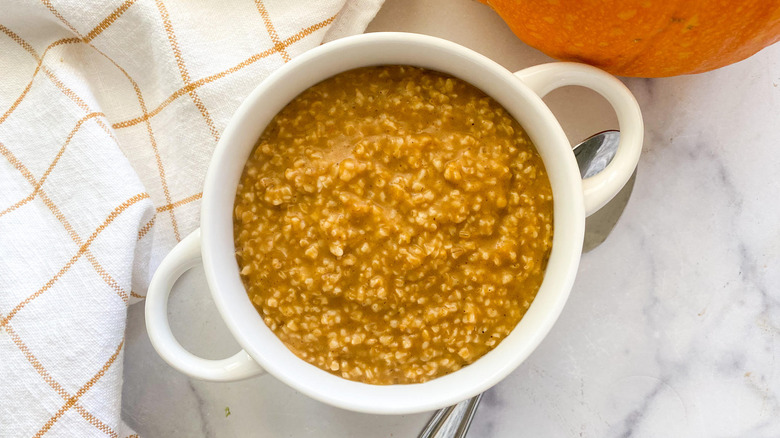 Miriam Hahn/Mashed
It's no secret that oatmeal is one of the most nutritious meals that you can make. Hahn explains why we should all be eating more oatmeal the best! 
"Oatmeal is honestly one of the healthiest foods on the planet. Most people don't know that it is extremely good for your gut health. Oats offer pre-biotic fiber that helps multiply all of our good gut bacteria," she says. "This is great for our immune health but also great for our metabolism. They also have lots of vitamins and minerals and are known to balance out blood sugar and help lower cholesterol. I have so many oatmeal recipes and love rotating them. My other favorite is savory oats." Yum!
Gather the ingredients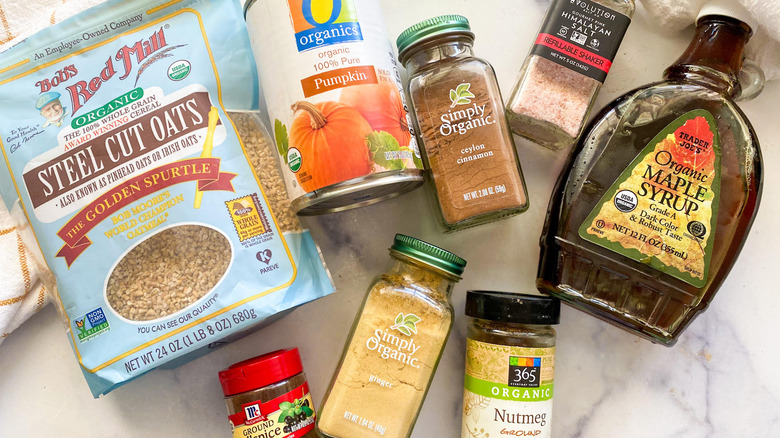 Miriam Hahn/Mashed
The first thing you need to do is take a trip to the store to pick up all of the necessary ingredients for this recipe. Before you go, be sure to check your pantry for items that you may already have at home. For starters, you will need water. In addition, grab some allspice and cinnamon. While you're in the spice aisle, stop for some salt, nutmeg, and ground ginger.
Moving down the list, add some steel-cut oats and a few tablespoons of maple syrup. The last thing you need is a cup of pumpkin puree. If you'd like to add additional toppings, throw apples, cinnamon, and walnuts in your cart.
Boil the water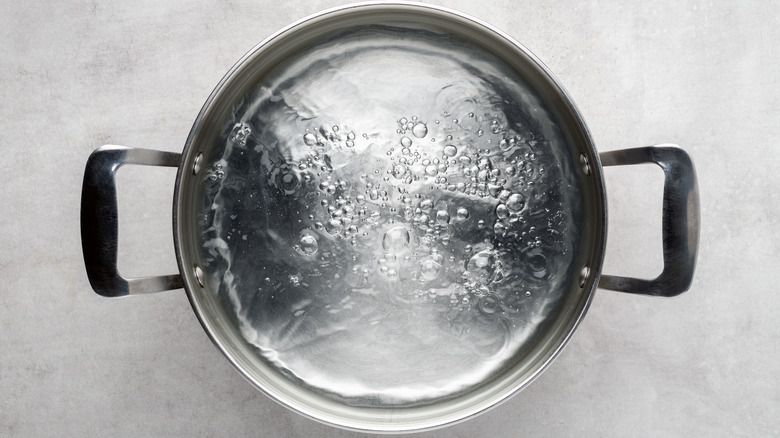 Alex Zaitsev/Shutterstock
Once you have all of the ingredients in front of you, it's time to get cooking! If you have never made oatmeal before, don't worry because it's really simple to do! First, take out a saucepan and add water. Carefully bring the saucepan to your stove and turn the heat up to high. 
You want to bring the water to a boil, which should take just a few minutes. Be sure to keep an eye on things as you go. As you are waiting for the water to boil, you can move on to the next step.
Mix the spices and add other ingredients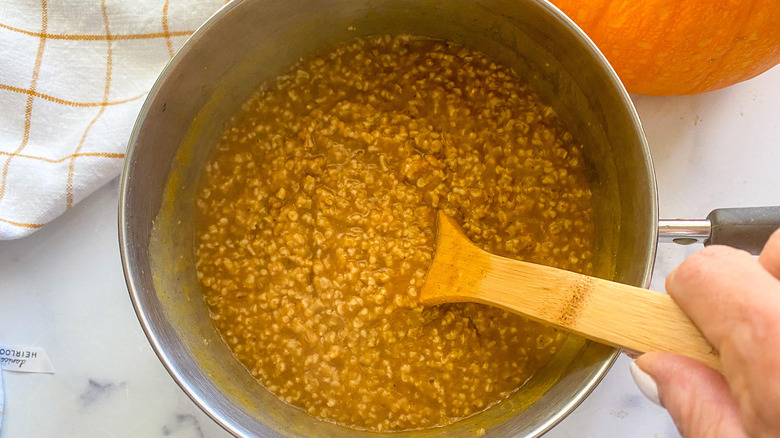 Miriam Hahn/Mashed
Take out another small bowl and measure out all of your spices. This includes the allspice, cinnamon, salt, nutmeg, and ground ginger. Stir them together with a spoon so they're all ready to go.
Once the water starts boiling, add in the oats, spice mix, maple syrup, and pumpkin puree. The water may stop boiling since you've added more into the saucepan, so if it does, bring it back to a boil. Once it starts bubbling again, reduce the heat to low and cook uncovered for about 25 to 30 minutes.
Serve and enjoy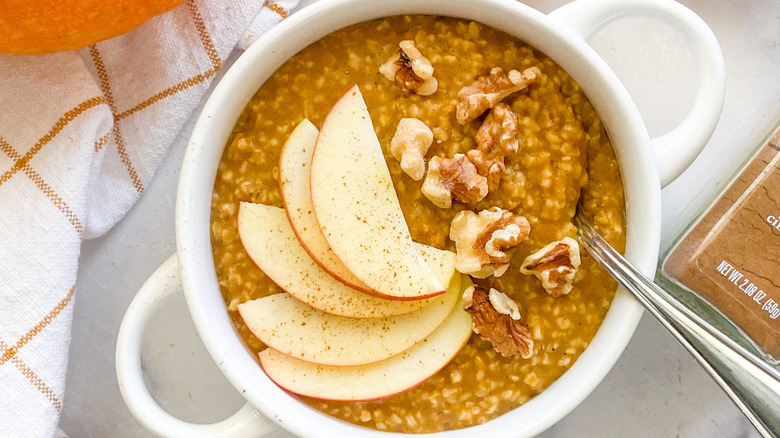 Miriam Hahn/Mashed
After you finish cooking the oatmeal, you can serve it in bowls or however you'd wish. This dish is plenty filling on its own, but you can add extra toppings. "Apples are a perfect complement to this dish, and any type of nut or seed is nice too," Hahn shares. "You can add extra milk, syrup, or cinnamon. You won't need too much else. A bowl of this is super filling and will keep you full for hours!"
As for leftovers? "Leftovers are good for five days. I just reheat on the stove and usually add in some water or plant milk while cooking."
Pumpkin Oatmeal Recipe
Mashed Recipe developer Miriam Hahn came up with this fantastic pumpkin oatmeal that looks great and tastes even better.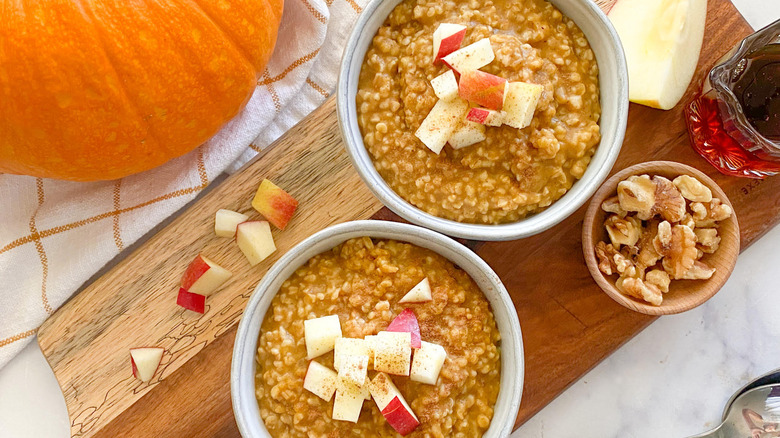 Ingredients
4 ½ cups water
½ teaspoon allspice
½ teaspoon cinnamon + more for topping
½ teaspoon salt
½ teaspoon nutmeg
¼ teaspoon ground ginger
1 ½ cups steel cut oats
3 tablespoons maple syrup + more for serving
1 cup pumpkin puree
Optional Ingredients
Apples
Cinnamon
Walnuts
Syrup
Directions
Add the water to a medium saucepan and bring to a boil.
While the water is heating up, mix the spices in a small bowl so they are ready to go.
When the water is boiling, add the oats, spice mix, maple syrup, and pumpkin puree. Bring to a boil, then reduce to low and cook covered for 25 to 30 minutes.
Ready to serve.
Nutrition
| | |
| --- | --- |
| Calories per Serving | 116 |
| Total Fat | 1.6 g |
| Saturated Fat | 0.3 g |
| Trans Fat | 0.0 g |
| Cholesterol | 0.0 mg |
| | |
| --- | --- |
| Total Carbohydrates | 24.1 g |
| Dietary Fiber | 3.3 g |
| Total Sugars | 7.7 g |
| Sodium | 204.9 mg |
| Protein | 3.2 g |