This Is The Best Ice Cream Flavor To Mix With Orange Soda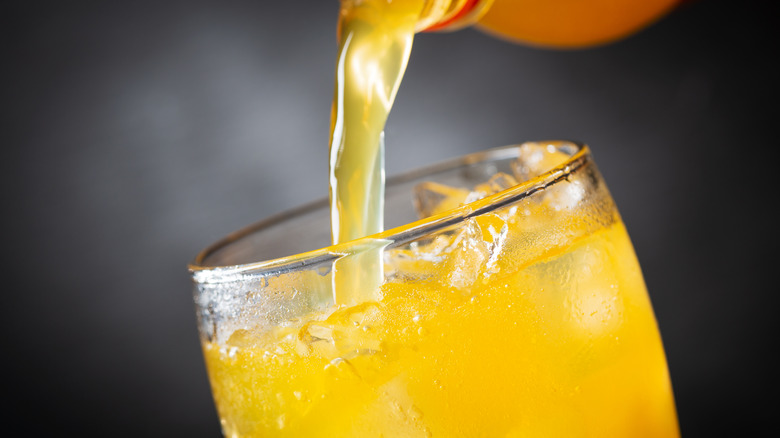 Nitr/Shutterstock
Summer might be over, but we all know that ice cream is still delicious year-round. Ice cream comes in so many delightful forms, from strawberry rose cocoa cones to massive kitchen sink ice cream sundaes. But if you prefer to drink your dessert instead of scoop it up, then root beer floats might be a go-to choice for you.
There's a key secret to making the perfect root beer float, but root beer isn't the only soda that you can mix with ice cream. Next time you're making an ice cream float, grab some Sunkist or other type of orange soda. Wondering what's the best ice cream flavor to mix with orange soda? Go with your favorite brand of vanilla ice cream or choose what we think is the best grocery store vanilla ice cream. 
Yes, this might be the same ice cream as you'd put in a root beer float, but one great thing about vanilla ice cream is its versatility and creaminess. Plus, the orange soda and vanilla combo tastes just like a creamsicle, as pointed out by Epicurious. We think that this blend of flavors works well because the orange soda brings plenty of zest and citrus flavor, which is accented by the fizziness of the drink. The vanilla ice cream makes the whole drink richer, so it's a decadent treat that can also quench your thirst.
What other ice cream flavors and sodas can you mix?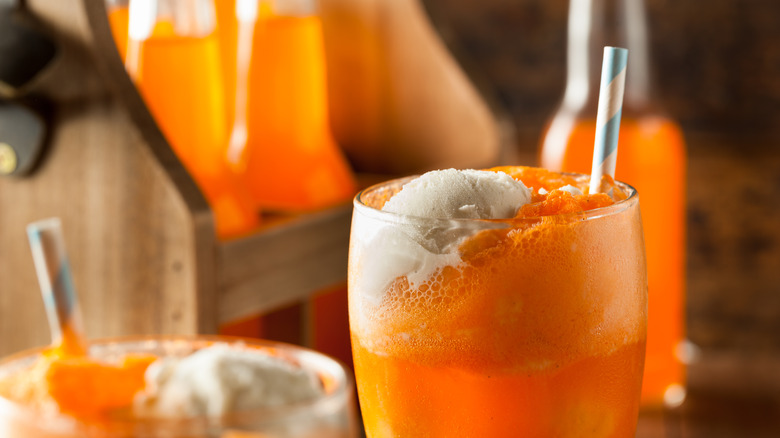 Brent Hofacker/Shutterstock
Wondering what other options you have for a fizzy yet creamy drink? Here are a few other suggestions for the right combination of soda and ice cream. If you're sticking with orange soda, Epicurious also suggests ice cream flavors like mango, coconut, or pineapple. We think that a raspberry sorbet would be super refreshing with orange soda, and if you love citrus, try a lemon sherbet. And if you're hosting a boozy brunch, swap out the orange soda for some orange juice, add some champagne, and top with a scoop of vanilla ice cream for a mimosa float (recipe via Taste of Home). 
Old Salt Farm also has a list of ice cream float ideas as well as some tips for making an ice cream float bar! We love this concept because it'll give your guests plenty of options and let them customize their drinks. Aside from flavored drinks, you can always add some plain seltzer to your drink if you want the ice cream flavor to really shine while still sipping on a bubbly float.
While ice cream floats might bring up childhood memories, they're not just for kids! You can also mix red wine and ice cream for a nice treat. What type of ice cream float will you make next?