Sheet Pan Pork Chops And Vegetables Recipe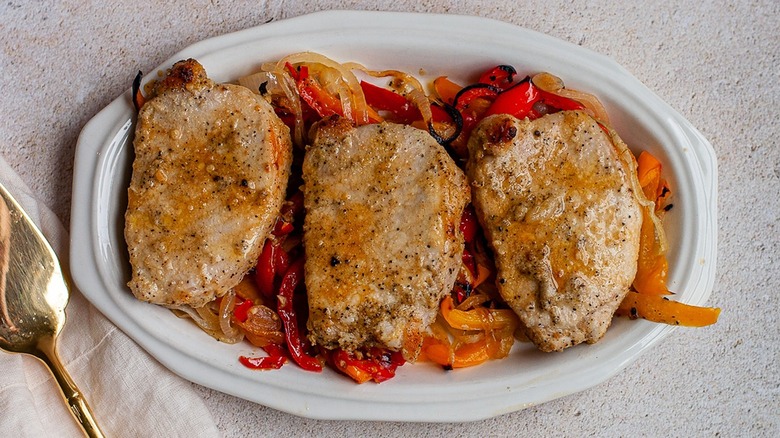 Christina Musgrave/Mashed
One of the best meals that you can make is a sheet pan meal — they are super easy to throw together, require little fuss, and cleanup is a breeze. What more could you ask for in a dish? Recipe developer Christina Musgrave of Tasting With Tina came up with this wonderful sheet pan meal with fresh onions and bell peppers baked to perfection. Add a few pork chops with that classic apple cider vinegar twist, and you've got yourself one satisfying dinner.
This sheet pan meal would be great for serving a large group or as a simple but satisfying meal for the family. You can make this meal to impress your guests with just a little bit of time and effort. "I love how well the pork chops and onions and peppers go together," Musgrave says of this dish. "The flavors are all perfect together." We couldn't agree more — keep reading to find out how to whip together this wonderful meal.
Gather the ingredients to make sheet pan pork chops and vegetables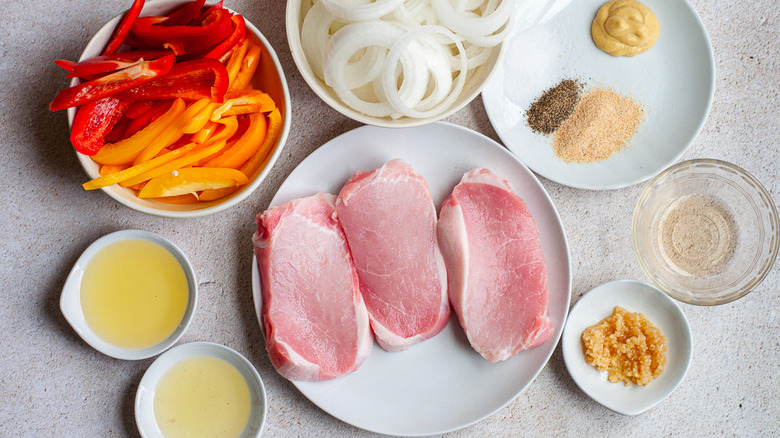 Christina Musgrave/Mashed
Are you ready to get this cooking party started? The first thing you will need to do is make a list of ingredients to throw together this tasty dish. Start by taking a trip to the grocery store and adding white onion and some bell peppers to your cart. Next, you will need some olive oil and minced garlic. Remember to check at home first in case you have any items lying around. Then, grab some apple cider vinegar, Dijon mustard, and garlic powder, which will add some flavor to your dish. The last two spices you will need are salt and pepper. To complete your grocery trip, swing by the meat counter and get two pounds of boneless pork chops.
Preheat the oven and prep the baking sheet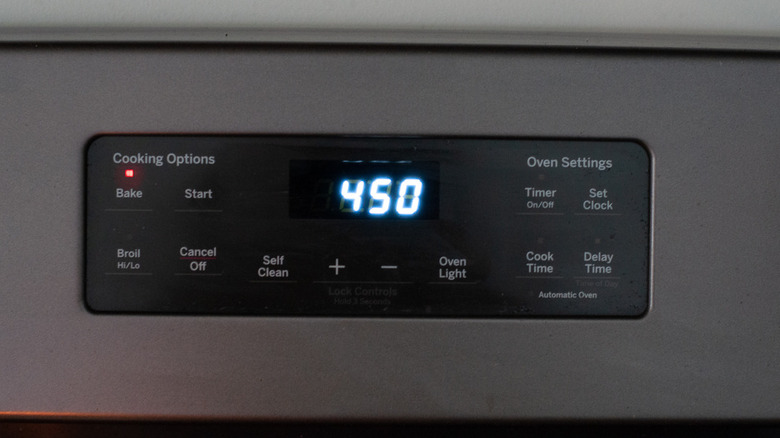 Christina Musgrave/Mashed
Once you're back from the store, put the items out on the counter in front of you so they're ready to go. The only prep you need to do ahead of time is chopping the onions and the peppers. Then, set the oven's dial to 450 F and let it get nice and hot as you go about your business. It's best to preheat the oven ahead of time to avoid any delays once you're done throwing the dish together. Next, take out a baking sheet and cover the top with a piece of foil. As another layer of added protection, grease the foil with cooking spray so none of your vegetables will stick.
Put the onions and peppers on the baking sheet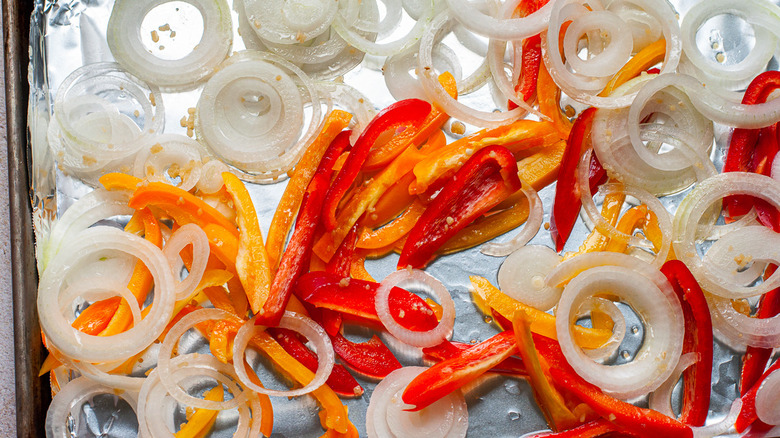 Christina Musgrave/Mashed
Now that you have your baking sheet set up, you can start piling things on. Ah, the joys of a one-pan meal. The first thing you need to add is your white onions and bell peppers. Remember that you should have sliced these items ahead of time, which saves you a little bit of time here. Then, drizzle a few tablespoons of olive oil over the veggies, and add some minced garlic on top. Double check that your oven has finished preheating. Finally, pop the pan in the oven and set your timer for 10 minutes, allowing the veggies to cook before you add the pork chops.
Prep the pork chops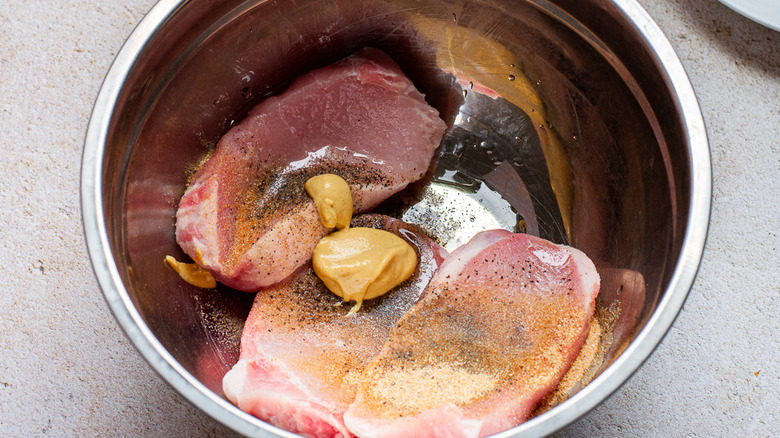 It's time to do a little bit of multi-tasking. While the veggies cook in the oven, you can prep the pork chops. It's super easy to do! Grab a small bowl and add the remaining olive oil and apple cider vinegar. "Using apple cider vinegar is a good way to bring out the tenderness in the pork," Musgraves shares.
Continue adding ingredients to the bowl, including Dijon mustard, garlic powder, salt, and black pepper. Then, throw in the pork chops. Mix everything well so that the spices and the wet ingredients are evenly distributed on the pork.
Cook the pork and enjoy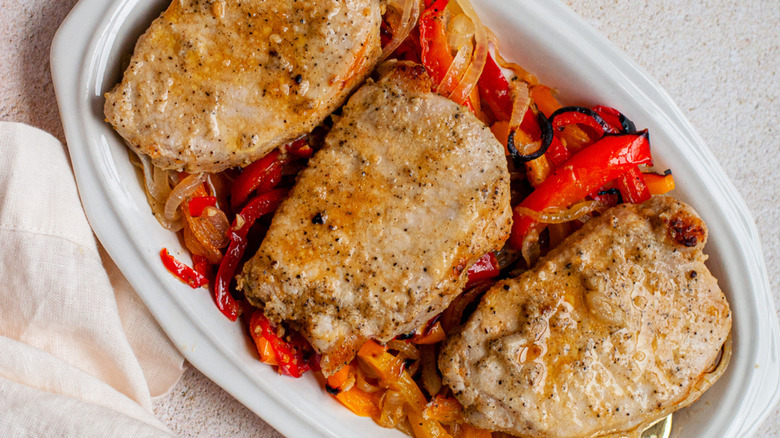 Once your timer goes off, pull the vegetables out of the oven. Wedge the pork chops onto the pan, and then set your timer for another 10 to 15 minutes. You can confirm that the pork chops are good to go by using a meat thermometer, and the internal temperature of the meat should be 145 F.
Once you your meal out of the oven, you can plate it as you wish. "Serve with a salad or mashed potatoes," Musgrave shares. If you have a little something left? Simply store leftovers in a sealed container, refrigerated, for three to four days. We hope you enjoy this easy, wholesome, and delicious sheet pan meal!
Sheet Pan Pork Chops And Vegetables Recipe
This sheet pan pork chops and vegetables recipe is perfect for your next dinner party or for a simple family dinner.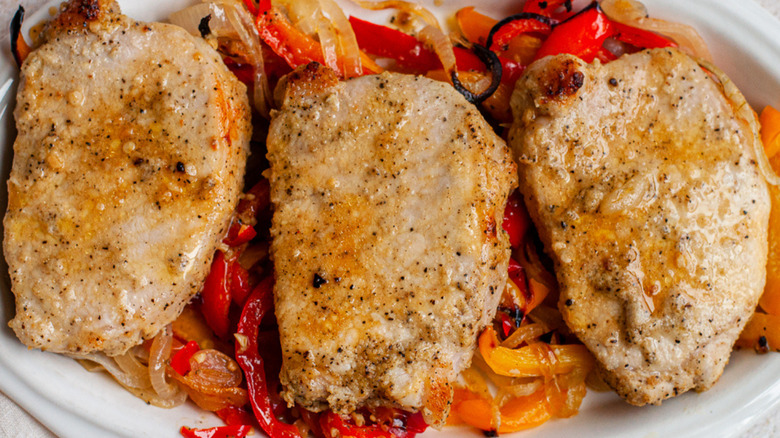 Ingredients
2 white onions, sliced
2 bell peppers (any color), sliced
3 tablespoons olive oil, divided
3 cloves garlic, minced
1 teaspoon apple cider vinegar
1 teaspoon Dijon mustard
1 teaspoon garlic powder
½ teaspoon salt
½ teaspoon black pepper
2 pounds boneless pork chops
Directions
Preheat the oven to 450 F. Line a baking sheet with foil and grease with cooking spray.
Place the sliced white onions and sliced bell pepper on the tray. Top with 2 tablespoons olive oil and 3 cloves of minced garlic. Cook for 10 minutes.
While the vegetables are cooking, prep the pork chops. Combine 1 tablespoon olive oil, 1 teaspoon apple cider vinegar, 1 teaspoon Dijon mustard, 1 teaspoon garlic powder, ½ teaspoon salt, and ½ teaspoon black pepper in a small bowl with the pork chops. Mix well and set aside.
Remove the vegetables from oven and wedge the pork chops onto the pan.
Cook for an additional 10 to 15 minutes, or until the pork chops reach an internal temperature of 145 F.
Nutrition
| | |
| --- | --- |
| Calories per Serving | 1,035 |
| Total Fat | 58.7 g |
| Saturated Fat | 10.2 g |
| Trans Fat | 0.2 g |
| Cholesterol | 290.3 mg |
| | |
| --- | --- |
| Total Carbohydrates | 22.1 g |
| Dietary Fiber | 5.1 g |
| Total Sugars | 10.4 g |
| Sodium | 834.3 mg |
| Protein | 100.1 g |