Trader Joe's Fans Are So Excited For Its New Caramel Coffee Almonds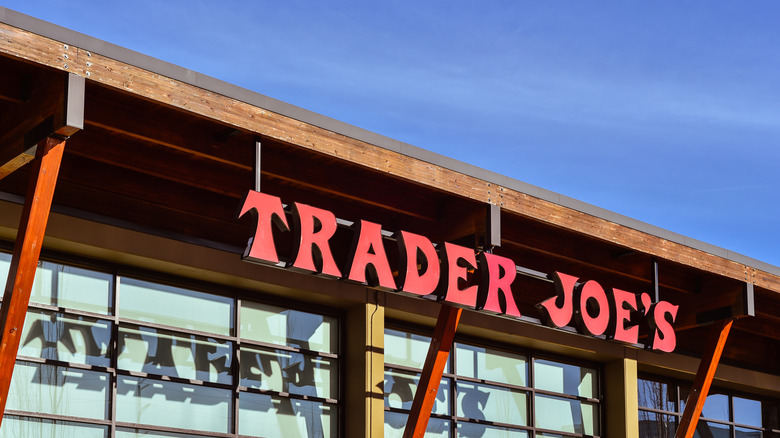 jejim/Shutterstock
Who doesn't love a good Trader Joe's run? Wandering the aisles of this beloved grocery store chain is always an adventure in discovering the fun new products that are frequently added to the shelves, refrigerators, and freezer cases. Though we love savory offerings such as hummus and vegetable wraps, jarred spicy tomato soup, and cheesy seasoning blend, we've got to admit we're suckers for Trader Joe's massive selection of sweets and desserts. When it comes to this category, TJ's really goes over the top, offering a dizzying array of chocolaty indulgences such as its famous peanut butter cups and Hold the Cone! mini chocolate chip ice cream cones.
A perennial customer favorite in this category is the store's Dark Chocolate Covered Almonds, featuring roasted California almonds enrobed in luscious dark chocolate (via Spoon University). TJ's will sometimes offer variations on this classic snack, such as its equally craveable sea salt and turbinado sugar variety (via Popsugar). And just yesterday, TJ's shoppers started freaking out about a new nutty offering in stores posted by the ever-dependable Instagram account @traderjoeslist: Caramel Coffee Almonds.
A new, nutty snack option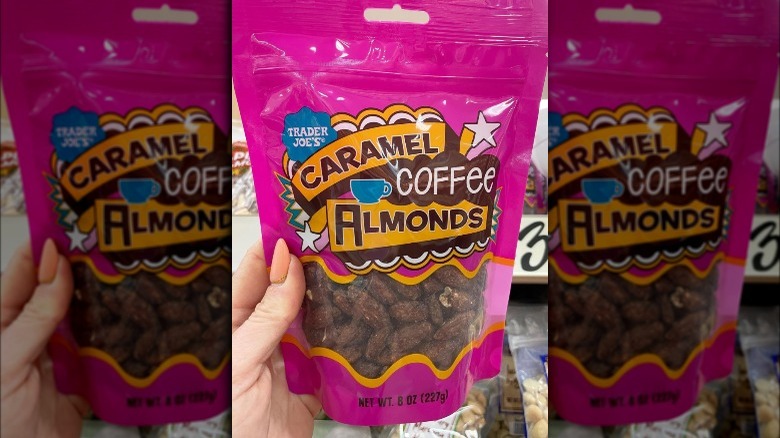 Instagram/Trader Joe's List
The Instagram account @traderjoeslist is dedicated to scoping out new and exciting Trader Joe's products as soon as they hit stores — so we tend to pay close attention to new posts. Just yesterday, the account put up a photo of a new, nutty snack on offer at TJ's: Caramel Coffee Almonds. Unlike many TJ's products, the package doesn't list any flavor descriptions, but the ingredients list shows almonds, butter, sugar, and coffee powder, so we're guessing these are almonds with a caramel-y, coffee-flavored coating.
"Apparently I was extremely excited for these because I bought 3 bags and only recall putting one in my cart," @traderjoeslist wrote. "I found them quite delicious so I'm not mad I have 3 bags but still wondering how that happened today!"
Comments on the post ranged from enthused to downright excited. "I've been waiting for these!!!!!" @thatredheadedhistorian wrote. "YES YES YES!!!!!! I bought *hoarded* 5 bags last year," @wonderflower88 commented.
As for us? We love almonds, we love caramel, and we love coffee — so put us down for a bag or five, as well.