15-Minute Vegetable Pizza Recipe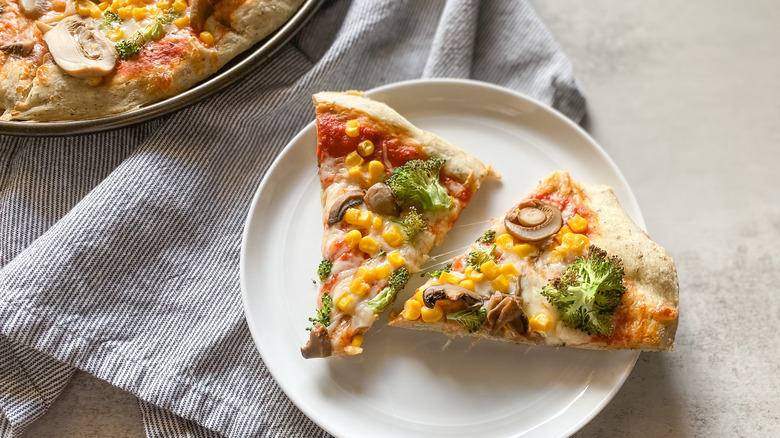 Kristen Carli/Mashed
Ahhh, pizza ... the classic weeknight, I-don't-have-time-for-anything-so-I'll-just-get-takeout, meal. It's tasty, it fills you up, and it comes right to your door. We know it might be tempting to pick up the phone when you're pressed for time, but what if we told you could save a little money by doing it yourself, and it would take only 15 minutes to make? 
Let this 15-minute veggie pizza recipe come to your weeknight rescue. Devised by registered dietitian Kristen Carli, this recipe is both quick and packed with wholesome veggies. To accomplish such a feat, Carli uses premade pizza dough (in this case, from Trader Joe's) and a mix of fresh and canned veggies. When asked why she loves this meal, Carli answered, "I love how quickly this meal comes together and how many veggies are present. [I'm] Always trying to sneak in extra servings of veggies!" We're sold! Read on to make this quick, easy, veggie-filled pizza yours. 
Gather ingredients for your 15-minute vegetable pizza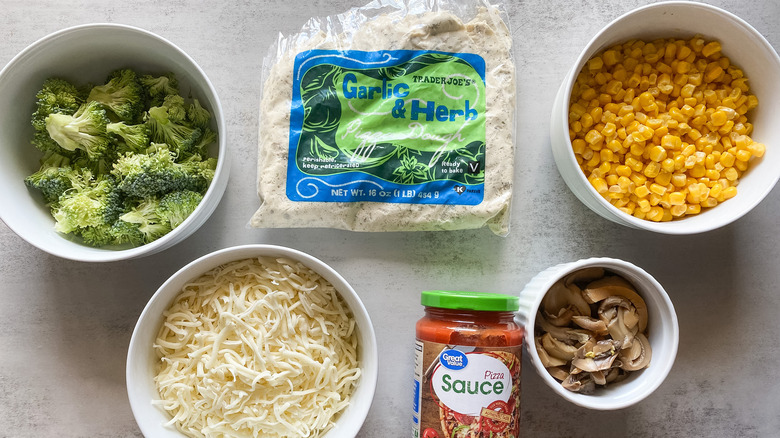 Kristen Carli/Mashed
Before you can start making your 15-minute veggie pizza, you'll need to gather your ingredients. For this recipe, you'll need 1 package refrigerated garlic and herb prepared pizza dough, 1/2 cup pizza sauce, 1 cup shredded mozzarella, 1/2 15-ounce can yellow corn (drained and rinsed), 1/2 head of broccoli (cut into florets), and 1 4-ounce can marinated mushrooms (drained and rinsed). Most pre-made pizza dough doesn't have to rise before you bake it, but check on your package to make sure or you might be in for a longer prep time. Lastly, preheat your oven to 475.
Stretch the pizza dough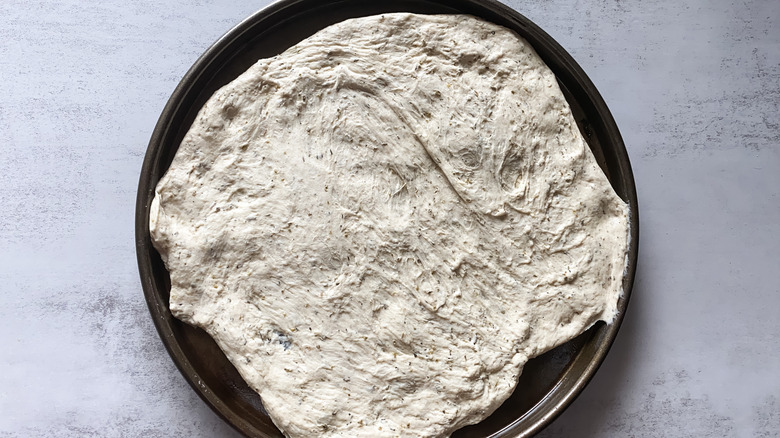 Kristen Carli/Mashed
The first step in making a tasty pizza is to set up your base. To do this, take the pre-made pizza dough out of the package, spreading it with your hands across the baking tray or pizza pan until it fills it up in its entirety. For bonus points, you can pinch up the outer edge of the dough to give it a little more body, which will give you that classic takeout pizza crust look.
Add a delicious pizza sauce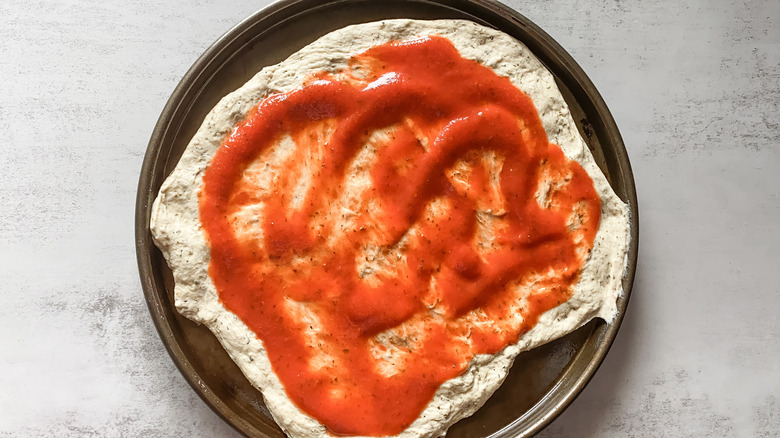 Kristen Carli/Mashed
Now that you've set up your dough, it's time to assemble your toppings. First, take your pizza sauce and spread it evenly on top of the dough. Choose your pizza sauce wisely, as it will be the basis of the flavor for your veggie pizza. Additionally, Carli says that keeping in mind the contents of your sauce can help up the nutrition factor: "while any pizza sauce will do, I love the otamot brand that includes LOTS of extra veggies in order to make this extra nutritious."
Load up your veggie pizza with toppings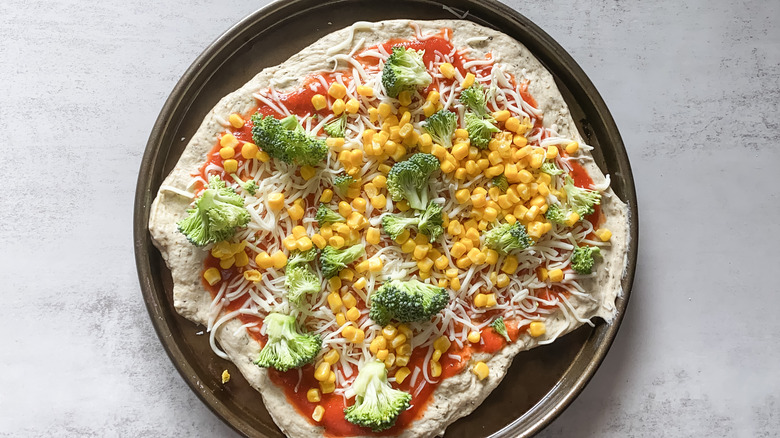 Kristen Carli/Mashed
Now for the fun part! Load up your pizza with mozzarella, forming an even layer all around the dough. Next, throw on your mushrooms, broccoli, and corn, making sure to evenly distribute the veggies so each slice will have some of everything. To help the veggies stay on when you take a bite, add more mozzarella on top. This allows the cheese to wrap around the vegetables as it melts down, helping them stay put when you grab the slices. 
Bake your pizza and enjoy!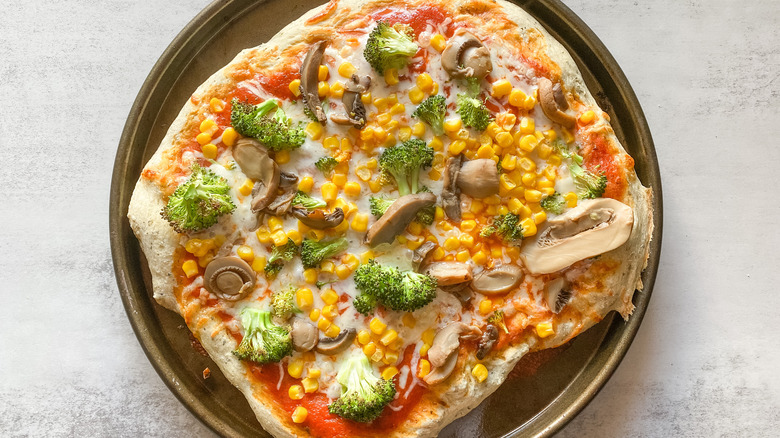 Kristen Carli/Mashed
Lastly, bake your pizza for 10 minutes, or however long it says on the dough package's instructions. You will know your pizza is done once the crust has browned and the cheese has melted. Once it is out of the oven, cut the pizza into slices and allow it to cool slightly before eating. Serve with a side salad to amp up the veggie content, or just on its own for an easy weeknight meal. 
15-Minute Vegetable Pizza Recipe
No need for delivery, you can make your own veggie pizza in under half an hour. It's a perfect weeknight meal, plus, you won't have to tip a delivery driver.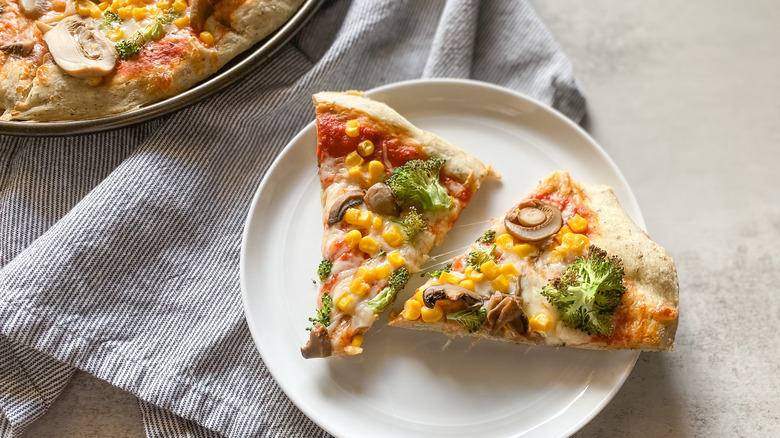 Ingredients
1 package refrigerated garlic and herb prepared pizza dough
½ cup pizza sauce
1 cup shredded mozzarella
½ 15-ounce can yellow corn, drained & rinsed
½ head of broccoli, cut into florets
1 4-ounce can marinated mushrooms, drained & rinsed
Directions
Preheat oven to 475F.
Using your hands, stretch out dough to fill a pizza pan.
Spread pizza sauce evenly on top of dough.
Add the cheese on top of the sauce. Sprinkle corn, broccoli, and mushrooms on top. Add more cheese on top of veggies.
Bake for 10 minutes.
Nutrition
| | |
| --- | --- |
| Calories per Serving | 652 |
| Total Fat | 19.4 g |
| Saturated Fat | 8.9 g |
| Trans Fat | 0.0 g |
| Cholesterol | 44.2 mg |
| | |
| --- | --- |
| Total Carbohydrates | 92.7 g |
| Dietary Fiber | 12.1 g |
| Total Sugars | 10.4 g |
| Sodium | 1,757.0 mg |
| Protein | 31.6 g |