Why Ali Khan Thinks You Should Skip The Salad With Your Pizza Order
Ali Khan, a Food Network television host for shows like "Cheap Eats" and "Spring Baking Championship" blends his love for food with a dash of comedy. His goofy demeanor and obvious passion for the space he works in makes him a lot of fun to watch on TV, plus "Cheap Eats" was a wildly fun series that made us a fan for life. His latest venture, a podcast/YouTube series called "Eat This. Drink That" covers all sorts of fun topics, from the best cheap bourbon and whiskey you can find to different types of wine to drink with certain foods. 
Khan's specialty is taking food topics that might seem overwhelming or over our heads and making them fun and accessible, plus he always dishes out some incredibly useful information that will come in handy somewhere down the line. Making good food approachable and affordable is what he does, and that even extends to his Twitter account, where he recently posted a pro-tip about salads. 
Pizza place salads just aren't worth it, you're better off making it at home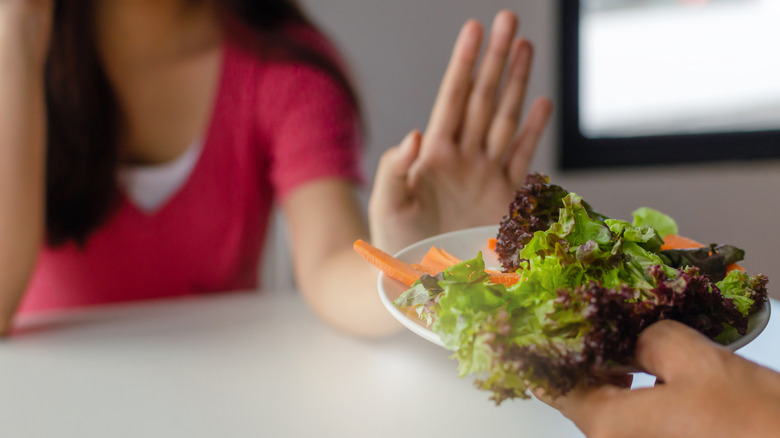 giggsy25/Shutterstock
Ordering pizza is a fun dinner or late-night food option that has remained popular over the years. Before there was UberEats, Door Dash, Postmates, and all the other delivery services, you could always count on calling your local pizza place and snagging a pie that would be delivered to your home. Maybe not everyone does this, but we know a lot of us tend to order a salad when we grab a pizza, if only for the sake of seeming healthy and trying to trick ourselves that we're making a health-conscious choice. But is that always a good idea? 
Not according to Ali Khan, who recently tweeted, "Pro pizza ordering move: skip the salad. Make that at home unless it's a Caesar with a house-made real Caesar dressing." And he's sort of right, the salads are never that good and you can usually save some money by making the salad at your own house. Going forward, we're definitely going to skip the salad in the pizza order and just create a leafy green creation at home.