Reddit Can't Believe This Messy Wedding Venue Dessert Plating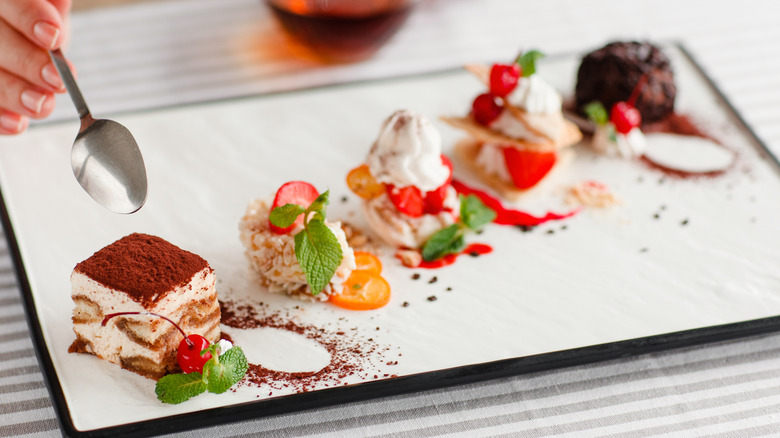 Golubovy/Shutterstock
What do you remember about the last wedding you attended? The newlywed's vows? The venue? The music? Chances are, it's memories of the food and drinks served that come flooding back (though, in some cases, it might not be for the best reasons).
According to Wedding Wire, the average cost of catering a wedding in America is $4,000, with couples spending anywhere between $1,800 and $7,000 on their big day's food budget. The average cost of a plated dinner, as opposed to a buffet, costs $40 per person. Add another $15 if you want to include booze, too, and another 15-20% of said budget on tip. Overall, it's safe to say couples spend big bucks on the food served during their wedding reception.
Considering the money spent on plated meals, you might think it totally reasonable to expect a stunning dish at least on par with the food served at a semi-decent restaurant. However, a Reddit discussion shows otherwise. A catering employee at one of the most expensive wedding venues in their area recently shared a photo of the dessert their resident chef served at a wedding hosted there. The desserts in question were cheesecake slices served in a pool of crème anglaise with swirls of chocolate sundae sauce and Smucker's strawberry jam. The desserts looked messy, to say the least — and Reddit wasn't happy.
The dessert disaster sparked a crème anglaise debate
According to the original Reddit user, the crème anglaise served as the base for the dessert was really just ice cream the chef left out of the freezer. Crème anglaise, in reality, is a French custard sauce made by whisking milk and sugar with egg yolks (via The Bake School). It may seem like crème anglaise is similar to melted vanilla ice cream. However, crème anglaise is often used as the base for ice cream. Whip the crème anglaise with heavy cream or whipped cream, churn it, and there you have it — ice cream!
The chef in question naturally sparked a tiff amongst Redditors. A pastry chef came to the caterer's defense in saying that "vanilla ice cream is just frozen anglais." However, another suggested that by the same logic, you could also say that meringues are just egg whites: "Which, true, but if you were served a lemon meringue pie with cooked egg whites on top, you'd be pissed."
Many couldn't believe the chef used Smucker's jam in the wedding dessert, while others were shocked by how messy and inconsistent the plating was and thought that the chef was, quite frankly, lazy and burnt out. "This is the 'I'm f**king tired of being a chef but have no other skills to rely on' plate," one commenter remarked, which may seem harsh, but hey, at $40 per head, it's only logical to expect more than some melted ice cream, Smucker's jam, and chocolate sauce.