Guy Fieri Fans Are Freaking Out Over This Thrilling Pic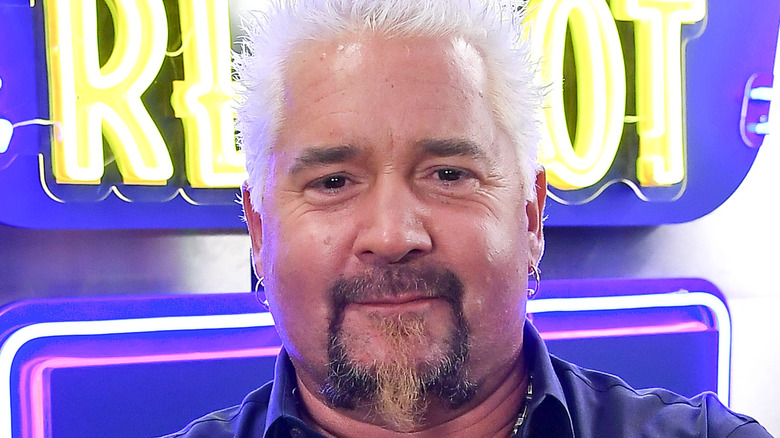 Steve Jennings/Getty Images
Food celeb Guy Fieri has not always been in the spotlight having exciting experiences. He got his start behind the oven as a chef and worked his way up until finally getting his big break on "Next Food Network Star." After getting from behind the oven and in front of the camera, Fieri would embrace an increasingly hectic travel schedule (via People), becoming a famous face that fans scream for as he goes from place to place and tries various (sometimes very unusual) foods. And what a trip it has been. 
His show "Diners, Drive-Ins and Dives" has taken him across the United States, sampling the best food he can find from independent restaurants that serve up unique local cuisine. "Guy: Hawaiian style" features Fieri and his family getting to know the Aloha State and sharing special experiences, like getting traditional Polynesian tattoos. 
More recently, Fieri went on a very different kind of trip with a noticeable lack of roads and red Camaros. He shared this thrilling experience with fans on Instagram to wowed reactions.
Fieri takes flight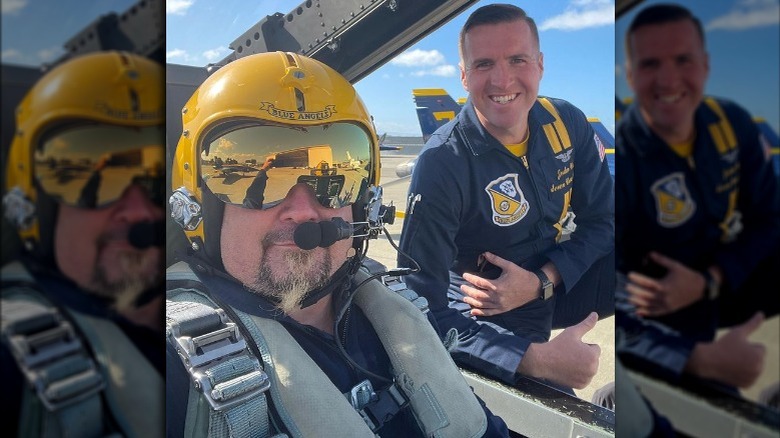 Instagram
For those who don't live on the West Coast, San Francisco's Fleet Week recently began, and it launched with a bang. Mercury News reports that stars of the week are the US Navy Blue Angels, who engaged in staged flights to the delight of viewers. And on one of those flights was none other than the blonde-haired big shot himself, Guy Fieri.
Fieri took to Instagram to post about his flight. "How's that for a selfie?" he wrote. The picture features him aboard one of the planes prepped with his helmet and goggles as a Blue Angel stands nearby giving a thumbs-up. In the post, Fieri thanks the @usnavyblueangels for having him aboard, calling them "the REAL DEAL." And while we can only assume he wasn't searching for food establishments in the clouds, there was no denying that some fans were eating their hearts out. His colleague @maneetchauhan commented, "And when we thought you couldn't get to be any cooler... you prove us wrong." User @treeenel wrote, "The Man. The Myth. The GUY." Will he ever cease to up the cool factor?