The Foolproof Porterhouse Tip Bobby Flay Taught Katie Lee Biegel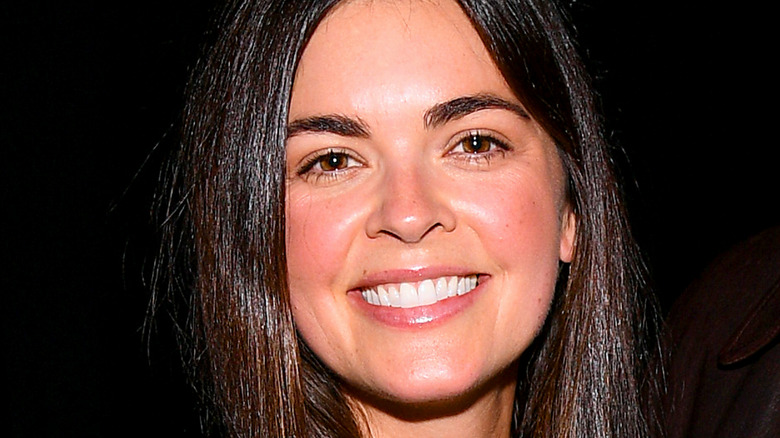 Dave Kotinsky/Getty Images
Nothing can beat a perfectly prepared steak: The meat is seared to achieve the perfect taste and texture and cooked for the ideal amount of time to maximize the delicious juices and flavor throughout the cut. Served with a side of veggies or potatoes, the steak can easily become your favorite meal.
Katie Lee Biegel also loves a great steak, and she recently shared her foolproof method for cooking one of the most mouthwatering cuts of steak, the porterhouse. You might recognize Katie Lee Biegel from the Emmy-nominated Food Network show "The Kitchen," which she co-hosts with Geoffrey Zakarian, Sunny Anderson, and Jeff Mauro (via Katie Lee Biegel). She is also a judge on "Halloween Baking Championship" and the author of three cookbooks.
She also loves to cook up her favorite meat dishes in her comfiest sweatpants for her short video series "Meat Sweats," which can be viewed online (via Food Network). In our eyes, this practically makes her an expert on the perfect way to cook a steak.
How Katie Lee Biegel cooks a porterhouse
Katie Lee Biegel just posted a picture of the most delicious steak we've ever seen on Instagram, along with a breakdown of how you could make it at home. She learned the method from her cooking mentor Bobby Flay.
The key to perfecting your porterhouse is to cook it for exactly three minutes in a cast iron pan on the stove, then remove the steak from the pan and cut it right off the bone into large chunks. Then, reassemble the steak in the cast iron and cover it in butter before broiling.
She also made the steak using this process for her series "Meat Sweats" and on "The Kitchen." According to the recipe, the porterhouse should be broiled for four minutes if you like it medium rare or five to six minutes if you prefer medium.
The next time you're craving a steak, this looks like an easy way to make yourself a delicious porterhouse. As Katie Lee Biegel would say, it's not complicated!