The Absurd Amount Of Money Salt Bae Charged Gemma Collins For Steak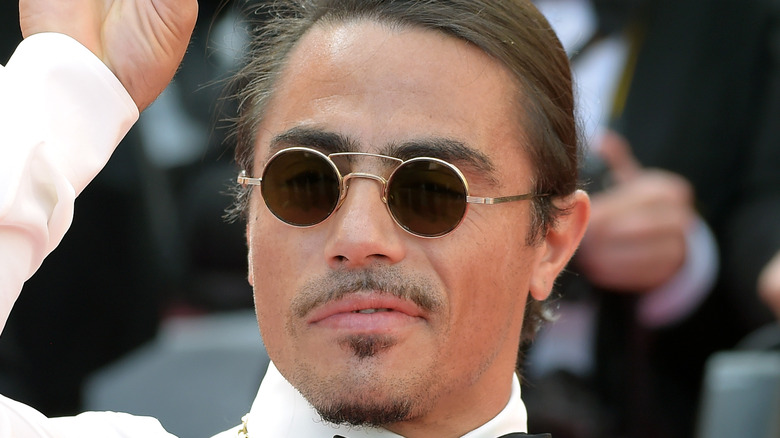 Antony Jones/Getty Images
We often hear about the outrageous expenses of the rich and famous. Sometimes it makes sense — hopping into a private jet for a weekend getaway seems more pleasant than spending hours stuck in an economy seat. However, other times it's downright absurd, making it easy to question their connection to reality. Among uselessly expensive menu items, a surprisingly common trend is to add edible gold leaf to food.
Turkish chef Nusret Gökçe aka Salt Bae, is known for his meat-focused restaurants and signature seasoning technique (via Delishably). The restaurateur chef has perfected the art of adding salt to meat, a move he showed off in a 2017 Instagram video with close to 17 million views. The star menu item at his restaurant Nusr-Et receives far more than a sprinkling of salt. Instead, Salt Bae serves a Tomahawk steak coated in 24-carat gold leaf. According to the Evening Standard, British media star Gemma Collins was stunned to discover that the extra gold leaf doubled the cost of her steak to £1,450 (about $1,972). Collins posted about the extravagant dining experience on Instagram, elated by Salt Bae's presence as he sliced up her gold-leaf steak, sprinkling on extra salt. The comments are mixed and although some people were eager to try it out, many were less impressed. "Opulence overload Gem," wrote one commenter.
Was Collins pleased with the dish?
Gemma Collins quickly came back to reality when she received her bill, far more than what she had anticipated from her lavish evening. She shared her thoughts about the experience on The Gemma Collins Podcast, prefacing with the fact that the restaurant's ambiance deserved a 10 out of 10, and adding that she would have gladly spent the money to meet Salt Bae (via BBC). Indeed, The Independent points out that the high prices at Nusr-Et have all to do with the overhyped sensation created by the owner and everything it entails for those in the know versus the actual cost of food.
Regardless of the idyllic atmosphere, Collins wasn't as delighted upon viewing the bill. "I felt a bit sick," she commented on the podcast, adding, "I started to feel really bad the next day because there are people starving in the world." She remarked that she wouldn't be going out to eat any time soon and would stick to home-cooked steaks and order the gold leaf off the internet if she felt like some extra sparkle. The guilt lingered, so Collins followed a friend's advice and decided to donate her bras to charity. "Literally, I sent four bags of really nice bras to the charity. So I feel like I've done my thing," she said.