Overnight Breakfast Casserole With Bacon Recipe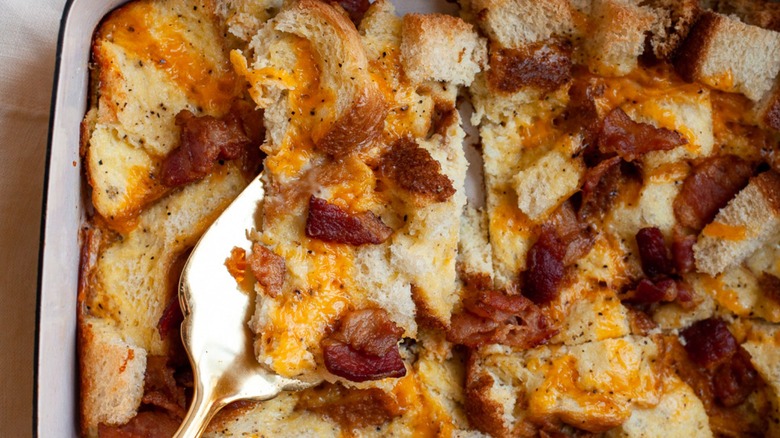 Christina Musgrave/Mashed
Are you familiar with strata? Perhaps you may know it better as overnight breakfast (or brunch) casserole. Basically, this is a savory version of bread pudding where thick slices of bread are soaked in an egg and milk mixture for several hours or overnight and then baked once all of the liquid has been absorbed. While this dish may date back to the turn of the 20thcentury (The Twine reported that it was apparently featured in a 1902 cookbook.), it really gained traction after being featuring in the 1985 "The Silver Palate Good Times Cookbook."
Recipe developer Christina Musgrave of Tasting with Tina says of this recipe, "I love how easy it is, it's ideal for having an easy breakfast ready when you have guests over." She makes hers with bacon, although you could always substitute sausage or ham if you'd prefer. You could use turkey bacon or chicken if you don't eat pork products, so there are many options for every taste.
Gather the ingredients for this overnight breakfast casserole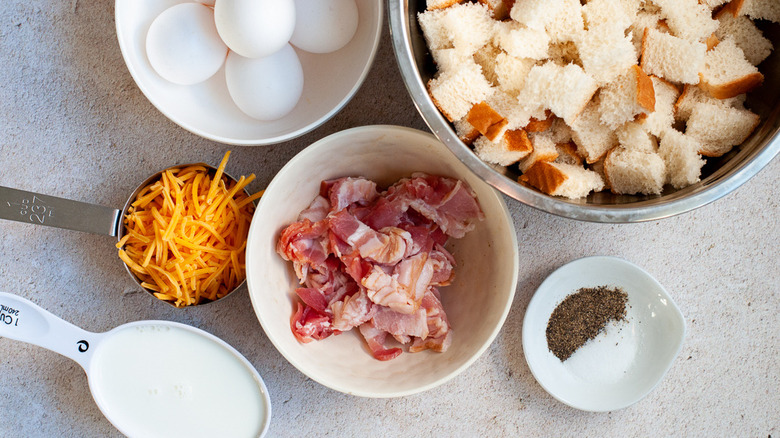 Christina Musgrave/Mashed
The reason this breakfast casserole is super easy to throw together is the fact that it calls for basic ingredients you may already have on hand. While some strata recipes call for using a thicker type of bread like French or Italian, Musgrave says what she used "was just white bread," the plain, pre-sliced kind. If you're worried that this bread might not be sturdy enough to stand up to the egg/milk mixture, she says, "It's okay if [the bread]'s mushy, because it's going to be baked." If you do prefer to use bread that you'll slice yourself, though, you will need about 8 cups of cubes.
In addition to the bread, you'll need eggs and milk, of course. Musgrave used whole milk, though as the milk is absorbed before cooking, you could use whatever kind you've got. For flavoring, you'll be using bacon and cheddar cheese, although Musgrave does note, "Veggies such as peppers or mushrooms or additional meat could definitely be added," and you can always swap out the cheddar for Jack cheese, Swiss cheese, or any other type of semi-soft cheese you choose. So have fun with this, and make it your own!
Prepare the bread and bacon for your casserole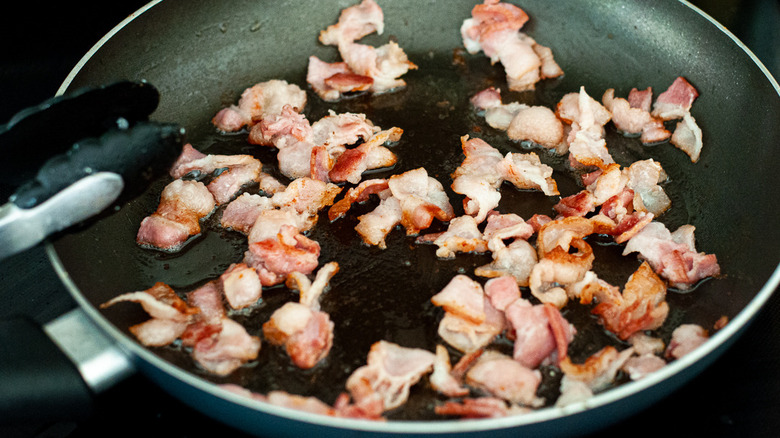 Christina Musgrave/Mashed
After you have all of your ingredients in place, dig out a 9x13-inch baking pan, and give it a good spritz of cooking spray. Next, slice up the bread into bite-sized cubes. There's no need to measure the cubes, since the size really doesn't matter too much here. As already mentioned, the bread is going to get mushy before it bakes. Scatter the crumbs over the bottom of the pan, and set them aside.
Chop the bacon into pieces about ½ inch in size, although again, their size isn't crucial as long as there's plenty of bacon per bite. Cook the bacon in a frying pan over medium heat until it's crispy, a process that Musgrave says took her about eight to 10 minutes. Keep an eye on your bacon as it cooks so it does not burn, since your results may vary. Set the bacon aside for a moment, but be sure to save the grease since you never know when (or how) it will come in handy.
Add the egg mixture, and let it soak into the bread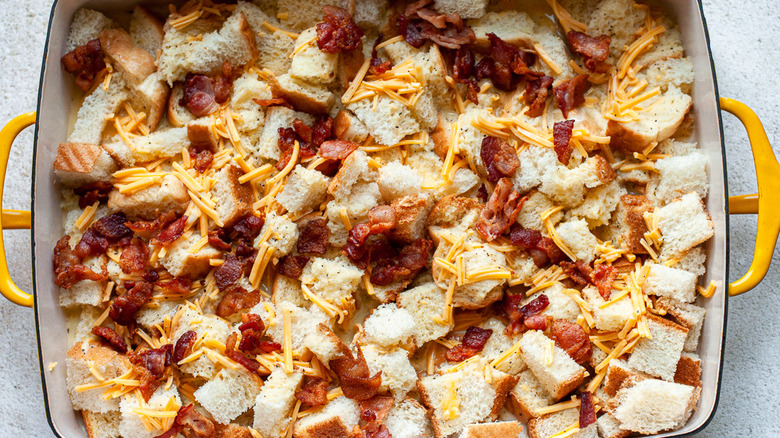 Christina Musgrave/Mashed
You know what they say, you can't make a breakfast casserole without breaking a few eggs, so that's what you'll be doing now. Break the eggs (into a bowl, of course!), then whisk them with the milk, the shredded cheese, and ½ teaspoon each of salt and black pepper. Pour the egg mixture over the crumbs, sprinkle the bacon on top, and stir everything up until all of the crumbs are coated and the bacon bits are distributed evenly throughout the casserole.
Cover the dish with foil, and stick it in the fridge for a good long while. If you are, in fact, assembling it at night to be eaten the next morning, then by all means, leave it there overnight. If you are making it in the hopes of eating it later on in the day, "overnight" usually translates to mean about eight hours, although you can check on it at hourly intervals to see when all of the liquid has been absorbed by the bread. If the bread has soaked up the milk and eggs by hour seven (or six, or even five or four ...), well, we won't tip off the baking police if you want to go ahead and start to cook your casserole.
Bake the casserole until it's done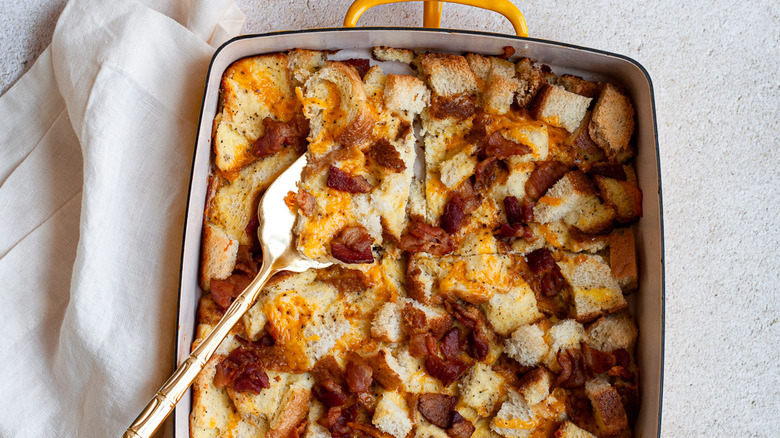 Christina Musgrave/Mashed
Once the casserole looks like it's good to go, with all of the liquid having been soaked up by that big old bread cube sponge, well, you're going to have to wait a few minutes longer since you still have to preheat the oven to 350 F. Then and only then (No cheating on the preheating!), you can bake the breakfast casserole for 45 minutes, or until the middle is set.
As Musgrave says of this casserole, "It's definitely breakfast since it's a breakfast casserole," and she feels "It's best served with other breakfast foods like hash browns, sausage, and toast." You may, or course, prefer to eat it for brunch, as well, since it pairs nicely with mimosas and mini croissants and other brunch-like things. But you know, if you want to prepare it in the morning, then cook it at night for your dinner, we wouldn't judge, since that seems like a pretty great idea, too.
Overnight Breakfast Casserole With Bacon Recipe
The reason this overnight breakfast casserole is so easy to throw together is the fact that it calls for basic, tasty ingredients you may already have on hand.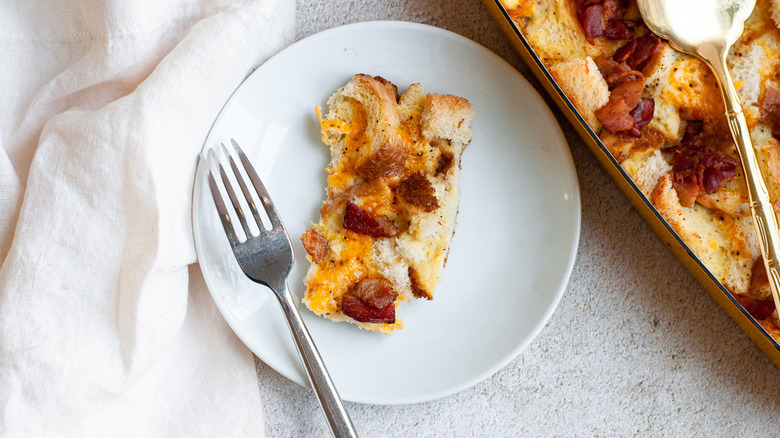 Ingredients
10 slices white bread, cubed
½ pound bacon, cut into ½-inch pieces
6 large eggs
1 cup whole milk
1 cup shredded cheddar cheese
½ teaspoon salt
½ teaspoon of black pepper
Directions
Spray a 9x13-inch baking pan with cooking spray.
Spread the bread cubes in the pan.
Cook the bacon in a skillet over medium heat for 8 to 10 minutes, until cooked crispy. Set aside.
Whisk together the eggs, milk, and cheese with ½ teaspoon of salt and ½ teaspoon of black pepper in a large mixing bowl.
Pour the egg mixture and bacon over the bread cubes, and gently stir.
Cover the casserole with foil, and refrigerate for several hours, or overnight.
When ready to cook, preheat the oven to 350 F.
Bake the covered casserole for 45 minutes, or until the middle is set.
Nutrition
| | |
| --- | --- |
| Calories per Serving | 460 |
| Total Fat | 29.0 g |
| Saturated Fat | 11.4 g |
| Trans Fat | 0.3 g |
| Cholesterol | 234.2 mg |
| | |
| --- | --- |
| Total Carbohydrates | 26.7 g |
| Dietary Fiber | 2.0 g |
| Total Sugars | 5.5 g |
| Sodium | 705.6 mg |
| Protein | 22.1 g |