Instant Pot Chicken Broth Recipe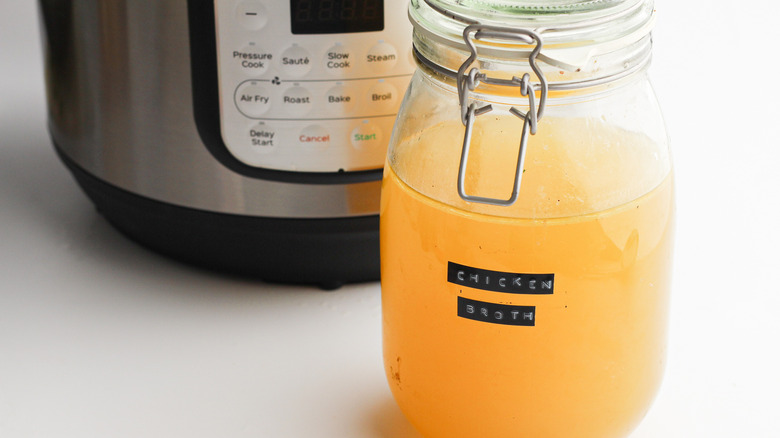 Susan Olayinka/Mashed
If you're looking for a recipe that can be enjoyed alone, as an ingredient, and as a nutritious boost, then you'll want to pay attention. Susan Olayinka is a Mashed recipe developer and food blogger at The Flexible Fridge, and she has the perfect reason to make you pull out your Instant Pot. Her chicken broth recipe will leave you satisfied and eager for more. Chances are, you'll find plenty of uses for it, and Olayinka remarks that she uses it "in everything!" Indeed, there's no shortage of ways to incorporate chicken broth into your cooking, whether it's simply sipping it from a cup or adding it to soups or stews. 
Olayinka explains that another remarkable quality of chicken broth is its nutritional value. "It contains a lot of collagen, which is hard to get!" She adds that "it is so nourishing and a great way to use bones." Instead of tossing out the remains from your chicken roast dinner, pop them into your Instant Pot with a few extra ingredients, and this chicken broth will make itself.
Gather up the ingredients for this Instant Pot chicken broth recipe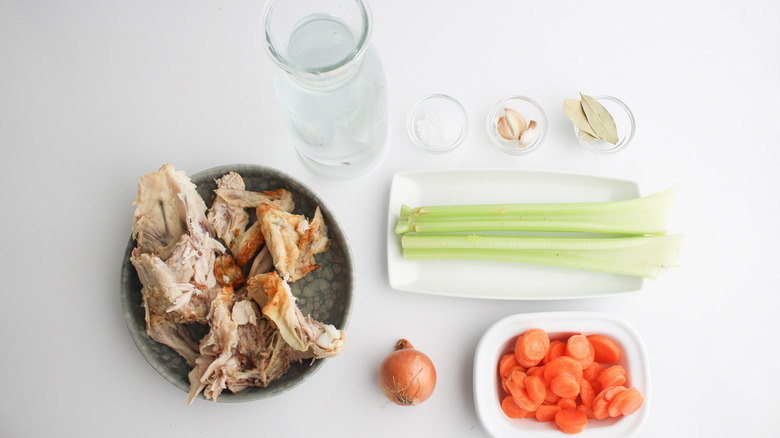 Susan Olayinka/Mashed
Thanks to the rich flavors from the chicken, you'll only need a handful of extra ingredients to season this broth. For starters, Olayinka uses garlic and onion to build an aromatic base. Celery plays a similar role, adding a flavorful herbal component to the broth. Next, you'll need a chicken carcass — time it so that you make this chicken broth following a roast chicken dinner. Thanks to the time spent roasting in the oven, the chicken will have already developed delicious flavors that will find their way into the broth. Carrots are a popular addition to broth since they have a delicate sweetness that will complement the rest of the ingredients. 
Bay leaves have a subtle yet perceptible flavor that provides an extra layer of seasoning for this hearty broth. Dried bay leaves are sold together with other herbs and spices in the supermarket. If you want to try any other herbs, Olayinka notes that "with sage it's amazing!" She points out that the herb makes a great match for chicken. Finally, salt will help enhance all of the aromas, balancing out the various vegetables. Of course, there won't be much broth to talk about if you don't add water.
Chop up the vegetables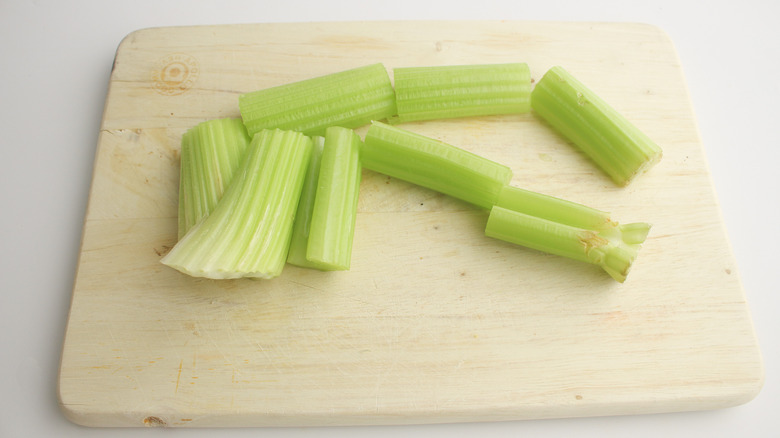 Susan Olayinka/Mashed
First, set up the chicken broth ingredients so that they can be added in at one time. Even though you don't need to prepare the vegetables in a specific manner, you'll want to cut them up so that their flavor can be properly absorbed. Simply roughly chopping the garlic, onions, and celery will do the trick. Then, set the vegetables aside along with the cup of chopped carrots until you are ready to add them to the Instant Pot.
Add the chicken carcass, vegetables, water, and seasoning to the Instant Pot and cook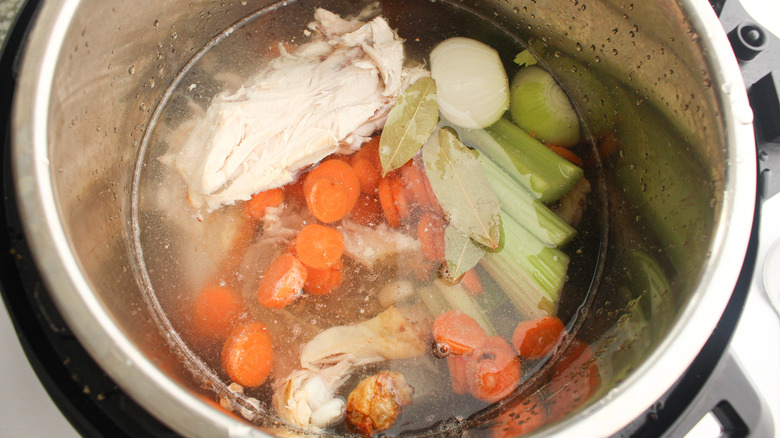 Susan Olayinka/Mashed
Now, set out your Instant Pot so that you can fill it up with the ingredients for the chicken broth. The biggest item goes in first, so go ahead and add the chicken carcass to the bottom of the pot. Next, toss in the chopped carrots, garlic, onion, bay leaves, and celery. Finally, sprinkle in the salt, and pour 10 cups of water on top of it all. Once everything is in the Instant Pot, set it to cook for one hour on high.
After an hour, naturally release the pressure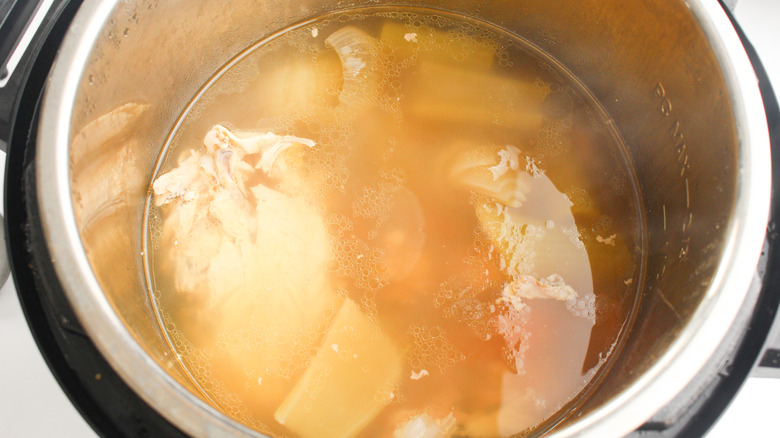 Susan Olayinka/Mashed
After an hour cooking on high, allow the pressure to naturally release from the Instant Pot for 30 minutes. Keep in mind that since the contents of the pot have been cooking on high for one hour, they have had the chance to develop plenty of pressure and, consequently, steam. By easing the pressure slowly, you can avoid having that steam release too quickly.
Finally, strain the broth and seal it to store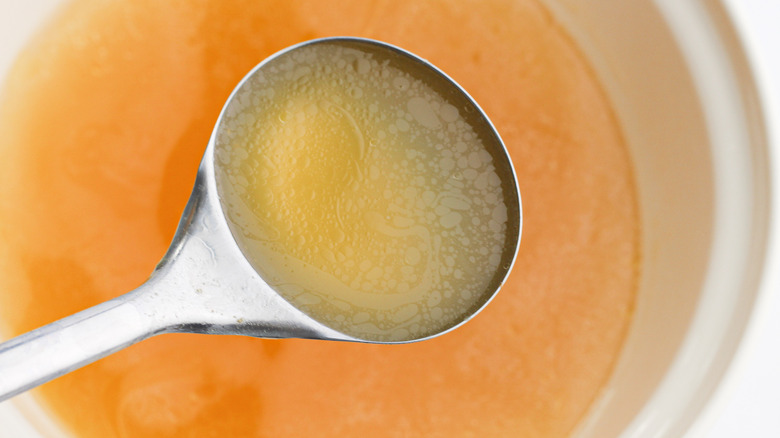 Susan Olayinka/Mashed
Once you've let the pressure fully release, open up the Instant Pot. It's time to separate the solids from the liquids, a.k.a. your delicious chicken broth. Use a fine-mesh strainer to filter out the large pieces from the stock. Pour the chicken broth into an airtight container where Olayinka says it will store well for four to five days in the refrigerator. If you don't plan to consume it immediately, Olayinka recommends storing it for two to three months in the freezer. Nevertheless, she reckons that "readers will definitely find ways to use it."
Add this tasty chicken broth to your favorite soups and stews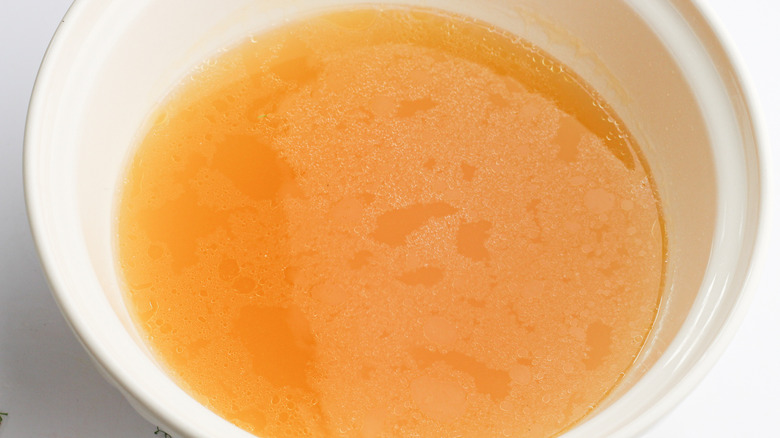 Susan Olayinka/Mashed
Thanks to the intensity of flavor imparted during the Instant Pot cooking process, this chicken broth is savory and tasty. Olayinka says that in her home, they "drink it alone" — it really is that good. Otherwise, she suggests "add[ing] it to rice or soups," to set up a rich base. You'll definitely want to add this chicken broth to our 20-minute chicken noodle soup recipe. If you'd rather try something less traditional, there are plenty of chicken-based soups that will benefit from this broth. As Olayinka says, you won't have a hard time finding ways to use up this chicken broth.
Instant Pot Chicken Broth Recipe
If you're looking for a recipe that can be enjoyed alone, as an ingredient, and as a nutritious boost, then you'll want to pay attention to this broth.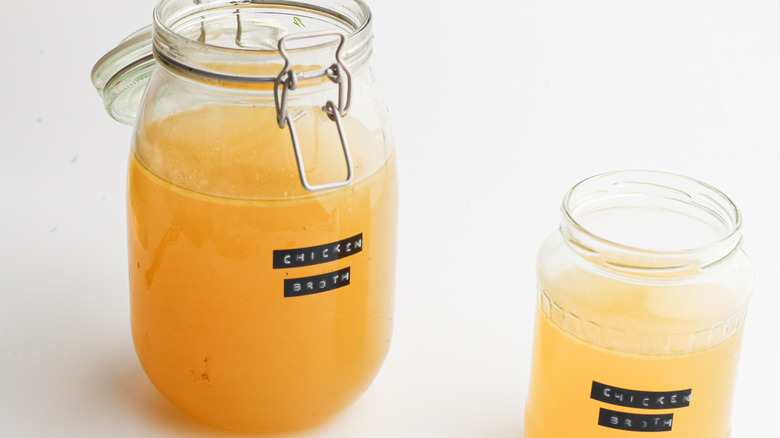 Ingredients
3 cloves garlic
1 onion
2 stalks celery
1 chicken carcass
1 cup carrots, chopped
3 bay leaves
1 teaspoon salt
10 cups water
Directions
Roughly chop the garlic, onions, and celery, and set them aside.
Place the chicken carcass, chopped carrots, bay leaves, celery, salt, chopped garlic, chopped onion, and water into the Instant Pot.
Cook the ingredients on high for 1 hour, then release the pressure naturally for 30 minutes.
After 1 hour and 30 minutes in the Instant Pot, strain the broth through a fine-mesh strainer.
Pour the broth into an airtight container to store.
Nutrition
| | |
| --- | --- |
| Calories per Serving | 17 |
| Total Fat | 1.4 g |
| Saturated Fat | 0.4 g |
| Trans Fat | 0.0 g |
| Cholesterol | 4.0 mg |
| | |
| --- | --- |
| Total Carbohydrates | 0.3 g |
| Dietary Fiber | 0.1 g |
| Total Sugars | 0.1 g |
| Sodium | 48.2 mg |
| Protein | 0.7 g |