Sunny Anderson's 20-Minute Hot Dog-Eating Video Has Instagram In Hysterics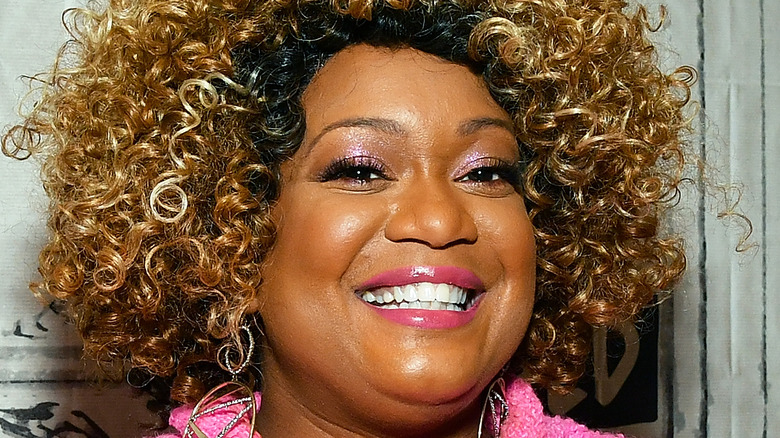 Slaven Vlasic/Getty Images
Sunny Anderson gave her Instagram followers the opportunity to hang out with her for half a day on October 12, starting with her commute into midtown Manhattan for an appearance on the "Today" show. Then the host of the new Food Network show "Chocolate Meltdown" stopped by the Diamond District — just to browse, not to buy. Finally, heading for the Holland Tunnel and her escape from New York, Anderson made one more stop. She had seen the place on a previous day when she was stuck in traffic on her way to the tunnel: an Oh K-Dog location in the West Village. According to the Oh K-Dog website, the place sells Korean rice dogs, a popular street food in that country that is making inroads into America with locations in four states and counting.
Anderson ordered two rice dogs on sticks from the Oh K-Dog menu: the Half Mozza & Half Hot Dog, and the Sweet Potato Hot Dog. Then she got back in her car, fired up Instagram Live on her phone, and invited her fans to lunch. The results were hilarious.
Sunny Anderson just had to try the Oh K-Dog stand in the West Village
Sunny Anderson's Instagram Live, showing her eating two Korean rice dogs outside an Oh K-Dog in New York, had all the appeal of any other drivers-seat mukbang you've seen. If you like watching — and hearing — people chew for 20 minutes, then Anderson's video is for you. She ate her two rice-coated, deep-fried hot dogs on sticks, covered with sweet potatoes, sugar, and condiments. She also dished on how much she missed the cast and crew of "The Kitchen" while filming her segments outside the studio, and she engaged with friends and fans who were watching the live stream.
"You're seeing me like this because I love you," Anderson said, somewhere between her third and fourth belch. "People when they watch 'The Kitchen,' they complain about the bites that I take, and I get it now," she said at another point in the video. "I'm looking at myself. I get it. It's a big bite."
Commenters reported having a blast while looking in on Anderson's lunch. "Living through you right now," @greenellen commented. "I just love you!!" @chelsmrr70 said. "So REAL & likable... no — lovable!! I would love to meet you and hang out."