Maneet Chauhan Dishes On Food Network's Chocolate Meltdown: Hershey's After Dark - Exclusive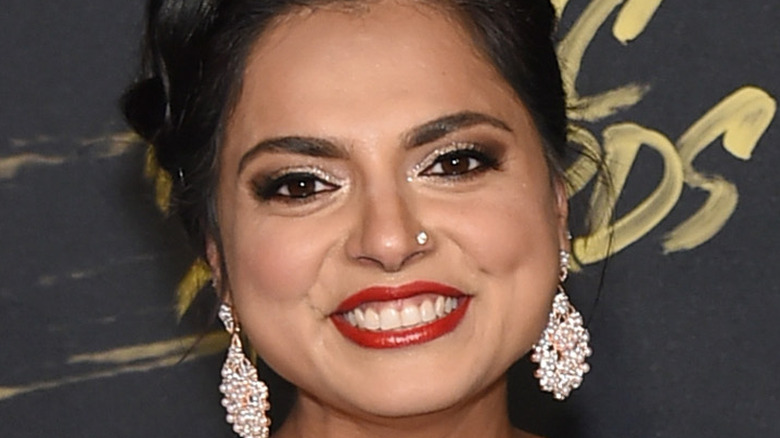 Mike Coppola/Getty Images
We may receive a commission on purchases made from links.
Every year as October unfolds, the leaves start to change, the temperatures drop, and the cravings for sweet Halloween treats start to kick in. And this year, Food Network is gearing up for the candy-themed holiday we all love with a brand new competition show. "Chocolate Meltdown: Hershey's After Dark" is airing new episodes throughout October (via Food Network). The whole thing takes place inside Hershey's largest candy store, Chocolate World, where contestants, aided by an assistant, race against the clock to complete chocolate challenges and create confectionery works of art. Their creations are judged by Ralph Attanasia and Maneet Chauhan, with ever-hilarious host Sunny Anderson overseeing all the candy chaos. Let's just say, it's full of tricks and treats, and it comes just in time for Halloween.
And speaking of treats, Mashed got the chance to speak with Chauhan recently, and the chef and judge couldn't help but dish about her newest gig. In an exclusive interview, Chauhan described exactly why she's so excited to be in the Hershey's Chocolate World, and why viewers are in for such a spooky, yet sugary surprise.
Hershey's After Dark is a chocolate lover's dream
Maneet Chauhan has been sitting on this sweet surprise of a show for months, but now the secret is out about "Chocolate Meltdown: Hershey's After Dark." And it seems as if the chef had as much fun filming the show as viewers are going to have watching it. "We filmed it last year," Chauhan said, "and it is so fun." True to its name, the show was in fact filmed after dark. Chauhan told Mashed: "We would be doing it in the night," and added, "it literally was after the Hershey's Park shut down." Chauhan said that there was no shortage of candy either. "It just was incredible, surrounded by Hershey's chocolate ... and Sunny [Anderson] is hosting it." Honestly, what could be more fun? Chauhan called it "a kid's nightmare," but in the best way. "I definitely was a kid in a candy store. It was amazing," she said.
​​Don't miss Maneet Chauhan in "Chocolate Meltdown: Hershey's After Dark," premiering September 27 on Food Network, and be sure and pick up her new book "Chaat: Recipes from the Kitchens, Markets, and Railways of India."