Popeyes Just Teamed Up With Megan Thee Stallion For A New Hot Sauce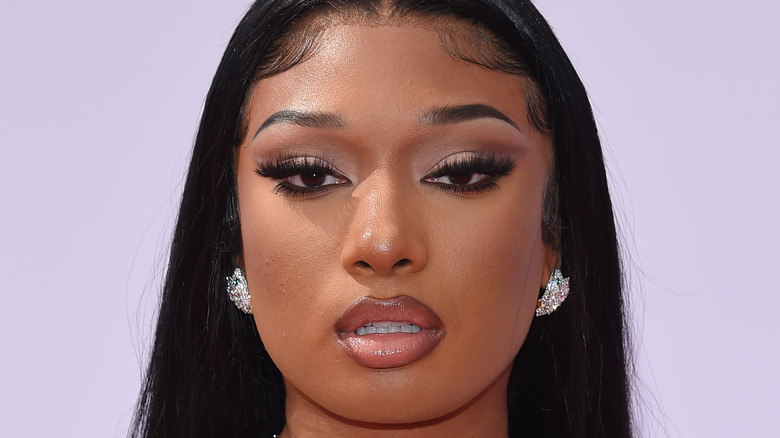 DFree/Shutterstock
Hotties, assemble. One of the hottest artists in the world right now, Megan Thee Stallion, has teamed up with Popeyes for a fiery partnership that's guaranteed to bring the heat. In a press release, Popeyes unveiled a massive partnership with the Houston native encompassing a brand-new dipping sauce and hot girl-certified merchandise line.
The Louisiana-born chicken company teamed up with the Grammy Award-winning musician to create a limited-time Megan Thee Stallion Hottie Sauce, poised to hit franchise menus next week. The artist and entrepreneur worked closely with the Popeyes culinary team to develop the sauce, which has a bold, sweet-and-spicy flavor "inspired by Megan's sassy personality."
The Megan Thee Stallion Hottie Sauce is made with Aleppo pepper, honey, and cider vinegar. It will be added to Popeyes chicken nugget dipping sauce lineup and offered on top of the company's famous chicken sandwich, which took the food world by storm upon its release in 2019. 
"Teaming up with Popeyes is such a milestone in my journey and evolution as an entrepreneur. I've always been a fan of the Popeyes brand, and I'm thrilled to have the opportunity to join the brand," the rapper said, announcing that in addition to the hot sauce partnership, she has also begun the process of becoming a Popeyes franchise owner. "I'm appreciative of Popeyes' commitment to empowering Black women and look forward to opening Popeyes Restaurants." 
The Grammy-winning artist is also teaming up with Popeyes for a new line of merch
Popeyes will also be partnering with Megan Thee Stallion on three exclusive merchandise lines. The first is called "Thee Heat" and drops at noon on October 19, 2021, via Thee Hottie Sauce website.
The spicy merch features a variety of Stallion-approved garments, from a flaming Popeyes-orange bikini to a t-shirt featuring one of the restaurant chain's receipts set ablaze. Also available are a pair of saucy shirts: A neon-print crop top featuring Megan's hand pouring the Hottie sauce and a long-sleeve shirt printed with the word "saucy." Thee Heat's lineup will also feature tumblers, hats, and plush dog toys in the shape of Popeyes chicken tenders.
"We have a lot in common with Megan Thee Stallion, from our southern roots, to our shared love for flavor with a lot of spice," Popeyes Chief Marketing Officer Bruno Cardinali said of the expansive partnership. "She embodies the proud, spirited, joyful, and big-hearted personality we embrace with our food and heritage." To celebrate their landmark partnership with the Texas-born musician, Popeyes and Megan also pledged to make a six-figure donation to Houston Random Acts of Kindness, a non-profit organization that promotes empathy and compassion for those in need in the Houston area.
The limited-time Megan Thee Stallion Hottie Sauce will be available at participating Popeyes locations worldwide beginning on October 19, 2021.