The One Kitchen Tool Maneet Chauhan Can't Live Without
Theo Wargo/Getty Images
Before appearing as a contestant on "Iron Chef" and as a judge on Food Network's "Chopped," Maneet Chauhan had a long history of working in the food industry (via Food Network). Chauhan previously worked at prestigious restaurants and hotels in both India and the U.S., winning several awards for her work along the way. Naturally, she's a pro at cooking and, along with it, an expert on the best way to use spices.
It doesn't come as surprise then that when asked which gadget she couldn't imagine her kitchen without, it wasn't a pointy professional knife or a cast iron pan that she was attached to — in fact, Chauhan told Food Network in another article that her essential kitchen tool happened to be a spice grinder.
Much like a pepper grinder or a coffee grinder, a spice grinder works in the same way, by turning whole spices into a fine powder. While you could use pre-ground spices as well, there are many reasons why you should follow Chauhan and invest in this tool for your kitchen too.
Use a spice grinder to make the most of your seasonings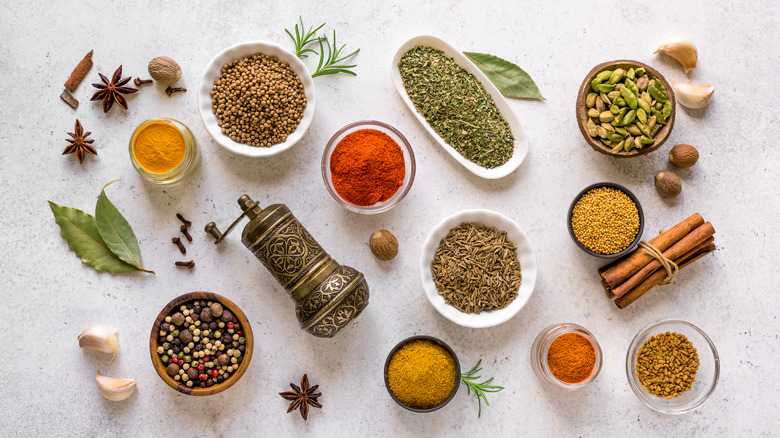 Oksana Mizina/Shutterstock
According to Epicurious, once you've entered the world of grinding your own spices right before you plan to use them, you will never look at pre-ground bottles ever again. As with coffee beans, whole spices start losing their freshness the second that they are ground. And with that also goes the flavor and the aroma. Pre-ground spices often turn out to be staler than freshly ground versions and lack the punch that whole spices have. To make the most of all the complex flavor that seasonings have to give, you should buy whole spices and grind them before each use.
To do so at home, you should first toast the spices for a couple of minutes to bring out the oils present in them as well as their flavor and aroma, says Slo Food Group. Let them cool down and then go forth and grind away. If you don't want to commit to a spice grinder just yet, you could use a mortar and pestle or a coffee grinder if have one. If neither of these work, you could bag your spices in a ziplock bag and whack it with a rolling pin-like object for a coarsely ground powder.
If you do decide that it's worth the commitment, Eating Well has a helpful list of the best spice grinders on the market.