Rice Paper Omelette Recipe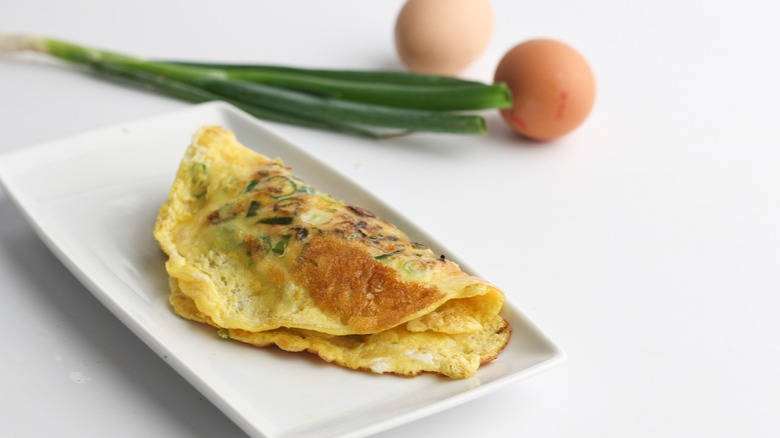 Susan Olayinka/Mashed
Whether you're eating it bleary-eyed in the morning or indulging in it during dinnertime, breakfast is a meal that can get a little predictable. Eggs are usually the star player, and even though there are countless ways to prepare them, having the same scrambled or fried eggs day after day can start to feel monotonous. Fortunately, recipe developer Susan Olayinka of The Flexible Fridge is here to shake up your breakfast routine with this rice paper omelette recipe, which combines a common spring roll wrapper with scallions and ham and encases it all in a fluffy omelette.
Olayinka explains she had only seen rice paper "used in things like fresh spring rolls," but was inspired to add it to an omelette after watching a video from a YouTuber in China. "I thought it was genius!" she says. Rice paper on its own doesn't have a huge amount of flavor, to be sure, but Olayinka says that it adds a "great texture!"
While most recipes are written to serve four or more people, Olayinka's rice paper omelette recipe is flying solo, yielding only one serving. If you're often cooking for one, this is the perfect way to do it. Plus, if you want to make this for more people, the ingredients are easy to scale up.
Prep your ingredients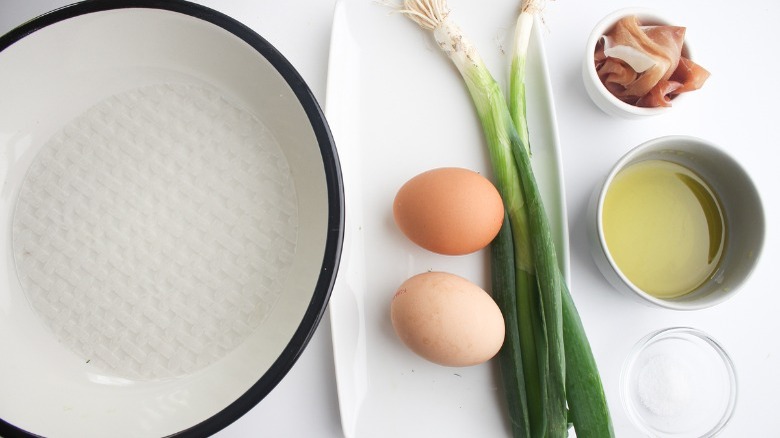 Susan Olayinka/Mashed
Omelettes cook fast, so it's important to get all your ingredients ready before you start cooking, a really great kitchen habit to cultivate known as mise en place.
Luckily, this dish only requires six ingredients, and it's likely you have most of them in your house already. You'll need eggs, obviously. To be exact, you'll need to grab four of them. For the filling, you'll need one rice wrapper, some ham (any type of ham will do), the green stalks of two scallions, and a bit of salt. As for equipment, that's pretty standard. Get out a frying pan to cook the omelette with, plus a pastry brush (or something similar) to apply oil to the pan.
Scramble your eggs and prep your filling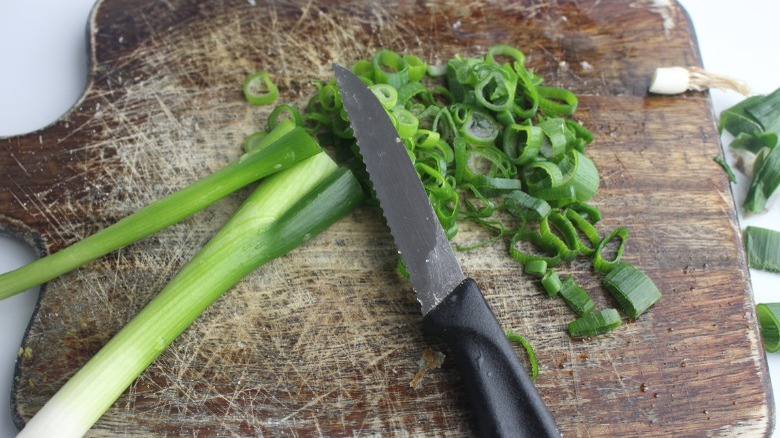 Susan Olayinka/Mashed
Start this process how you would start any other omelette: crack your eggs into a small bowl, sprinkle some salt on top of them, and mix with a fork or a whisk until the eggs are sufficiently scrambled. Ideally, the whites and yolks will be pretty well incorporated.
After that, prep your fillings by slicing up the ham and the green part of your scallions. Make sure that they're in bite-sized pieces (though you can really go with whatever size you prefer in your omelette). And it really is best to concentrate on the more colorful part of the scallions instead of the whiter portion near the root. "The green part is more flavourful and doesn't require as much cooking as the white part," Olayinka explains.
Get your frying pan ready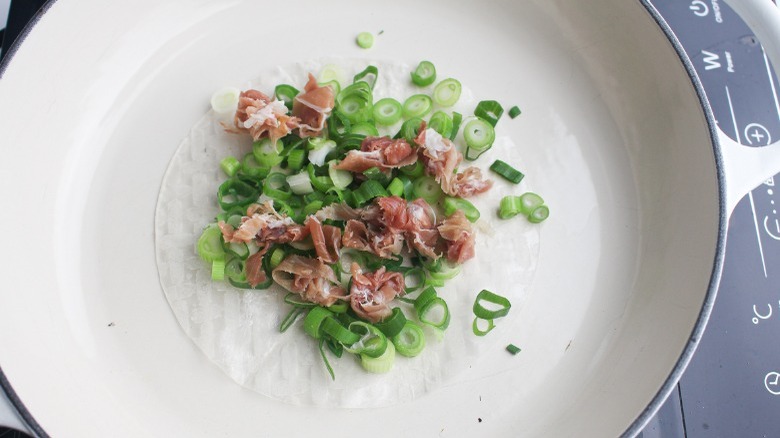 Susan Olayinka/Mashed
Now, get out your frying pan. Put it on the stove and use a pastry brush to apply a thin layer of oil to the bottom. If you don't have a pastry or basting brush to complete this step, no worries. You can use a silicone brush or even a paper towel if that's all you have available. All that really matters is that you end up with a small amount of oil spread across the bottom of the pan.
Once your pan is nice and oiled, turn the stove to medium-high. Then, place your rice wrapper in the bottom of the pan. You want to keep it whole instead of cutting it up like your other toppings. Then, add the scallions and ham on top of the rice paper.
Finish the omelette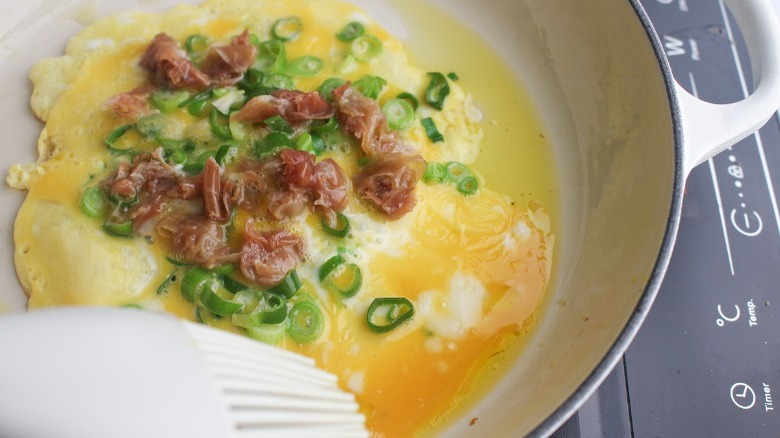 Susan Olayinka/Mashed
Okay, so you've got a hot pan, and now you've got your filling starting to cook. Now, it's time to bring the eggs into the picture. This is, after all, an omelette we're talking about.
Using a spoon, pour the egg mixture over the rice paper so that it's completely covered in egg. Then, if you haven't done so already, grab your pastry brush and add some oil to the sides of the pan to make sure that nothing will stick in the next step. 
Tilt the pan, letting the egg mixture spread out into a bigger circle and set further. After about 2 minutes, flip the omelette and let it cook a little longer.
Time to eat!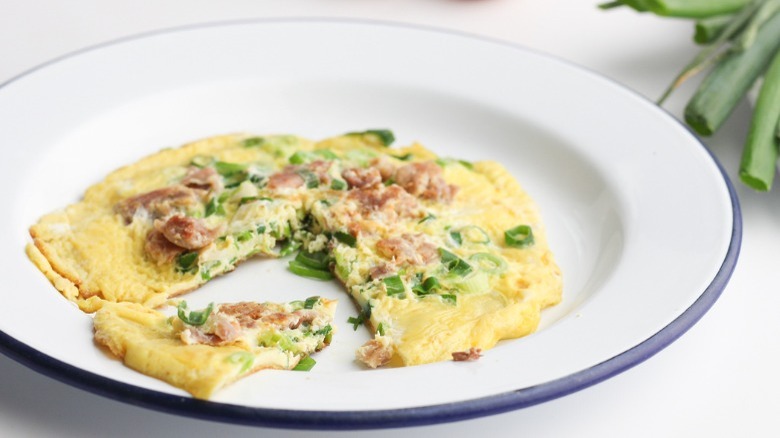 Susan Olayinka/Mashed
Now that you've chopped, cooked, and flipped, it's time to enjoy the fruits of your labor. Most omelettes are served folded over, but Olayinka says that you can serve this rice paper omelette folded in half or even open face, so it remains a circle of eggy goodness. 
As for seasonings, you've got quite a few options, depending largely on what strikes your fancy. Olayinka notes that "people usually put mayo and chili" atop their rice paper omelette, but feel free to use whatever sauces you like the best. If you're going for a more substantial meal, she also recommends serving this with french fries — we certainly can't argue with that!
Since this recipe makes only one serving, you probably aren't going to end up with leftovers. If you're not feeling up to a 4-egg omelette, share it with a friend!
Rice Paper Omelette Recipe
Shake up your breakfast routine with this rice paper omelette, which combines a spring roll wrapper with scallions and ham and encases it all in an omelette.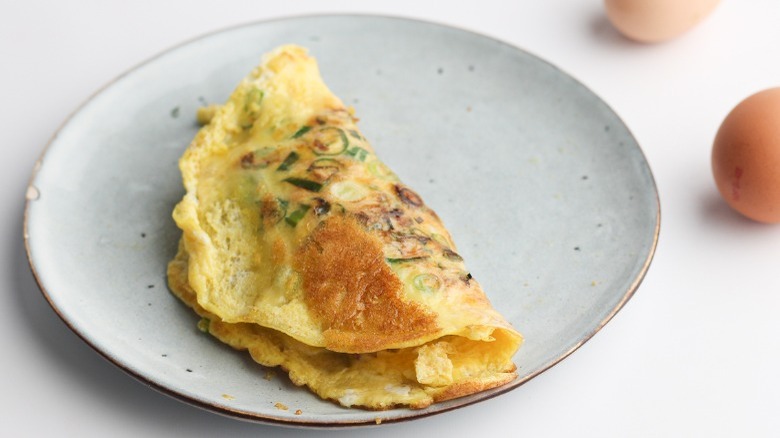 Ingredients
2 green onions
¼ cup ham
4 eggs
¼ teaspoon salt
1 tablespoon olive oil
1 rice wrapper
Directions
Slice the green part of the green onions and ham and set aside.
Crack 4 eggs into a mixing bowl, add the salt, and mix together.
Use a pastry brush to brush oil in a thin layer onto a frying pan. Turn it up to medium-high heat.
Put a whole rice wrapper directly into the pan, followed by the green onions and chopped ham.
Carefully spoon in the egg mixture to cover the rice paper.
Use a pastry brush to brush oil on the sides of the frying pan.
Cook for 2 minutes on each side.
After 2 minutes, it is ready to be served.
Nutrition
| | |
| --- | --- |
| Calories per Serving | 511 |
| Total Fat | 35.8 g |
| Saturated Fat | 9.2 g |
| Trans Fat | 0.1 g |
| Cholesterol | 673.3 mg |
| | |
| --- | --- |
| Total Carbohydrates | 14.5 g |
| Dietary Fiber | 0.9 g |
| Total Sugars | 1.5 g |
| Sodium | 853.8 mg |
| Protein | 31.5 g |