Dunkin's Puppy Halloween Costume Is Too Cute To Handle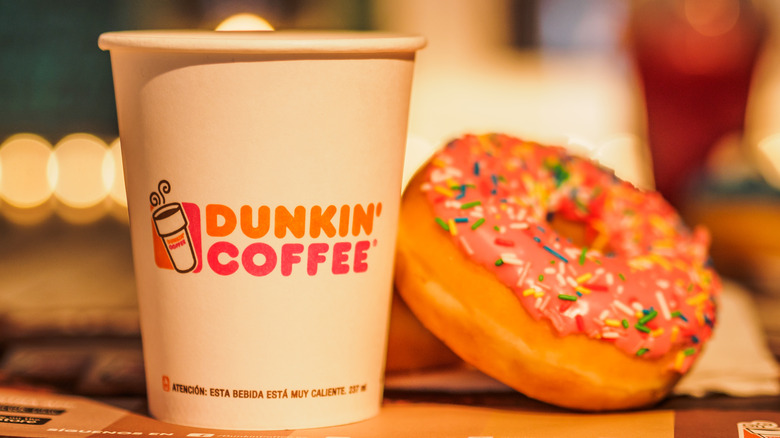 Pere Rubi/Shutterstock
What are you dressing up as for Halloween? But more importantly, what is your dog going as this Halloween? If you and your furry friend were to team up for your costumes, the pop-culture possibilities are almost endless. If you have a labrador, you could get a blond pageboy wig and a prosthetic nose and go as Owen Wilson and his co-star from "Marley and Me." If you're a collie person, grab a wooden bucket and a rope and go as Lassie and Timmy, fresh from his latest well rescue. Charlie Brown and Snoopy, Cruella de Ville and a dalmatian, the Grinch and Max ... the list goes on.
This year, Dunkin' is hoping you'll stick to this general theme while also giving the chain some free advertising — free for them, that is. You'll be paying for your pooch's Dunkin' costume, sold online at SpiritHalloween.com. Earlier this month, Dunkin' announced that it had the humans in your family covered with some donut- and coffee-themed Halloween costumes.
Your dog will bring the sweet treats this Halloween in its Dunkin' costume
If you plan to go to a Halloween party or your kids' trick-or-treating excursion in one of three adult Dunkin' costumes — the hot coffee, the cold brew, or the Strawberry Frosted Donut — then the sugar-and-coffee chain is giving you the perfect excuse to bring your dog along for the fun. (Dunkin', in partnership with Spirit Halloween, also has a kids' Donut Hole Treat Box Costume, according to a statement from the chain.) Wouldn't your pet look great in a costume that transforms a canine into a Dunkin' employee, complete with visor, a "Take Life One Cup at a Time" T-shirt, and fake little human-like arms holding a fake little box of donuts (via Spirit Halloween)? At $24.99, this Dunkin' dog costume, available online only, might cost more than a month's worth of kibbles. But it'll be worth it after your friends see how cute your pet has become.
Maybe there's even a way for you to recoup your cost. Considering that fast food chains are scrambling to hire workers, you could bring your dog in costume to your local Dunkin' and have the pup fill out an application.