Easy Chicken Enchilada Recipe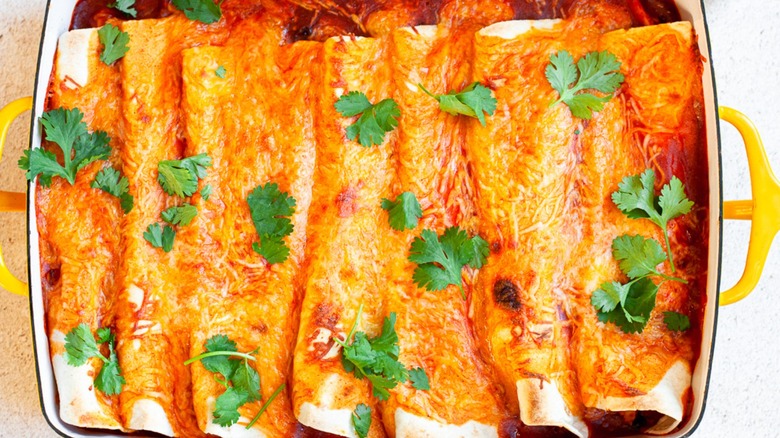 Christina Musgrave/Mashed
Preparing dinner and serving it in a hurry can be such a hassle. That's why an entire industry has sprung up around meal kits that are supposed to make meal prep quick and easy. Sadly, the truth is that these kit meals are not only pretty darn pricey, but in many cases, they are considerably more complicated and time-consuming than their advertising makes them out to be.
If you really want to take the grunt work out of putting dinner on the table, the key is using ingredients that are all set to go. Many fantastic meals start with a rotisserie chicken, which makes us wonder what we ever did without them. Such is the case with recipe developer Christina Musgrave's easy chicken enchiladas. Musgrave, who blogs at Tasting with Tina, says, "I like this recipe, because it's super easy and a great recipe for a 30-minute, filling dinner." Thirty minutes is exactly how much time it takes to have this dish table-ready, too — five minutes for the preparation, 25 minutes of cook time, and dinner is served!
Gather the ingredients for easy chicken enchiladas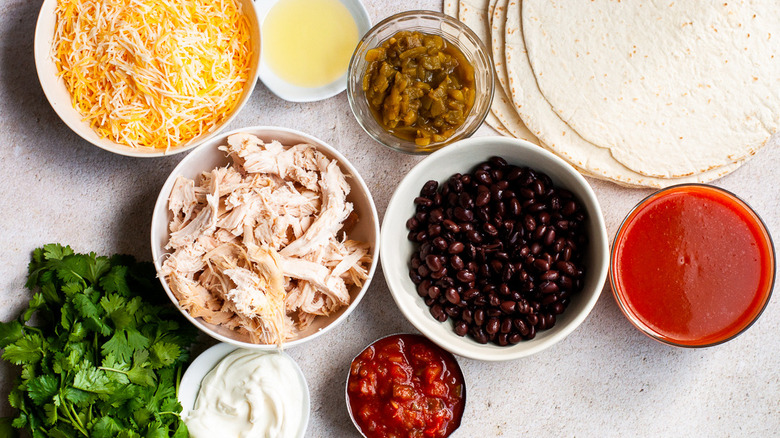 Christina Musgrave/Mashed
Everything that goes into these enchiladas was included with the idea of making the recipe as easy as possible, and also relatively healthy. In addition to the rotisserie chicken, you'll be using olive oil for cooking and flour tortillas for wrapping. Musgrave says she used medium-sized tortillas, so the standard 10-inch size is what you're looking for here.
The chicken enchilada filling is made with canned green chiles, canned black beans, pre-shredded Mexican-style cheese, and salsa. Musgrave notes, "You can use either [cooked salsa or pico de gallo] in this recipe, but I used jarred salsa." To top off the enchiladas, you'll be using a can of red enchilada sauce and still more of that shredded cheese.
Make the enchilada filling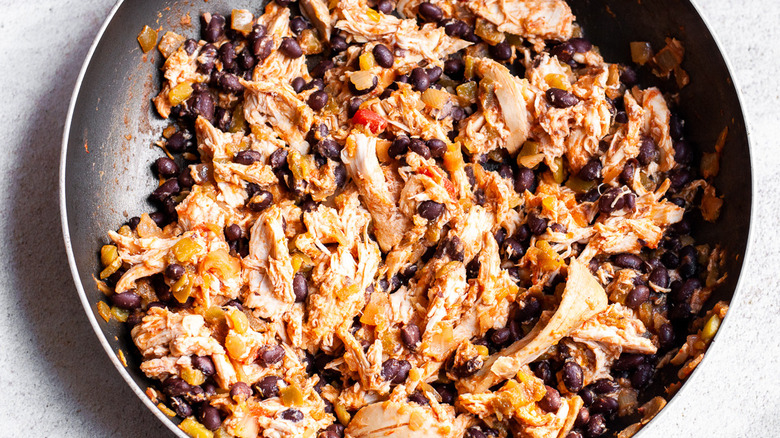 Christina Musgrave/Mashed
The first thing you do, as in so many recipes, is to preheat the oven to 350 F so it can heat up while you start to work. Then, to make the enchilada filling, you'll need to start off by shredding the rotisserie chicken. If you decided to do without the pre-shredded cheese (It does contain cellulose, although this ingredient isn't harmful.), you may need to shred a block of cheddar or jack cheese as well.
Now, heat the oil in a large pan over medium heat. When the oil is hot, add the chiles, beans, chicken, and salsa, and stir everything together. Heat the enchilada filling for five minutes.
Fill the enchiladas, and place them into a large greased baking dish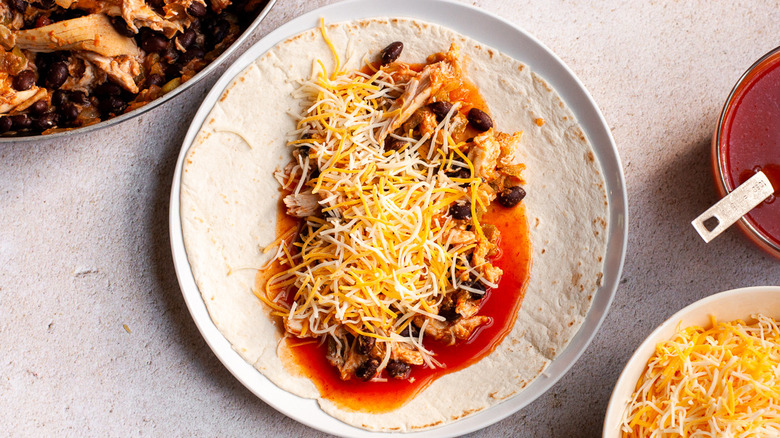 Christina Musgrave/Mashed
Once the enchilada filling is warm throughout, you can start rolling the enchiladas. Take one tortilla, scoop some of the chicken and bean mixture right into the middle, and top the filling with some enchilada sauce and shredded cheese.
You'll be using about ⅛ of the filling per tortilla, so repeat the process eight times. As you finish each enchilada, place it into a large greased baking dish. Once all the enchiladas are in the pan, pour the enchilada sauce over the top, and sprinkle them with the remaining shredded cheese.
Bake the enchiladas, and serve them warm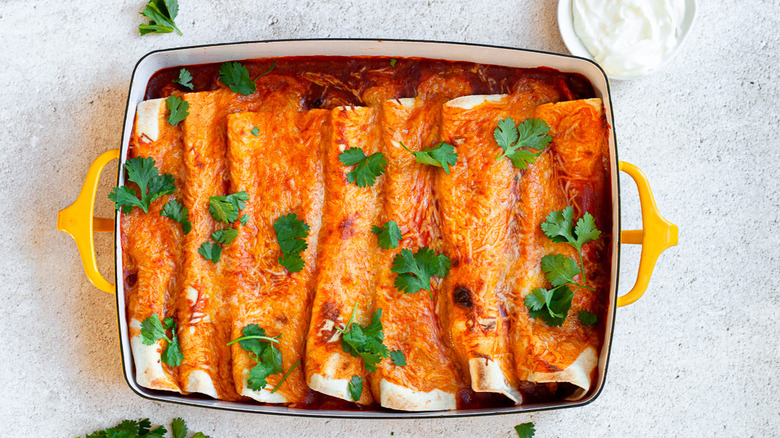 Christina Musgrave/Mashed
Put the pan of enchiladas into the preheated oven, and bake them for 20 minutes. You'll want to serve them while they're still warm, although you'll want to let them cool for a minute or two before you dig in so you don't burn your mouth on the cheese.
Musgrave says she likes to serve these chicken enchiladas topped with sour cream and cilantro, and you should have some enchilada sauce left in the pan to drizzle them with as well. As for side dishes, she suggests, "This [dish] would be great with rice and refried beans."
Easy Chicken Enchilada Recipe
This easy chicken enchilada recipe is perfect to prepare for a simple yet filling, 30-minute meal during the week.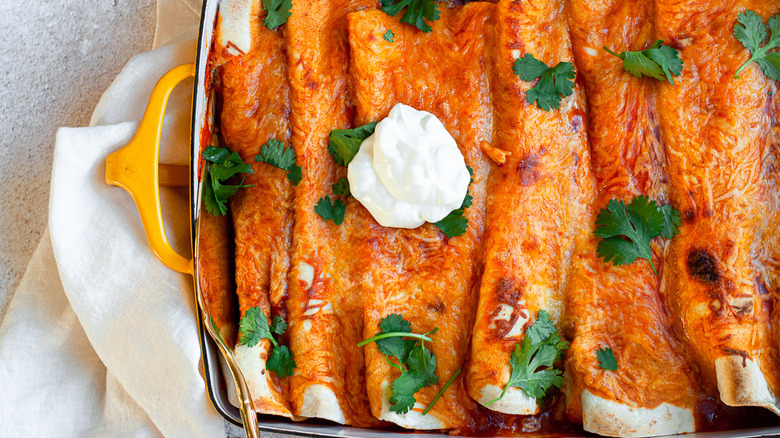 Ingredients
1 tablespoon olive oil
1 (4-ounce) can green chiles
1 (15-ounce) can black beans, drained
2 cups rotisserie chicken meat, shredded
1 cup salsa
8 (10-inch) flour tortillas
1 (16-ounce) can red enchilada sauce
3 cups Mexican-blend shredded cheese
Optional Ingredients
sour cream, for serving
cilantro, for serving
Directions
Preheat the oven to 350 F.
Heat the olive oil in a large skillet over medium heat.
Add the green chiles, black beans, shredded chicken, and salsa to the skillet, and stir to combine.
Heat the enchilada filling for 5 minutes.
Scoop the chicken and bean mixture onto each tortilla, topping with 2 tablespoons of enchilada sauce and ¼ cup of shredded cheese. Repeat until all of the filling is used up.
Roll up the enchiladas, and place them into a large greased baking pan.
Top the enchiladas with the remaining enchilada sauce and shredded cheese.
Bake the enchiladas for 20 minutes, and serve warm with desired toppings.
Nutrition
| | |
| --- | --- |
| Calories per Serving | 483 |
| Total Fat | 21.7 g |
| Saturated Fat | 9.5 g |
| Trans Fat | 0.5 g |
| Cholesterol | 82.8 mg |
| | |
| --- | --- |
| Total Carbohydrates | 41.1 g |
| Dietary Fiber | 6.6 g |
| Total Sugars | 6.6 g |
| Sodium | 1,530.3 mg |
| Protein | 31.0 g |