Why You May Want To Reconsider Your Halloween Pumpkin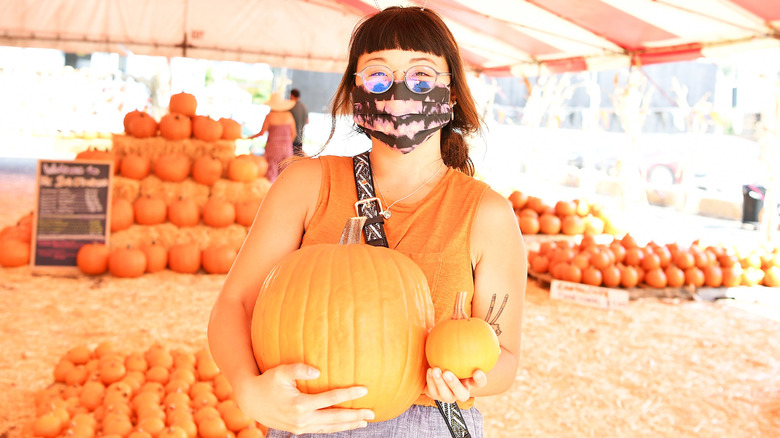 Amy Sussman/Getty Images
Children love a holiday tradition, whether it's hunting for Easter eggs, spinning the dreidel, or carving jack-o'-lanterns on Halloween. Walk through a residential neighborhood this time of year, and you might see more pumpkins than you can count, either decorated or plain, adorning front porches and yards.
When you trek with your family to the pumpkin patch every year, do you stop to think about what happens to all those Halloween pumpkins after October 31? Sure, some of them get splattered all over the street, thanks to neighborhood teenagers who will choose "trick" over "treat" every time. But most of them, it turns out, go straight into the trash. A study from 2014 found that of the 2 billion pounds of pumpkins grown in the U.S., 1.3 billion pounds wound up in a landfill, according to Science Alert.
You may be thinking, "Pumpkins are biodegradable, so what's the problem? We're not talking about 1.3 billion pounds of plastic here." True enough, but organic waste in landfills produces methane, a strong greenhouse gas that contributes directly to global warming (via BuzzFeed). So you might want to reconsider using gourds to decorate for Halloween this year. Then again, who are we to deny you your holiday tradition? You have some environmentally friendlier alternatives to chucking your old pumpkin in the garbage.
How do you properly dispose of a Halloween pumpkin?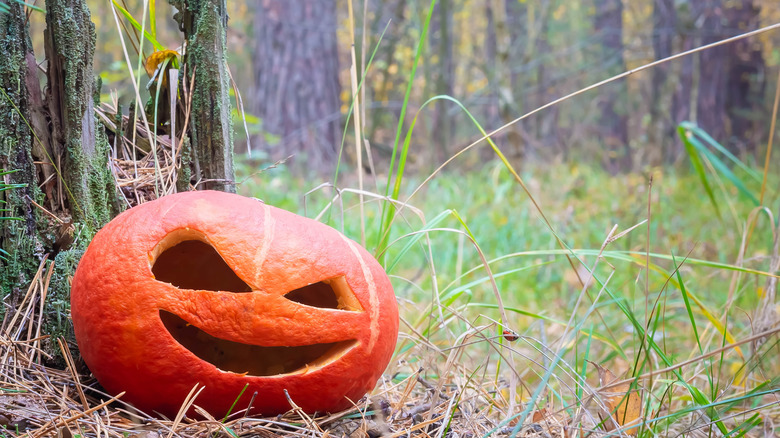 Dmitry Dven/Shutterstock
When Americans want to carve a jack-o'-lantern, they reach for a Howden pumpkin, a variety known more for its convenient size, shape, and handle-like stem than for its culinary value (via BuzzFeed). Still, you can make the most of a Howden's nutritional value by separating the seeds and roasting them. The guts can be converted into pumpkin soup or pie, with a lot of help from ingredients such as coconut milk or maple syrup. Remember, when it comes to taste, the Howden pumpkin shouldn't stand alone.
Usually, a decorative pumpkin is much worse for the wear by the time Halloween's over, or its innards are coated with melted wax. Instead of eating your jack-o'-lantern, you can chop it up and compost it or feed it to wildlife. Woodland Trust suggests burying your old pumpkin, minus the seeds, about 10 inches deep in your garden to serve as worm food to add nutrients to the soil.
If your community has yard waste collection alongside the trash and recyclables, then some waste-removal services, for example Pride Disposal in Oregon, accept pumpkins in the yard waste bin. This only works if your pumpkin hasn't been painted, and if all candles and other inorganic decorations are removed. Check your local disposal company to see if pumpkins are acceptable as yard waste.