Gordon Ramsay's Dad Duty Confession Is Too Sweet To Handle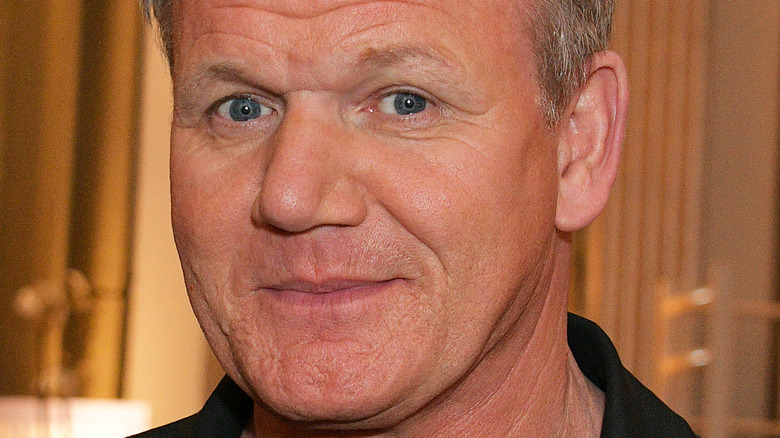 David M. Benett/Getty Images
Audiences around the world are accustomed to seeing chef and restaurateur Gordon Ramsay on their television screens on all kinds of shows (via IMDb). Perhaps you love culinary competition shows such as "MasterChef" and have tuned in week after week to see Ramsay's critiques of the contestants' dishes. Maybe you prefer his harsher approach with trained chefs, and spent a decade watching him on "Hell's Kitchen." Or, perhaps you prefer your culinary shows with a splash of adventure, and tuned in to see him travel to different corners of the world on "Gordon Ramsay: Uncharted." While Ramsay's schedule is likely packed with all his television gigs, there is another major role in his life that he always makes time for — the role of dad.
Ramsay is the proud father of five children: four adults — Tilly, Holly, Jack and Megan — and baby Oscar, who was born in 2019 (via Hello). Recently, Ramsay took to Instagram and charmed his 12.9 million followers with a sweet snap that captured him on dad duty.
In the image, Ramsay and his son Oscar are photographed from behind as they make their way down a long, white hallway with hardwood floors. Ramsay has a backpack over his shoulders, as well as some type of duffel bag in his hands, and he's dressed in all black, from his plain t-shirt, to his sneakers. Beside him, wearing a vibrant yellow raincoat, is his son Oscar, and the duo are holding hands.
What the moment captured — and what fans are saying
Gordon Ramsay paired the sweet Instagram share with a caption that revealed what the picture was documenting. He wrote that "it's such a cool feeling when you can drop your little man off to school and hold hands like best mates." He even tagged Oscar's Instagram account in the caption, although the bio of that particular profile clarifies that the page is run by two of Oscar's big sisters, Tilly and Holly.
The share received many comments from Ramsay's followers, who couldn't get enough of the sweet image. One couldn't quite separate Ramsay's role as a chef from his role as a dad, writing that she was "just imagining what delicious lunch he [Oscar] has in his tuck box." "Awh who knew he was such a softy," another follower added in the comments section about loving this glimpse at Ramsay's paternal side. "Sweet little man, you're in good hands," yet another wrote, adding a heart emoji to further express their sentiment.
While the frequency with which all of Ramsay's children pop up on his Instagram page indicates the role of dad is always of utmost importance to him, he's also been open about finding more time to spend with Oscar now that he's more established in his career. In a 2019 interview with Delish, he commented that he was "excited to be more hands-on" with his youngest.