Instagram Can't Stop Talking About This Happy Wedding Photo Of Anne Burrell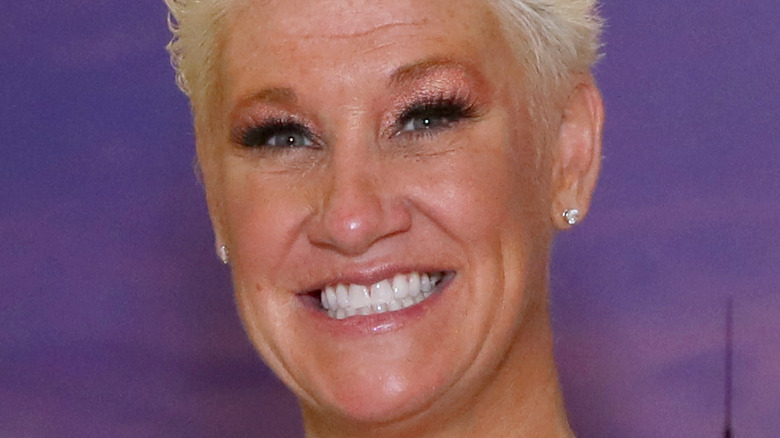 Robin Marchant/Getty Images
Congratulations are in order for chef Anne Burrell and her fiance Stuart Claxton who, after getting engaged in April 2020, officially became husband and wife over the weekend during a beautiful ceremony held in Burrell's hometown of Cazenovia, New York. According to People, the couple's nuptials were held on October 16 and attended by a number of familiar Food Network stars, including Marc Murphy, Jeff Mauro, and "30-Minute Meals" queen Rachael Ray, who was a member of Burrell's bridal party.
Also in attendance of Burrell's big day was "Chopped" judge Alex Guarnaschelli, who shared an adorable photo of the newlyweds to her Instagram page that has caught the eyes of many of her 982,000-plus followers on the social media platform. The candid snap appeared to have been taken during the reception and captured a wedding gown-clad Burrell with a huge smile on her face as her new hubby stared lovingly at her with his arms stretched out to his sides.
"The bride and groom @chefanneburrell and @stuartclaxton," Guarnaschelli captioned the sweet shot that has since racked up more than 133,000 likes. "LET'S HEAR IT FOR ANNE!!!! Congrats GIRL!!!!!!!!!!!!!!!!!!!" she added.
Fans can 'feel the love' between Anne Burrell and her new husband
Considering how much fans of chef Anne Burrell fawned over her pre-wedding Instagram kiss, it should come as no surprise that the above photo that Alex Guarnaschelli snapped of the "Worst Cooks In America" host and her new husband was showered with love as well.
Not only did foodies on the social media platform rain hearts over the adorable shot, but many also took to the comments section of the Iron Chef's October 16 Instagram update, including her fellow "Chopped" judges Marcus Samuelsson and Scott Conant, who respectively left strings of red heart and hand-clapping emojis to seemingly express love and congratulations to their friend. Another fan noted that you could "feel the love" through the photo, while a fourth fan said they had "never been more happy for someone who doesn't know I exist."
Some were understandably curious about the food that was served at the star-studded event, which People reported was a celebration of "all the flavors of fall and its seasonal vegetables." Neither Guarnaschelli nor Burrell has shared any snaps of the grub to their respective Instagram feeds, but we're hoping it's just a matter of time until we get more photos from the chef's magical big day.