Sunny Anderson's Graveyard Enchiladas Are Perfect For Halloween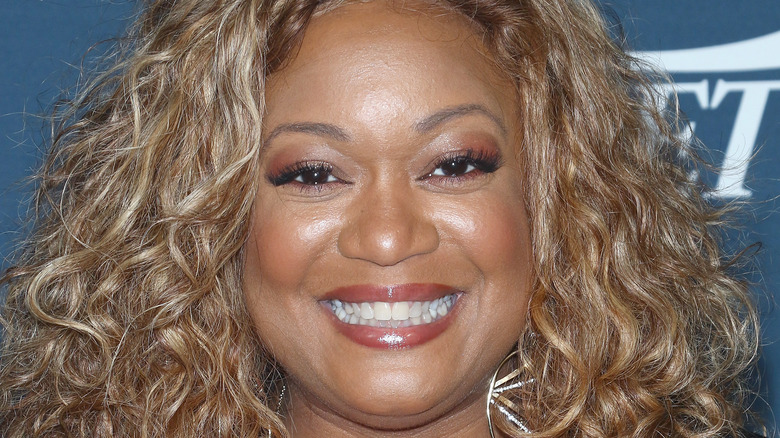 Jim Spellman/Getty Images
We all know Sunny Anderson is a fan of Halloween. The host of Food Network's newest spooky-themed show, "Chocolate Meltdown," which is filmed at Hersheypark in Pennsylvania, shared her love for this October 31st holiday with Click on Detriot. Anderson cited hayrides and candy as major factors of that love. She also revealed that it's always Halloween on her deck thanks to her friend "Bill the skeleton," who is always hanging around. We are loving this vibe.
We also love the many Halloween dishes "The Kitchen" co-host has shared over the years. Who can forget her Feetloaf? Back in 2016 she shared a photo of this meatloaf monstrosity on Instagram and captioned it: "FEETLOAF!!!!! #FEETLOAF YAAAAAAAASSSSS!!! I pitched this for like 2 Halloweens ...  I wore my bosses down!!! I hope you are totally disgusted!!" It is pretty gnarly to look at, resembling a bloody severed foot. Anderson is really a master of spooky food, and she recently shared an image of her haunted graveyard casserole.
These Super Simple Graveyard Enchiladas are simply ghoulish
Sunny Anderson to Instagram to share a Halloween creation that is so festive, you might want to make it ASAP. Anderson wrote, "Today I shared my Super Simple Graveyard Enchiladas on #TheKitchen @foodnetwork ... I love a good casserole for the season. What's your go-to casserole?" It's probably going to be this ghostly creation. The attention to detail is amazing. The creatures that top this chicken-filled casserole are made from tortillas (via the Food Network website) that can be can be cut to resemble tombstones, cats, and of course, ghosts. While you're at it, you could even go for a witch's hat. Anderson also mentions that hot sauce can give it a bloody look.
Celebrity chef and peer Alex Guarnaschelli responded on Instagram, writing, "I love this." Another fan wrote, "Definitely have to try this recipe!!!! It looked soooo yummy!!!" But there's even more for food for scary thought, courtesy of "The Kitchen." Per the Food Network, a few other Halloween-themed creations appeared on the episode featuring Anderson's Graveyard Enchiladas. Guarnaschelli made a Roasted Pumpkin Pasta while Geoffrey Zakarian and Katie Lee Biegel brewed a Pomegranate Blood and Dirt cocktail along with a "Candy Corn" Creamy Orange Float to complete this ghoulish fare. We can't wait to catch the episode because this sounds like the most Halloweenish feast we could dream of!